Shanghai's Deadly Pollution Remedy
Moving the city's factories out of view has cleared the air, but it has also carried a human toll.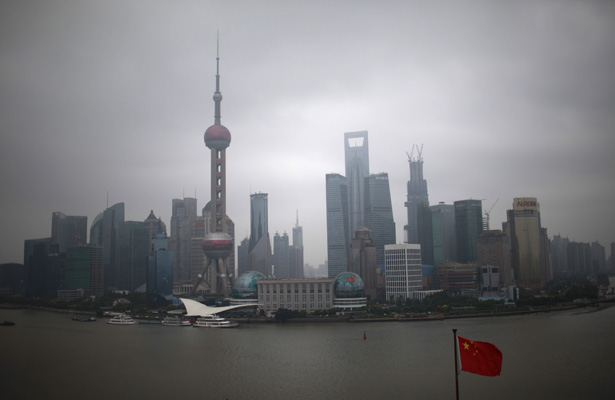 Aly Song/Reuters
In March of 2008, the New York Times announced that marathoner Haile Gebrselassie would skip his signature event in the Beijing Olympics. After the news leaked, the world-record holder told reporters bluntly, "The pollution in China is a threat to my health." The Olympic Committee, along with many Chinese citizens took the remarks personally. Organizers countered that they had halted production at Beijing's dirtiest factories and pressured neighboring provinces to reduce the airborne particulate count. From one perspective, their efforts paid off:  most of the Olympic hold-outs eventually crossed the picket line; international observers deemed the Games a success. But, from another, the damage was done:  China's record of environmental abuse was broadcast to the world.
Four years and 700 miles removed from the Beijing Olympics, in Shanghai, efforts to massage international opinion are ongoing. As recently as twenty years ago, the east bank of the Huangpu River was a patchwork of fields dotted with oxen. Then canny city planners realized that, to be considered a world-class city, Shanghai would need a world-class skyline--and so Pudong was born. At breakneck speed, a welter of daring new structures sprung up opposite the Bund's Baroque grandeur. The message was clear:  forget the fields full of coolies, the wandering livestock; forget everything you thought you knew about Shanghai. This is a modern city: Prosperous, cosmopolitan, striding confidently toward the future.
There is still a fly in the People's Ointment. For days or even weeks at a time, the iconic skyline is barely visible behind a blanket of smog. At such times, Shanghai's best impression of a Western metropolis wears a little thin. This is simply not a problem in New York or Paris.  The Golden Gate Bridge has been known to vanish-but only because of natural mists rolling in from the bay. And so, with every tour group that visits the Bund, only to return "tsk tsk"-ing with photos of formless blobs, officials at the Shanghai Tourism Bureau grind their teeth a little lower.
Luckily for the Chinese Communist Party (CCP), what "worked" four years ago in Beijing has the potential to "work" better in Shanghai. And, without an international sporting event to attract media attention, it can be done inconspicuously. At the time of writing, Shanghai is carrying out a plan conceived a decade ago, when the 25 heaviest polluters along Xinghua Road were shuttered, their production shifted inland to Anhui, Henan, Hubei, and other provinces eager for a little extra revenue. Since the start of the "clean-up campaign," nearly 100 facilities have vanished each year from Shanghai's outskirts, only to pop up like mushrooms in occidental townships that attract fewer visitors. Thus situated, they resume polluting, out of sight and out of mind.
Such is the case in Xinglong, Yunnan, one of China's estimated 400 "cancer villages." The once-idyllic farming community was designated a site for industrial relocation in 2003. Shortly thereafter, residents noticed the rivers running red and yellow, crops withering, and cattle dropping dead. Lacking any alternatives, villagers continued to drink the water and walk in their fields. Finally, in 2011, the staggering incidence of lung, liver, and stomach cancer attracted the attention of environmental NGOs, both international (Greenpeace) and domestic (Friends of Nature). They found that, rather than driving to a processing plant in neighboring Guizhou City, employees at Yunnan Luliang Chemical Company had dumped an estimated 5,000 tons of chromium-6--one of the substances most harmful to human health--all over the region. Over time, most of it leached into Xinglong's reservoir. When Greenpeace rapid response personnel tested the drinking water, chromium-6 levels were too high for their instruments to measure.
The media firestorm drew a grudging response from the CCP. Local authorities fenced off the worst pollution and rounded up a few scapegoats at Luliang. But, when villagers tried to protest the continued operation of the Luliang City Industrial Park, they were waved away because "the factories contribute to the local economy." Xinhua News Agency conveyed the government's official position:  "No human deaths have been attributed to the chromium pollution."
There is no evidence the CCP will abandon industrial relocation anytime soon. On the one hand, Shanghai--wealthy and foreign-friendly--sees more and more blue sky. On the other, officials in poorer provinces can point to economic growth in their performance reviews. It's a win-win. Admittedly, industrial relocation improves neither pollution nor public health in real terms; it's more like a toxic game of musical chairs. But how many tourists, investors--even journalists--ever bother to visit backwaters like Xinglong?
---
This post also appears at Tea Leaf Nation, an Atlantic partner site.