Seasonal Gratitude, Book Dept.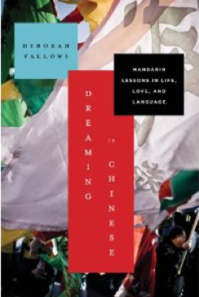 Clive Crook has written a
wonderful appreciation
of
Dreaming in Chinese
, by
Deborah Fallows
, who for this and many other reasons I am delighted to say is my wife. The book has received a lot of positive reviews, but I think Clive comes closer than anyone else to capturing its spirit and value. Check it out -- Clive's item, and the book.
I am also grateful to Ian Johnson and Jeffrey Wasserstrom, themselves the authors of a number of very valuable books about China (and, in Johnson's case, on Europe-and-Islam as well), for a year-end wrapup of books about China, at the Asia Society's site. Their discussion of the books they're considering, whose covers are shown in the collage below, makes me want to get and read the two I haven't already seen. And of course I am grateful that they include China Airborne in their list (and for Johnson's previous article about it in the NY Review of Books).
Thanks to all.