Russian Billionaires: The Comic Book
Mikhail Prokhorov, the flamboyant owner of the Brooklyn Nets and a former contender for the Kremlin, gets the graphic novel treatment.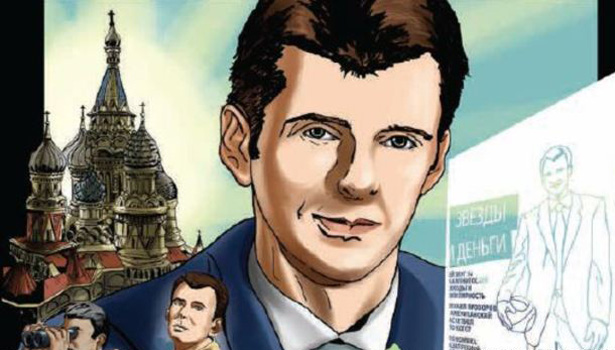 RFE/RL
There's a new hero in town. Or is he a villain?
That will be left up to the reader to decide at the end of a new comic book based on the life of Russian billionaire Mikhail Prokhorov.
The 22-page Orbit: Mikhail Prokhorov hit the shelves recently. It shows the metal magnate-turned-politician in a largely positive light, even comparing him to Batman's alter ego.
"If ever there was a real life Bruce Wayne, it was Mikhail Prokhorov," reads the introduction. It calls the "billionaire playboy" the "most exciting Russian of the 21st century."
​​The book chronicles Prokhorov's childhood in Russia, his failed 2012 bid for the presidency against Vladimir Putin, and his major moves in New York City -- including his purchase of the Brooklyn Nets basketball team.
The comic book also touches on some of the more scandalous aspects of his life, including being arrested at a ski resort in France in 2007. It largely glosses over the fact that the arrest was part of a police crackdown on a prostitution ring that was allegedly operating out of the resort. The charges were later dropped.
"He's very polarizing. People either really love him or people really don't like him," says Darren Davis of Bluewater Productions, which published the comic book.
"I, personally, just found him fascinating. I thought he was just very impressive, from his upbringing to the scandals in his life," Davis says. "But that's a part of who he is and what made him into who he is today. So, as I said, we don't really try to sensationalize it or do something like that, rather than tell a really good story."
Bluewater has published biographical comic books about a number of well-known figures, including Hillary Clinton, Barack Obama, Sarah Palin, Nelson Mandela, and Justin Bieber.
Davis said his company sometimes donates percentages of sales to the charity of a book subject's choice but never takes money in exchange for publishing.
In the case of Prokhorov, Davis says they've never even been in contact.
"We reached out to him and we haven't heard back," says Davis, laughing. "I'm sure he's busy."
---
This post appears courtesy of Radio Free Europe/Radio Liberty.