Richard Engel Has Escaped Syria, the Deadliest State on Earth for Journalists
The veteran NBC correspondent made it out of a country that has claimed more reporters' lives this year than anywhere else.

After being held by an unknown group in Syria for five days, NBC reporter Richard Engel and his crew are safe.
Engel had crossed into Syria from Turkey last Thursday and disappeared shortly thereafter. The NBC team was blindfolded, "tossed into the back of a truck," and driven away, according to a statement from NBC News. Sometime on Monday night, Engel's captors encountered a rebel checkpoint and got into a gunfight. Two of the kidnappers were killed while the rest fled. Nobody has taken responsibility for the kidnapping.
Engel and company then made their way back across the Syria-Turkey border and are now waiting to be debriefed, NBC said. Early accounts of the captivity are distressing; a member of Engel's production crew was given mock executions several times, according to Engel.
Syria is already the most dangerous place on earth for journalists. Twenty-eight reporters have been killed while covering the conflict, more than in any other country in 2012. (Last year and the year before, the deadliest country for journalists was Pakistan.) More than a third of the journalists killed in 2012 were either cameramen or photographers, says the Committee to Protect Journalists.
Unfortunately, we're not likely to hear about many of them. The vast majority of deaths, per CPJ, involve local reporters covering conflict in their own countries. International journalists accounted for 5 percent of all victims worldwide in 2012, and all of them were killed in Syria.
The global death toll for journalists this year (67) is the third worst since 1992 -- topped only by 2007 (when 74 reporters died) and 2009 (when 70 died). Beyond that, more journalists than ever have been thrown in jail. Turkey is the worst offender, with 49 reporters behind bars.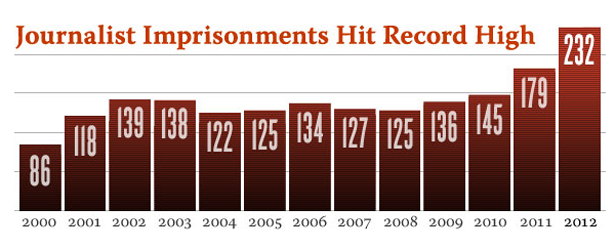 And that doesn't begin to address the journalists who have gone missing or are still in captivity. Austin Tice, an American freelancer who was taken in August by another unnamed group, still hasn't been released. All that said -- it's a relief to know that Engel and his crew are safe and sound.