Keeping It Real: The Most Powerful Men in China Doing Regular Stuff
A popularity tour has Beijing's most powerful men munching on instant noodles and testing out their green thumbs.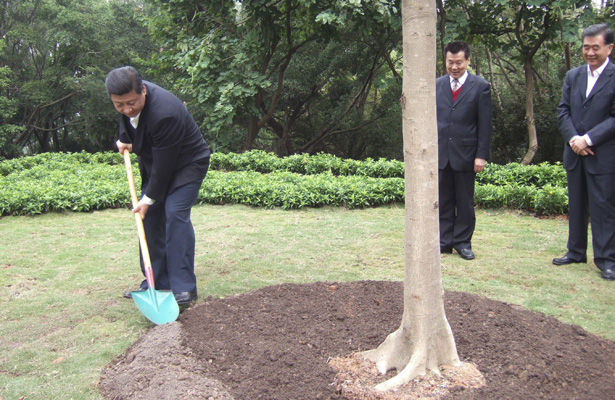 Glad-handing with the locals. Kissing babies. Eating fast food. These are tried and true ways that American politicians seek to advertise their common touch; but when China's new leaders employ these methods, it is greeted as a pleasant surprise.
Xi Jinping, China's new leader, has recently embarked on a low-key barnstorming of China's entrepreneurial south. The mere fact of Xi's visit is exciting to Chinese liberals, echoing as it does the "Southern Tour" of reformist leader Deng Xiaoping in 1992, an early prelude to China's market liberalization.
But Xi is winning points for style as well as substance. Although China's mainstream media has remained largely silent about the tour, online chatter has focused on the demeanor of China's new president. According to Hong Kong University's Weiboscope, the most-shared image among prominent users of Sina Weibo, China's Twitter, is currently the below photo collage taken by user Lu Yaming. In his Weibo post, Lu said he was politely asked not to cross a Shenzhen city street as a number of busses and police cars passed by. The road was not closed to traffic, and no sirens sounded. Xi was clearly visible, waving to onlookers. In another photo taken by an Internet reporter for portal takungpao.cn, Xi can be seen smiling and holding a baby aloft.
Commenting by the tens of thousands, Chinese netizens seemed heartened by Xi's seeming ability to get "close to the people." A number openly worried about Xi's safety, the potential price of increasing exposure and transparency. But as @大曹0512 wrote, "Good officials don't fear danger. The real danger [occurs] if they become [too] removed from common folks."
Not to be outdone, China's No. 2, Prime Minister Li Keqiang, has also garnered recent grassroots cred. The below images show him munching on "Master Kang" brand noodles, a favorite of the masses.
A number of Web users focused on the business ramifications of Li's choice of snack. @挨踢客 wrote, "Master Kang is definitely going to catch fire," while @文冤阁大学士 asked whether Master Kang's stock price was due for a pop. Others claimed to be concerned for Li's health. @须臾无虑 wrote, "I don't know what to say. If this is not just a show, and those noodles were not specially supplied, then I fear for his health; if it's just a show, then I fear for his actions."
Jokes aside, taken together, the images of Xi and Li depict a new leadership eager to eschew the once-grandiose trappings of Chinese authority. Xi's administration has already instructed Communist leaders to cut back on meandering speeches as well as the elaborate, festooned welcomes that typically greet a traveling leader.
Assuming that PM Li's body can recover from its encounter with his sodium-infused lunch, the next question greeting China's leadership is whether it can keep its actions consistent with its new, fresher image. Erstwhile PM Wen Jiabao was well known for his affinity for the heart-rending photo-op, but his inability to affect real reform during his 10-year tenure earned him the nickname "best actor" (影帝) from cynical netizens. @谢润良, a poet, gave voice to this sentiment: "Good; a new high leadership, a new lifestyle, a new working style. I hope what we are seeing is consistent with what actually exists; if so, there's great hope for everything."
---
This post also appears at Tea Leaf Nation, an Atlantic partner site.