Judgment! 5 Better Choices for 'Person of the Year' Than Barack Obama
TIME's choice was logical -- and safe.
Time's choice was obvious -- and safe.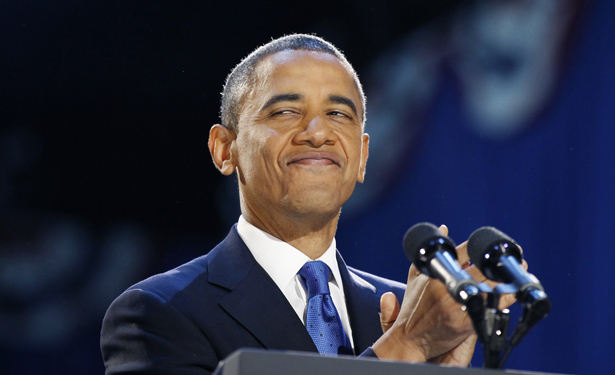 Kevin Lamarque/Reuters
The early reviews of Time's Person of the Year pick are in, and judging by the Internet's meh-ful reactions, choosing President Obama was logical -- but also safe.
Time did have a deep array of runners-up, including Malala Yousafzai, the teenage girl who defied the Pakistani Taliban and lived. It also called out Mohamed Morsi, the Egyptian president who helped broker the ceasefire in Gaza only to turn around days later and threaten his country's democratic future. But 2012 was also marked by a number of major stories whose characters deserve to be named. Below, five figures from around the world who would have been as good as Barack Obama for Person of the Year.
Hillary Clinton. As U.S. Secretary of State, Hillary Rodham Clinton has done more than any other high-ranking American official to empower women around the world. "I believe that the rights of women and girls is the unfinished business of the 21st century," she told Newsweek this year. She pushed for U.S. ratification of a landmark international women's rights treaty and sees the advancement of women as part and parcel of the advancement of human rights. But Clinton's work hasn't been limited to that sphere. During her tenure, which ends in January, Clinton helped bring the State Department into the Internet age, urging diplomats to pick up social media tools and to respond to crises with digital solutions. Hours after an earthquake struck Haiti in 2010, Clinton fast-tracked a proposal to allow Americans to make relief donations by text message -- one of the first such systems of its kind. Oh, and another reason to pick Clinton? Time hasn't had a woman as its Person of the Year for 26 years.
Syria's Rebels. If there was one foreign-policy story that dominated the world's attention this year, it was Syria. Bashar al-Assad's brutal use of force against his own people might have qualified him for this list -- after all, TIME's habit has been to be assiduously neutral in its Person of the Year selection -- but with the rebels making incremental advances, it seems Assad's star has fallen rather than risen in 2012. More to the point: the Free Syrian Army isn't just important because many of its members are fighting for freedom, but also because many of them have links to Islamist groups, relationships that will have lasting national and regional repercussions once the fighting ends.
Pussy Riot. The Russian punk band -- and the government crackdown that it inspired -- became a symbol this year. The group, whose "punk prayer" before the Cathedral of Christ the Savior in Moscow this year led to charges of "hooliganism" and a show trial, was a sign of Russia's growing unease with President Vladimir Putin's growing control over free speech. As The Atlantic's Masha Gessen wrote last month:
Indeed, the three arrested women--then 22, 23, and 29 years old--turned out to be more articulate than their lawyers, better educated than their critics, and more dignified than anyone who has spoken up in Russia since the dissident Nobel Laureate Andrei Sakharov.
Young People, Women, and Minorities. Presumably, this is what Time really meant in its reference to the "cultural and demographic changes" that made President Obama its Person of the Year. Obama is supposedly the symbol of these historic shifts. But why hide behind icons when naming the real thing would have been just as good, if not fresher and braver? Women living in swing states consistently named abortion as their top electoral issue. But by as much as seven points in the month before election day, they also cared more than men about international issues, health care, and the federal budget. Back in 1992's presidential contest, Democrats netted 31 percent of the Asian-American vote. Twenty years later, that figure has surged to 73 percent. And with many Baby Boomers now entering their golden years, it's young people that will soon inherit the United States' growing challenges. This cohort has been alternately described by older generations as optimistic, restless, innovative, slackers, mobile, and ironic. Soon, these Americans will find out for themselves what they are.
Mario Draghi. For much of the year, Europe was teetering on the brink. Talk of the eurozone's collapse ran rampant, and the speculation only made people even more nervous than they already were. The death of the euro would, in the words of the Financial Times, have had "incalculable financial and political consequences." And then, three words from Mario Draghi, the president of Europe's powerful central bank, changed everything. "Whatever it takes," said Draghi, vowing to keep the euro afloat. "And believe me, it will be enough." If anybody else had said that, it would've been ignored as an empty promise. But this is a man with the power to print euros, and the markets noticed. In the days after Draghi's dramatic statement in July, bond yields began to fall, and have continued to do so ever since. By promising, for the first time, to buy up governments' sovereign debt and making it easier for them to borrow their way out of economic crisis, Draghi may have single-handedly rescued the euro -- and by extension, the European Union.
Who else should be on our list? Hit the comments.