'Isaac's Army': The Polish Jews Who Outsmarted the Nazis
A history within a history of those who were resourceful -- and lucky -- enough to escape.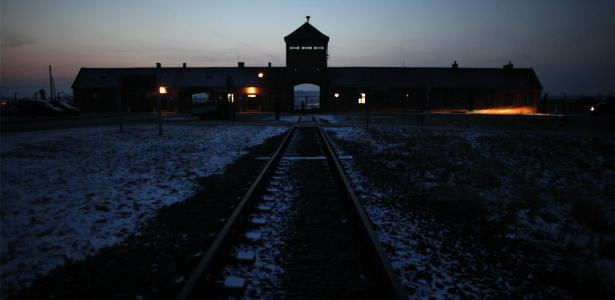 Kacper Pempel/Reuters
Isaac's Army: A Story of Courage and Survival in Nazi Occupied Poland is a justifiably well-received new book by Matthew Brzezinski (author of three previous books, a former Wall Street Journal reporter, and nephew of Zbigniew Brzezinski). Beginning in 2007, Brzezinski spent three years in Poland with his wife, who is Jewish and a partner in an international private equity firm. As he and the family settled into their "rented marble McMansion in a ritzy Warsaw suburb," Brzezinski kept asking himself how he would have responded to the Nazi tyranny that began with the invasion of Poland on September 1, 1939.
"For purely selfish reasons," he writes, "I wanted to seek out and meet the extraordinary individuals who had defied Hitler and try to discover what made them tick." While they did not realize it at the outset, the three million Jews in Poland at the time of the onslaught -- including my father, Joseph, my mother, Martha, and brother Robert -- would face death unless they chose one of three options: fight, flee, or hide. Ultimately, historians have concluded, 90 percent of the Jews were annihilated in concentration camps or killed wherever they were found, most notoriously in the Warsaw ghetto. Brzezinski's focus is on those Jews who resisted (usually until they were killed) or survived.
His main characters are Isaac Zuckerman, the 24-year-old co-founder of the Jewish Fighting Organization; Simha Ratheiser, a teenager who became Zuckerman's bodyguard and lead courier; and Zivia Lubetkin, the highest ranking woman in the Jewish Fighting Organization (and later Zuckerman's wife). Against immense odds, they all eventually made it to Israel. Their stories of resistance gathered in meticulous detail give Isaac's Army texture and context that is especially compelling as the last of the Holocaust generation passes away. Brzezinski's book has been called "as moving and powerful as any novel" (Kirkus Reviews), "taut and worthy' (Publishers Weekly) and "admirable" (Wall Street Journal).
But for me, Isaac's Army is much more than a fine book. Only when it was published did I learn (from my brother, who had been interviewed for the book) that one of its narrative lines describes how my father, mother, and brother, with remarkable wiles and guiles, managed to flee Poland after the swift Nazi takeover. Eventually, crossing from Romania, through Turkey and Iraq, they made it to Bombay, India, where I was born in 1943. They immigrated to the United States in early 1944, crossing the very dangerous Pacific on a troop ship with wounded GIs, Italian POWs, and 120 civilians. Nearly all of their amazing story -- my parents were in their late thirties and my brother still a child -- unfolded before I existed, and to read it within the broader canvas of the epic Polish-Jewish tragedy of the war gives it an impact that is exceptionally strong. Brzezinski also includes my mother's cousins, the Mortkowicz family, three generations of what he calls "Poland's greatest publishing dynasty." These three women were often hidden among Gentiles and nuns, and stayed in Poland through the Soviet era. Joanna Olczak-Mortkowicz wrote a superb book of her own, In the Garden of Memory, which received Poland's top literary prize in the 1990s (and was published in Britain by Weidenfeld and Nicholson).
Of course, over time I came to know much of what my family had endured and accomplished in those years before I was born, and my mother and brother wrote their recollections in a memoir published privately. But as a prodigious reporter and skilled writer, Brzezinski's account gives greater depth and insight to their saga of ingenuity and luck, as he does throughout for the stories of those whose courageous choice was to resist. More than 70 years after the fact, is it astonishing to realize again the obstacles my parents overcame. After the Polish army was defeated, my father had made it to Bucharest where, miraculously, he obtained exit visas for my mother and brother. It was late spring of 1940 when, in order to travel on a train -- since Jews could not -- my mother went to "a small private chapel, where in exchange for a few zlotys (Polish currency), Martha was sprinkled with holy water and baptized Irene."
She then managed to entice customs officers to her apartment, served them vodka, pickles, and sausage, and got the stamps and seals she needed for her suitcase, with, as Brzezinski writes, "a narrow slit through which she slid her jewels."
With the passage of time, the Holocaust has taken its place among the greatest horrors of history. Those of us who are descendants of the millions of people -- Jews and so many others -- who suffered incalculably through the war years regard remembrances of that period with the benefits of distance. But a book like Brzezinski's, bringing together so many tales, using first-hand accounts, provides as close a look at what it was like as it is possible to have. As for the story of Joseph, Martha, and Robert Osnos, I am grateful to Brzezinski for giving them such care and attention (my father would be very pleased to know that Brzezinski writes that he "bore a passing resemblance to Errol Flynn"). Their intrepidness and bravery saved them. And once they were truly safe in Bombay and soon to be on their way to America, "Martha had felt secure enough to have a second child," Brzezinski writes, "Robert now had a few months-old little brother named Peter." I am, therefore, the fortunate offspring of savvy optimism.