Is It Racist to Call Someone an Australian?
An international incident sheds light on the trans-Tasman rivalry with New Zealand and the limits of criminalizing speech.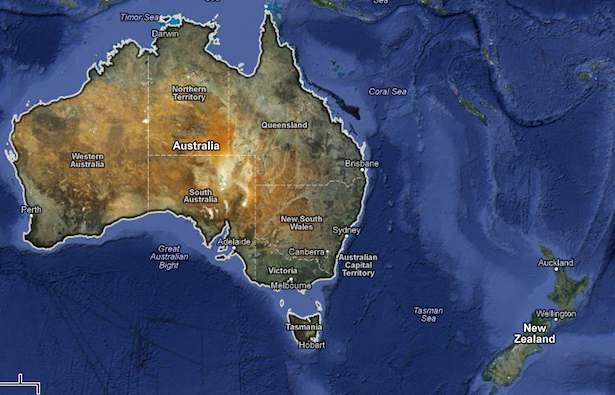 As an outsider, I won't pretend a sophisticated understanding of the cultural relationship between Australia and New Zealand, except to say that hearing Aussies and Kiwis muse on it reminds me of how Germans and Austrians or Americans and Canadians speak about their respective neighbors. There is something like a sibling rivalry -- affectionate if occasionally tense relations, differences enough to be the butts of one another's jokes, and mutual understanding such that both sides grasp the rivalry with more sophistication than any outsider.
We're left to puzzle over questionable Wikipedia articles and satiric sketches from Flight of the Conchords.
I happen to enjoy that sort of puzzling, for understanding is never so enjoyable as when it comes with much laughter. And I must admit that I laughed a lot at the following story, found in a copy of The Christchurch Press that I perused while eating my Eggs Benedict in a Greymouth, New Zealand diner. Headlined "Being called Aussie judged 'racist,'" it's one of those stories that juxtaposes the awful with the absurd, so that you feel bad laughing, but can hardly help it as the villain turns from mean-spirited harangues to blowing raspberries. Beyond the ugliness and the amusement, no study of trans-Tasman relations is complete without this case study.
The events take place in Macclesfield, U.K.:


Hurling abuse wasn't the problem for Petra Mills. But a court ruled that calling her New Zealand neighbor an Australian was racist and against the law. Czech-born Mills, 31, has been found guilty of racially aggravated public disorder after a rant at her New Zealand-born neighbor in Macclesfield, south of Manchester. Chelsea O'Reilly, who has dual British and New Zealand citizenship, said: "She called me a stupid fat Australian bitch. Because of my accent there can be some confusion over my nationality. She knew I was from New Zealand. She was trying to be offensive. I was really insulted. She said she would kill my dog. Bizarrely she then blew raspberries at me like a child."

...Two police constables told the court they had heard Mills use the word "Australian" during her drunken rant. At Macclesfield Magistrate Court Mills agreed she had shouted, but denied she was being racist. "I did not use the word 'Australian.' I used to lived with an Australian person. She was very nice."

But chairman of the bench Brian Donohue said: "You were in an emotional and inebriated state. The word 'Australian' was used. It was racially aggravated and the main reason it was used was in hostility."

Mills denied the charge of racially aggravated public disorder but was found guilty and fined 110 pounds. She admitted assaulting a police constable by kicking him in the shin and knee and was fined 200 pounds on that charge. She was also ordered to pay both victims 50 pounds compensation and 500 pound court costs. Mills and her husband moved to Scotland after the incident.

(Here's the story as it appeared in a local English paper.)
That line about the former roommate is close enough to "but some of my best friends are Australian" that it got me laughing all over again, and then I started imagining a very stern British judge intoning, "The word 'Australian' was used." And by that point, I couldn't help feeling that the Aussies were coming out of this international incident more abused than anyone. In neither Britain, where the altercation occurred, nor in New Zealand (where I wondered if the editor who ran the story did so with mischievous intent) was anyone offering so much as a Seinfeldean addendum: "The victim was not in fact Australian - not that there's anything wrong with that!"
Britain having taken the fraught step of criminalizing hate speech, apparently including its most absurd iterations, the satirist cannot help imagine a next step in this saga, where Australians petition the Commonwealth, insisting that to treat "Australian" as a racial epithet is itself hate speech. Why not demand that 50 pound fines be levied against the British judge and the Kiwi newspaper?
They might go after Flight of the Conchords too while they're at it:
The incident has not past unnoticed in Australia, where Paul Bleakley
has responded on behalf of his countrymen
. "Lord Chancellor, we do not find the term 'Australian' to be an example of racial abuse," he wrote. "At the best it is the greatest compliment Ms Mills could have given to her Kiwi neighbour, even though that was not her intention."