Is Georgia's New Leader as Undemocratic as Its Last One?
Despite what a number of western news outlets have argued, the answer isn't so clear.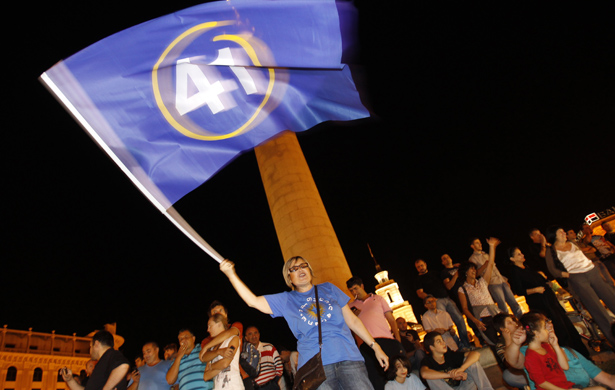 On October 1, Georgia had an election. To everyone's surprise, the ruling United National Movement party, led by President Mikhail Saakashvili, was routed by a newly organized coalition, Georgian Dream, led by Bidzina Ivanishvili. This, in spite of a highly unfair election environment, much intimidation, and a history of revolutionary upheaval in the country.
Georgians turned out in massive numbers. The government was so overwhelmingly defeated at the polls that what had become an increasingly authoritarian government had to yield power. Miraculously for this part of the world, Saakashvili surrendered most of the power he had tenaciously hoarded for nine years. The election was heralded as a sudden, successful democratic breakthrough -- something that had been a central objective of U.S. foreign policy since the 1980s. Democracy has changed the face of Mediterranean Europe, East Asia, and even Africa--but has never emerged in the former Soviet space, except the Baltic republics.
But less than two months after democracy's victory, some are wringing their hands. NATO and E.U. dignitaries, amplified by prestigious newspapers, are scolding the new government for its allegedly undemocratic behavior. The Washington Post suggests we are seeing "a slide back toward Russian-style autocracy," and concludes that, unless he mends his ways, "Georgia's new leader should not be welcome in Washington." As The Economist has written, "Ivanishvili is behaving as badly as he claims Mr. Saakashvili did."
At issue are the arrests by Ivanishvili's government of National Movement officials, which look to some outsiders like unilateral political reprisals unbefitting a democratic state. But consider this: Ivanishvili has not murdered anyone, as Saakashvili's interior ministry did Sandro Girgvliani, in 2006. He has not tortured or raped anyone, as was shown to be a regular practice in Georgian jails under Saakashvili. He has not confiscated property from anyone without legal warrant. He has not blackmailed anyone. not kidnapped anyone, and not planted drugs on anyone. The new prime minister has not attacked peaceful demonstrators, as Saakashvili did November 2007, or sent riot police to beat independent television journalists and their equipment. He hasn't seized broadcasting stations from their owners, like Saakashvili did, by pseudo-legal maneuvers. Ivanishvili never ordered an 11-month campaign to crush his electoral opposition, a move by Saakashvili that involved cyberspying on the old prime minister's enemies and slapping them with $125 million in fines. Rather, Ivanishvili was the victim of these "dirty tricks," to use the language of the Post.
It looks like the world is using a double standard -- judging a new, democratically elected government more harshly than the hardened human rights violator Georgians just replaced.
In fact, viewed differently, Ivanishvili's government has actually begun with a naive desire to do things the Western democratic way. Arrests have been accompanied by the reading of rights, the calling of lawyers, and the posting of testimony -- procedural standards that had been previously omitted. It used to be that Saakashvili insisted all public employees work for his party, down to village schoolteachers. The new Georgian Dream government is allowing officials below the deputy-minister level to remain, even though many are probably still loyal to the old government. Ivanishvili vowed to clean up government and leave in 18 months, and Georgian Dream dismissed its army of well-paid lobbyists soon after forming a government. Saakashvili never did the same, and his lobbyists are responsible for much of the current tempest.
Having lost the election, Saakashvili and the National Movement party have found a new battleground: international public opinion. Blackening the outside reputation of Georgia's legitimately elected government, they hope, will lay the basis for defeating the government from inside the country.
Moving political combat to the international arena is a common tactic among opposition movements when they are losing. But usually it is done by activists appealing to human rights organizations over a repressive government. Here instead, it is a repressive movement appealing to international opinion against political protesters who won an election fairly -- and whose goals were to right Saakashvili's injustices. And the international community is playing directly into Saakashvili's hands.
Are the arrests what the Financial Times calls a "sweep," "a widening campaign," and "a wave of arrests?" It looked that way too during Watergate, or after the Dreyfus affair. Scandals naturally emerge in groups, because governments want to cover them up. With the fall of a government comes the "spate," the "wave of arrests." When the dark secrets concealed by one political group emerge, as the National Movement's now have, and the opposition responds to them, it can look like "retribution against political enemies," as Assistant Secretary of State Philip Gordon complained. But critics are complaining about the very nature of politics. The National Movement's government covered up a lot. Now it is being explored, and they are crying foul. But it would not be emerging now unless someone had covered it up in the first place.
From here in Tbilisi, the outcry by Western governments looks bad. It almost seems as though the West has sided with the old government. The impression is unfair, particularly given the U.S. government's crucial role during the campaign in partially freeing television, in heading off the worst regime penalties levied against Georgian Dream, and in persuading Saakashvili to accept defeat. But it needs to be corrected before it becomes fixed in Georgian minds.
Beneath the surface enthusiasm for joining the West, there remain in Georgia deep reserves of Soviet nostalgia, anti-Americanism, and a distrust of Europe. If Georgians believe their latest attempt to join the democratic world has been scorned, it will empower these anachronistic elements. Georgia's new democratic advance is a very fragile one, and the influence of NATO and the United States is among of the most potent factors working to make it end well. Now is not the time to be weakening that influence.