Is China's Official Unemployment Rate Totally Off?
The perils of undercounting the jobless 

David Gray/Reuters
More than half of all Chinese live in cities. Like their counterparts in other developing parts of the world, citizens from rural areas flocking to China's urban centers are being drawn by the prospect of factory work and higher wages. Official estimates suggest life in the city is pretty good for job seekers: government data puts the unemployment rate among metro areas at 4.1 percent. But a worrisome new report suggests the real figure is actually more than twice that rate.
Researchers from Texas A&M University, working in concert with China's Southwestern University of Finance and Economics, surveyed 8,000 Chinese households to find that China's urban unemployment rate is 8.05 percent. That's up a half-point from last year, according to Gan Li, one of the study's authors.
Some of the most alarming results came from low-skilled workers and migrant laborers. More than a quarter of Chinese aged 51-60 who are registered to live in their cities are out of work. Migrant workers, meanwhile, have seen their unemployment rate surge to 6 percent, up from 3.4 percent just a year ago.
Migrant laborers are key to understanding how Gan and the government came to such radically different conclusions. Overall, the country is host to about 160 million such workers. But official figures from the government's side leave out that population in its estimates, in part because the main way China tracks unemployment is by counting the people who apply for unemployment benefits. But you can't apply if you don't belong, and you can't belong unless you have a residency permit for the city you're in. Migrant workers are at a major disadvantage in this respect.
It isn't just the government that plays a little loose with its definitions. Gan's estimates outstrip even those of other comparable studies, thanks to a slightly looser definition of unemployment, according to The Wall Street Journal's Tom Orlick:
The result is likely some people recorded as unemployed where the international standard would classify them as not actively looking for work. Some of the older workers laid off after the closure of the state owned enterprises likely fall into this category.
The Journal's chart below tells the demographic story of China's labor troubles.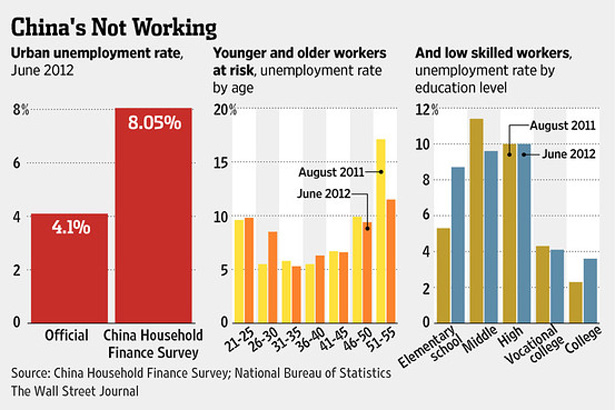 Young adults and middle-aged workers have it the worst, as do those without college degrees (although graduates face a tougher time this year compared to last).
China's new leaders have made growing the economy and maintaining social order their top priorities. But unless officials are already mistrustful of their own statistics, there's evidently a big mismatch between the government's understanding of the problem and the extent of the actual challenge (even if Gan's numbers are slightly on the high end). Before Beijing injects any more money into the economy, it needs to come to terms with that gap in accounting.