Is China Really the 80th-Most-Corrupt Country on Earth?
Chinese web users think Transparency International's latest rankings are far too lenient.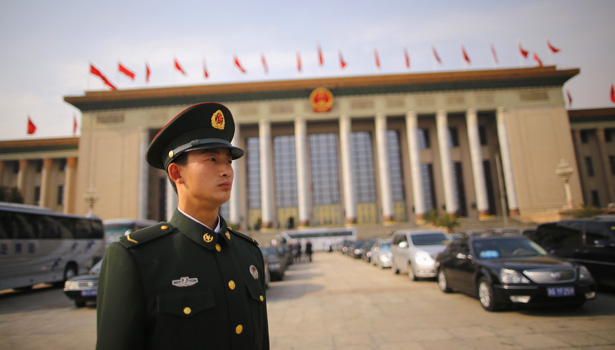 Last week, Transparency International released its annual Corruption Perceptions Index. The index surveyed business people and country experts to measure perceived levels of government corruption in countries and territories around the world. China ranked 80 out of 176 countries, with #1 (Denmark) being least corrupt.
Chinese Web users were not buying it.
Online sentiment: Too good to be true
On Sina Weibo, China's Twitter, where thousands of Chinese microbloggers retweeted and commented on the news, the most common reaction was disbelief. One dialogue summed up the general sentiment:
@贾楠SFZH: I didn't think [China] would've ranked so far up on the list.

@男衫衣谁baby: Looks like you're not so happy about it.

@贾楠SFZH: [Our] government officials need to wake up, open their eyes, and clean up their act! They ought to be more conscientious with taxpayers' money!!
A number of netizens quipped that Transparency International must have been bribed.  "The high ranking isn't true-how much [money] did Transparency International take?" asked @霸气超ER. Others such as @我是糕富帅 aired frustrations over recent corruption scandals: "Foreigners really don't understand China. How could a country where a village chief has 1 or 2 billion [RMB] in assets [from US$150 million to US$300 million] rank 80th?"
The corruption index also offered the opportunity for Web users to see how China measured up to peer nations. Microbloggers relished the opportunity to draw comparisons and put their standing in broader context. @往事如风云 pointed out Taiwan's ranking at 37: "I'd been surprised to hear others call Taiwan more corrupt than the Mainland. I haven't been there, and I'd rather believe this survey."
Some comments expressed a mixture of pride and nationalism. "How do I see China's ranking? At least we're ahead of a bunch of those 'democratic' countries like India, Russia, Mexico, Argentina, Greece, and we're better off than the post-Arab Spring countries Egypt and Libya," @超级小璁璁 wrote.
Putting the results in context
The buzz around the corruption perception index provides yet another example of how online information and social networking are providing channels for citizens to develop a more independent sense of how their government operates.
The chatter offered a snapshot of the public cynicism and the credibility gap that the new leadership is seeking to bridge. Foreign, Hong Kong, and domestic Chinese media are taking note of the new Xi administration's emerging policy platform, which appears to have anti-corruption and clean government at its core. Taking its cue from the administration, the official party media outlet People's Daily showcased eight city and provincial-level government officials that have come under internal investigation for improprieties and alleged illegal conduct since last month's 18th Party Congress. Official coverage has highlighted the fact that online networks of citizens exposed corruption in a number of these cases.
The Xi administration is, of course, not the first Reform Era leader to take up the banner of clean government. With limited success, prior administrations have dealt with government corruption through internal investigations and Communist Party disciplinary actions. In the past, Party leaders have also used charges of corruption as a pretext to purge political enemies, and one might be tempted to ascribe such a motive to a new administration seeking to consolidate its power.
A more optimistic view is that the Party has realized that it needs to deal more effectively with the lack of confidence many Chinese people have in their legal and political systems.
Significantly, official media coverage of the recent investigations emphasizes the importance of public participation. According to an op-ed in the government-run People's Daily, these online exposés of corruption prove that the Internet is an important platform for interaction between citizens and leaders even if there is a danger that social media spreads misinformation and rumors as well as unearthing the truth. The op-ed is short on policy prescriptions beyond a vague need to "systemize" and "standardize" online anti-corruption.
One thing is clear, however: Greater transparency alone is not a panacea that will by itself solve corruption, or climate change, or urban planning problems. It is critical for the Chinese government to construct mechanisms beyond the opaque Internet that allow citizens to communicate with policymakers.
There is no one-size-fits-all solution. Many unknowns remain: What kind of institutional change is the Party willing to accept? Will it belatedly conclude that it cannot control information as effectively as it has in the past and loosen the reins on online speech? China's Web users do not yet have answers to these hard questions, but least social media provides them a platform to ask and discuss them.
---
This post also appears at Tea Leaf Nation, an Atlantic partner site.