Happy Mayan Holidays: Chinese Employees Get a 'Doomsday Vacation'
One company's plan to stay on its workers' good side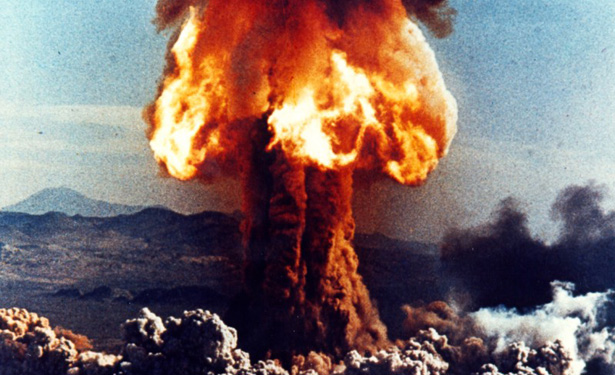 Wikimedia Commons
How terribly inconvenient it is that the world as we know it should come to an end on a weekday. December 21, 2012, the last day of the Mayan calendar on which cataclysmic change is supposed to wreak havoc on our beloved planet, is a Friday.
There's a silver lining: If you work at Chengdu Higgses Internet Technology Company, you will be given a two-day "Doomsday vacation" on December 20 and 21. The unverified office memo, now making the rounds on Sina Weibo, China's Twitter, reminds all of the company's "comrades-in-arms" to take safety precautions like fireproofing and watching out for looters. The memo also encourages the employees to spend their "final" days with their loved ones and wished everyone a meaningful Doomsday. (A full translation is below.)
The announcement appears to be tongue-in-cheek, providing cover for a well-meaning employer to give employees some much-needed rest. But with Weibo chatter calling up over 57 million mentions of the term "doomsday" (mo ri in Chinese), the "vacation" may also reflect a calculation that some credulous workers would not be terribly productive on the cusp of a putative apocalypse. Even if the document is a mere publicity stunt, it's a brilliant one.
To the uncertainty about the fate of our planet, let us add another weighty question: Is the Higgses company, which specializes in mobile technology, hiring?
Vacation Announcement

To all Comrades in Arms:

In light of the special meaning of December 21, 2012, and after careful consideration, the company has reached the following decision: [To make] 2012 "Doomsday Vacation" arrangements, with vacation days on December 20 (a Thursday) and December 21 (a Friday), for two days in total.

We hope that during this vacation time, everyone will take the following steps:

1. Please take measures to prevent fire and theft.

2. You may choose to entirely shut down your cell phone for the duration of the vacation to ensure you are not bothered.

3. As everyone is usually always busy with work, we suggest you take advantage of this "final" time to spend more time with your closest family.

We wish everyone a meaningful "doomsday."

Notice is hereby given.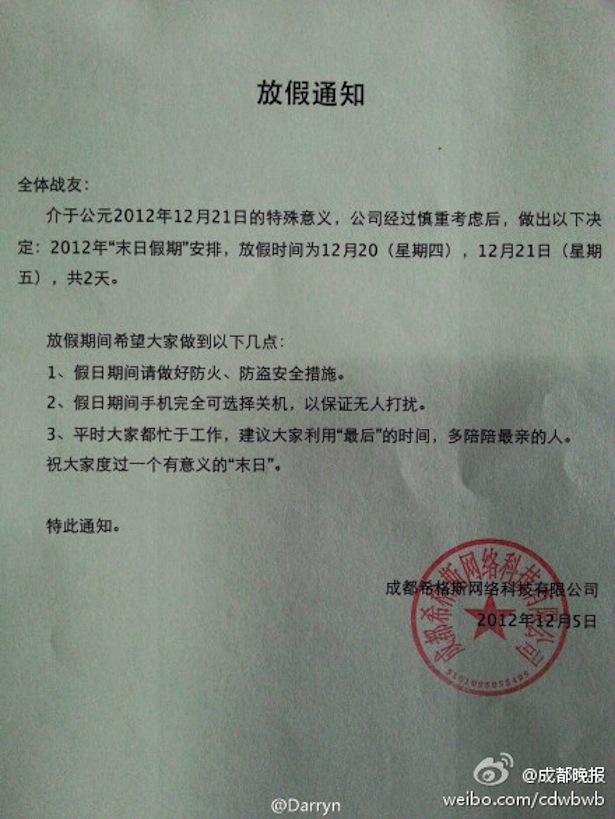 ---
This post also appears at Tea Leaf Nation, an Atlantic partner site.