Some appropriately less-than-confident conjecture about what the new year might have in store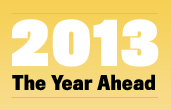 Atlantic writers preview the stories, trends, and ideas to watch.
See full coverage
If you want a sense of just how hopeless it is to attempt to forecast major international events, consider this February 4, 2011 news report of a Senate Intelligence Committee hearing, where a high-ranking CIA official was asked about the Agency's anticipation of the uprising in Egypt, which had started just a few days earlier. From the report, it's unclear whether even the President of the United States understood the potential for Hosni Mubarak's ouster, even after massive popular protests had seized much of the country. Even the most earth-shattering global events are difficult and sometimes impossible for the ostensibly most well-informed of governments and organizations to anticipate--indeed, they are difficult to anticipateas they are happening. As the political scientist Jay Ulfelder recently argued, by its very nature, international political forecasting will never be definitely solved by a Nate Silver-like numbers cruncher. Out in the real world, events gain an unpredictable momentum based on factors that no current statistical model can account for--which is another way of saying that political science can't perfectly comprehend the full spectrum of human nature. Such uncertainty is part of what makes foreign affairs so interesting in the first place. Yes, the latest Council on Foreign Relations Preventative Priorities Survey says that a war over Ngarno-Karbach isn't all that likely. But that doesn't mean that journalists won't be flocking to Baku and Yerevan at some point in 2013, pacing anxiously as the Azeri and Armenian militaries prepare for battle.
With that in mind, and with the utmost possible humility, here are six mostly vague and probably wrong predictions for the coming year. Whether they're vindicated or not, don't say we didn't warn you.
We want to hear what you think about this article. Submit a letter to the editor or write to letters@theatlantic.com.
Armin Rosen
is a former writer and producer for
The Atlantic
's Global channel.