How the disgraced former prime minister evolved from zealous hawk to potential savior of Israel's center-left.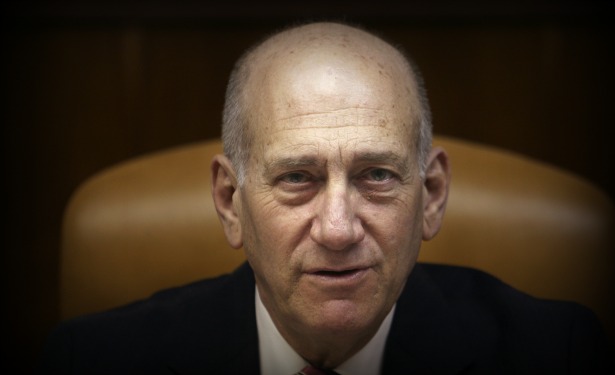 Ronen Zvulun/Reuters
This week Ehud Olmert, Israel's embattled ex-prime minister and one-time "prince" of the rightist Likud party, came out strongly in favor of the Palestinian Authority's bid to upgrade its status at the U.N. General Assembly.
"Once the United Nations will lay the foundation for this idea, we in Israel will have to engage in a serious process of negotiations, in order to agree on specific borders based on the 1967 lines, and resolve the other issues," Olmert said, according to a report in The Daily Beast's Open Zion blog. "It is time to give a hand to, and encourage, the moderate forces amongst the Palestinians."
Olmert's cri de coeur highlights a profound shift for this former hawk who, since earning his stripes as a champion of Israel's settler movement and a staunch defender of an undivided Jerusalem as Israel's capital, has taken a dramatic turn to the left. In fact, he has of late become one of Prime Minister Benjamin Netanyahu's most vocal critics, hammering his predecessor for talking "too much" and "too loud" when it comes to Iran while doing altogether too little on the Palestinian front. Unfettered by the restraints of governing, Olmert has unleashed his inner peacenik.
Perhaps equally as surprising as his ideological evolution is his possible political resurgence. Olmert left office in 2009 in disgrace, widely criticized for his mismanagement of the Lebanon invasion and burdened by a slew of corruption charges. After years watching him do battle in court, many Israelis had left him for dead.
But as the center and left in Israel came to realize that none of their current candidates was likely to unseat the hardline Netanyahu in Israel's upcoming elections, attention has unexpectedly begun turning back to Olmert as one of the few political figures with the gravitas to compete. Olmert has been flirting with running for weeks. On Wednesday, he endorsed his former party, the center-right Kadima, and agreed to serve on the committee that will select its candidates for the January 2013 elections. Some see that decision as a definitive pass on running himself , while others say he is keeping the door open. The rampant speculation has served to elevate his profile even higher. His recent comments indicate that if he does, he may represent Israel's best hope for a negotiated settlement with the Palestinians. After an equivocal legal triumph, he may now be poised to make a political comeback.
Like Netanyahu, Olmert was a stalwart of the Israeli right--a Likudnik of the Menachem Begin-Yitzhak Shamir strain. Prior to the state's founding, his parents had been affiliated with Begin's right-wing militia, Irgun, and later his father, Mordechai, was elected to Knesset as a member of Herut, the Likud's progenitor. For a man of such pure-bred rightist pedigree, his recent moves have been remarkable.
Those who have followed Olmert's career offer up a variety of explanations for his leftward drift. In the winter of 1988, with the first intifada raging, author Bernard Avishai was visiting Israel with Philip Roth and stopped by the Knesset to introduce the famous American writer to Olmert, then a Likud back-bencher whom Avishai had known since 1974. As they sat down to lunch in the parliament's cafeteria, Olmert suggested that a mass migration of American Jews to the West Bank would render moot the claims of rebellious Palestinians.
"Philip looked at him and said 'Are you crazy? American Jews aren't coming,'" recalls Avishai, author of The Hebrew Republic: How Secular Democracy and Global Enterprise Will Bring Israel Peace at Last. "And Olmert said, 'Why would they not come?' and Philip said 'Because they have lives of their own.'"
The conversation ended quickly but Olmert told Avishai that it made a lasting impression. "I talked to [Olmert] recently and he said he remembers the conversation very, very well," Avishai says. "What really changed him was the growing realization that American liberalism for Jews was something really important and authentic and they had no intention of coming to Israel."
"[Olmert] also saw what happened in South Africa in the 1990s," Avishai adds. "It's not that the Israeli and South African situations were alike, but he felt that this path toward failed annexation would nevertheless isolate Israel diplomatically and internationally and that Jews in America would be among those leading the charge."
Others place the origins of Olmert's conversion in the mid-to-late 1990s, when Israel was rocked by a wave of Palestinian suicide bombings. Over just two months in 1996, for example, suicide attacks killed 45 Israelis in Jerusalem alone. The following year more than 20 died in attacks on the city. Then Jerusalem's mayor, Olmert was often among the first to arrive on the scene, and saw the grisly results firsthand--putting the limits of ideology into stark relief.
Around the same time, observers say, Olmert began to internalize what is often called Israel's "demographic problem." With their rapidly growing birthrate, the idea goes, Palestinians under Israeli jurisdiction could soon outnumber Jews. If Israel does not see to it that the Palestinians control a viable state of their own, the country risks losing either its Jewish or its democratic character--which is to say, risks abandoning its reason d'etre. That, says Roni Milo, a former Likud minister who has served in government with Olmert, "would be a disaster for Israel." Milo says this recognition lies behind is own move to the center, and that of another prominent Likudnik, Dan Meridor.
Against this broad backdrop, Olmert's pivot took its most concrete form in 2005 when, after rising through the party's ranks, he bolted Likud to form the center-right Kadima party with Ariel Sharon. Coming from Olmert, the move was surprising; from Sharon, it was nothing short of a political earthquake. Some say Olmert was central in nudging along Sharon's thinking as the two lions of the Likud ditched what had long been their political home to spearhead Israel's historic Gaza pullout.
The withdrawal had enormous implications for Israel's politics and security. In leaving, Israel shed a population that is today nearing two million Palestinians, but also may have contributed to the radicalization of the Sinai peninsula. For Olmert, the impacts were more personal. His wife, Aliza, has said that until Olmert left Likud, she had never voted for him. A friend of Olmert's recently told me that Aliza, a respected artist, "was probably the main force in moving him further left."
Later in 2005, Sharon suffered a massive stroke that has left him incapacitated. As his deputy, Olmert seemed the logical heir to the new party's throne. The following year, he led Kadima to victory at the polls, succeeding Sharon as prime minister during what turned out to be a demanding period. In 2006, Olmert oversaw the Second Lebanon War. The next year he reportedly ordered Israel's aerial attack on a secret Syrian nuclear facility. In late 2008, in response to stepped-up rocket fire from Gaza, Israel launched Operation Cast Lead against Hamas. Bucking international pressure to end the hostilities, Israel eventually undertook a unilateral ceasefire, but not before more than 1,400 Palestinians and 13 Israelis had died.
But amid the rumblings of war, Olmert took a stab at peacemaking: The way he tells it, he came closer to an accord with the Palestinians than any of his predecessors. As prime minister, he met more than 35 times with Palestinian Authority President Mahmoud Abbas, offering to return most of the West Bank, share Jerusalem (a "heartbreaking" proposal from this former Jerusalem mayor), and acknowledge the demand of Palestinian refugees to return to Israel. He says he might have sealed the deal with Abbas were it not for a furious influx of right-wing American cash aimed at toppling him and halting his march toward peace. Whether that is true or, rather, a self-serving rationalization, the fact that Olmert went so far in his overture to Abbas marked a profound turnaround.
But even as his thinking evolved, Olmert's career came to an unceremonious halt. Beginning in 2006, investigators launched a series of inquiries into his dealings as a government minister, exploring accusations that he had sought to steer the sale of a bank to a personal associate and had received suspiciously favorable terms in acquiring a Jerusalem apartment. These charges didn't stick, but they were only the opening salvo in what became a barrage of accusations that, eventually, led to Olmert's indictment on charges he had granted illegal favors to a friend, accepted cash-stuffed envelopes from an American booster, and double-billed foreign trips. In 2009, under the weight of the mounting accusations, Olmert resigned from office.
Independent of their own opinions on his guilt or innocence, many Israelis assumed Olmert would be convicted, stanching any hope of a political resurrection. But then, in July, came a bombshell: the three-judge panel hearing his case found Olmert guilty of breaching the public trust in the suit centered on his doling out favors--but acquitted him on the two more serious corruption charges he faced. His supporters were ecstatic. Others were horrified that a man they fervently believed was a crook had managed to game the system. For his part, Olmert said he left the court with "head held high." Now, with the lengthy trial at an unanticipated end, the punditocracy and public alike began asking a question that, a short while earlier, would have seemed a joke: Was this the start of a political comeback?
Olmert, of course, denied any plans for a return, but almost no one believed him--and rightly so, it seems. In the weeks before Israel launched Operation Pillar of Defense in Gaza, he took a series of meetings with politicians, pundits, and political funders, fueling a furious game of will-he-or-won't-he. He took up the role of opposition leader in exile, attacking Netanyahu from a firmly center-left soap box, hitting him hard on everything from the West Bank to Iran to Washington, DC. Olmert backed Netanyhau in his campaign against Hamas's rockets, but his recent comments on the Palestinians' U.N. bid are an implicit criticism of the prime minister, who opposes the move.
The polls, though, are more equivocal than Olmert's forthright critiques. While a survey taken after his acquittal in July indicated that a new Olmert-led party could win as many as 30 seats in Israel's 120-seat Knesset, a poll earlier this month found that, with Olmert at its helm, Kadima would win just 11 seats. Accordingly, most analysts don't see him returning to the premiership--though that's impossible to rule out altogether. To do so, it appears he would have to surround himself with a number of popular politicians--ex-foreign minister Tzipi Livni's name was often mentioned as a possibility until she launched her own new party last week. Former journalist and political newcomer Yair Lapid has been cited as well, though that now seems unlikely since he has established his own new party.
Still, considering his strong ties with a number of ultra-Orthodox parties, if Olmert runs and wins a significant number of mandates (two big "ifs" to be sure), he could potentially cobble together a coalition that would land him back in the prime minister's office. Even if he doesn't win, Olmert could still garner a sufficient number of votes to impact the conversation--or, less likely, to sit in the Knesset as the official leader of the opposition.
In the meantime, significant challenges remain to a return. Earlier this month the state prosecutor appealed Olmert's acquittal in the corruption cases along with his one-to-three year probation and $19,000 fine for the breach of trust conviction. What's more, a second, separate, trial is underway in which Olmert faces charges he accepted bribes in a shady real estate deal.
Predictably, all this is fueling a debate over whether Olmert's legal troubles should disqualify him from standing for office. And while those who know Olmert seem almost universally to like him (former deputy national security adviser Elliott Abrams wrote in an e-mail that Olmert is a "real mensch"), many Israelis continue to view him as thoroughly corrupt.
But one former Kadima official with knowledge of Olmert's thinking insists that if Olmert wants to run, none of this really matters. "Ehud Olmert, personally, is the most likeable politician you'll ever meet," the official said. "He is very warm in a place that does not advocate for warm politics. He hugs a lot. He gives you a clap on your cheeks when he sees you. He knew his security guards by name and he had 30 of them, and they changed all the time."
"But when it comes to politics," the official said, "he's like a killer. There would be nothing that would stand in his way."
Netanyahu clearly sees Olmert as a threat: Some analysts interpret the prime ministers's decision last month to hold early elections as a move to stand for re-election before Olmert can regroup. As respected Israeli columnist Ben Caspit put it, "What is driving Netanyahu to the polling stations at almost hysterical speed is Ehud Olmert."
The question is, will other Israelis be driven to their polling places to vote for Olmert? In Israel, which is short on leadership and long on corruption, political comebacks are not unusual. At the polls, experience has tended to trump novelty, to say nothing of righteousness. But observers say there's something more profound for Israelis behind a potential Olmert return: a way forward.
Should he decide not to run, his shadow candidacy, like his overtures to Abbas, will remain a case of what might have been. Meanwhile, the ultimate value of his political conversion hangs in the balance: Had Olmert remained in power, maybe he would have made peace. Or maybe not. For now, Netanyahu is in charge.
But for how long? Olmert may yet have something to say on that. Whether today, tomorrow, or the next day, this one-time Likud prince is angling to become king of the center-left, completing a surprising political comeback. In doing so, he just may cement another notable turnaround--the revival of a peace process long assumed dead.