China's War on Corruption Is About to Get Real
In Guangdong province, ad hoc punitive investigations will soon give way to institutions built to deter graft in the first place.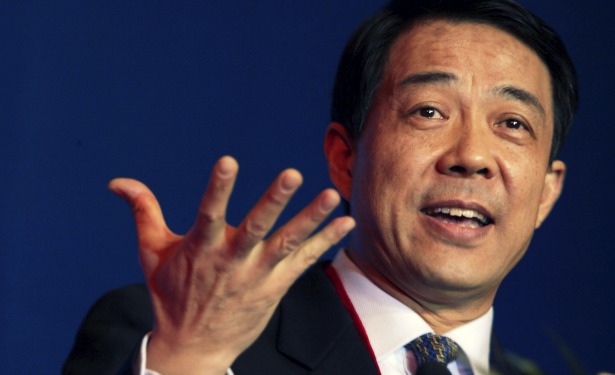 Bo Xilai, then the governor of Liaoning province, delivers a speech in 2003. Bo, once a contender for China's top leadership, faces trial and a long jail sentence on accusations of corruption and abuse of power. (Jason Lee/Reuters)
On December 9, world anti-corruption day, the government of Guangdong province in Southern China took a step toward something potentially huge. According to China Business Journal, the government selected three counties -- Hengqin County of Zhuhai City, Nansha County of Guangzhou City and Shixing County of Shaoguan City -- to be "experimental zones" for a system to make information about officials' assets publicly available in 2013.
No More Movement-Style Anti-Corruption, Please
After the transition of power at China's 18th Party Congress, the country's leaders have voiced their determination to fight corruption with a stringency rarely seen in the past. On November 17, President Xi Jinping said that corruption, if left uncontrolled, would ruin the Communist Party and the nation. His voice was echoed by Wang Qishan, also a member of the Politburo Standing Committee and the secretary of the Commission for Discipline Inspection of the Central Committee of the Party, during a symposium two weeks later. The symposium had gathered eight scholars of political science, law,and economics to give advice on fighting corruption.
The torrent of anti-corruption rhetoric seems also to be unfolding in practice. In recent weeks, more than ten public officials have been dismissed and investigated. To name just a few: Li Chuncheng, the vice party secretary of Sichuan province, Shan Zengde, the vice agriculture chief of Shandong province, and Lei Zhengfu, the party secretary of Beibei County of Chongqing. The downfalls of many officials have followed a similar trajectory: Evidence of corruption was first released online, drawing momentous public attention on social media within days. Pressured by public opinion, the government stepped in to investigate, ultimately sacking the officials named. These repeat watchdog successes have led many to conclude that "online sleuths" are becoming the backbone of China's anti-corruption drive.
Yet a large portion of Web users feel that the string of cases look more like arbitrary political moves than reliable institutional proceedings. Writing on Sina Weibo, China's Twitter, user @敏而好学1990 asserts that practices of this method of corruption-busting is not sustainable. "The anti-corruption campaigns draw everyone's attention now. These types of movement-style campaigns harvest lots of praise. But they are not something new. Premier Zhu Rongji [who served from 1998 to 2003] was even harsher than this. He even said that he prepared 100 coffins for corrupt officials, and one for himself. What determination he had. But the efforts ended up with more corruption. ... No movement-style campaign can solve the problem. .... We need normalized systems."
Lawyer Chen Youxi (@陈有西) echoes this skepticism, adding that the campaigns reinforce rule by men instead of rule by law, and might even come to endanger ordinary citizens. "At first only the officials feel endangered, but soon citizens may feel endangered. Many people don't know that there is no clear boundary" restricting practices of this kind to a certain population. Chen's point: Everyone is a potential target.
For sure, none of the multiple waves of large-scale anti-corruption in the past halted the long-term trend corrupting China's officialdom. Clean-up actions focused on investigation and punishment rather than prevention. @曹不为 argues that the old ideology must be replaced with institutional prescriptions. "Institutional systems of supervision, checks and balances are the only path to sustainable anti-corruption in the long run. Too heavy a dependence on tip-offs by netizens cannot endure. It might even be utilized by some politicians to attack political rivals."
Chinese Web users have suggested all manner of possible corruption antidotes, but the most frequently mentioned step is asset disclosure by public officials. Economist Han Zhiguo (@韩志国) explains its importance this way: "In order to solve the deeply-rooted problem of corruption, disclosure of officials' assets is unavoidable ... The Hong Kong government was once seriously corrupt for a long time. But the problem was eradicated soon after the implementation of a disclosure system and the establishment of the Independent Commission against Corruption."
Guangdong: A Pioneer Again?
The experimental policy package proposed by Guangdong authorities includes several measures of unusual rigor, similar to those already implemented in Hong Kong. Guangdong public officials would be required to report their own income as well as their families' assets. Those who conceal information or lie would be dismissed.
The experiment is part of Guangdong's Five-Year Plan of Party Administration with Strict Principles (从严治党五年行动计划), an agenda setting forth comprehensive anti-corruption reforms in the province. According to the agenda, the officials' assets disclosure system will be expanded to the whole province by 2014. Public participation in supervision, especially via online channels, will also be incorporated.
Only a look at China's history can show just how phenomenal a breakthrough these efforts may represent. The idea of an official assets disclosure system was first put forward in 1989, followed by ceaseless calls from the public, as well as proposals submitted by representatives of the National People's Congress, demanding the establishment of such a system. But objections from various interest groups have held the plan up in the air.
Wu Guanzheng, former secretary of the Central Commission for Discipline Inspection of the Party and a member of the Politburo Standing Committee from 2002 to 2007, confessed after retirement that the Politburo had once considered experimenting with the system in Tianjin, Shandong, Shanghai, and Guangdong. But it failed to carry out the plan in the face of strong resistance from the officials who would be affected.
During years of heated debated at the central level, 17 counties in four provinces have implemented the system on their own. Yet, those attempts at the local level bore no meaningful fruit, because in most cases, the policy was abandoned after the official who advocated it left his position.
Now, Web users have started to nurture hope that the policy enacted in Guangdong could not only outlast its initial advocates, but become a role model for other provinces. Since the 1980s, Guangdong has been a pioneer for "opening up and reform," as many of the experiments conducted in that region induced nationwide economic and political change. Guangdong's historical pedigree has led many to hope that the same could happen here.
Doubts From the Sidelines
Not everyone is satisfied with the plan as it stands. @华仔老张 took issue with the selection of experimental zones, writing, "The selection of those three counties is really tricky. Shixing is a famous county in poverty in northern Guangdong. Hengqin is in its first stage of development. Nansha is underdeveloped. Why not start from Guangzhou, Shenzhen and Dongguan? Is it the case that officials in those cities need leeway? " Indeed, online observers fear that officials not in the experimental zones could take time to transfer their assets before the policy is expanded. @右岸飘花 argued, "It does not work. Too much time for corrupt officials. What if they transfer their assets or even escape overseas?"
These questions reflect a much more profound concern with the recent good news. Even though disclosing officials' assets is undoubtedly a positive step, it alone cannot cure the corruption afflicting so many levels of Chinese government. Such a system could be effective only when political reforms in other sectors follow. @慕容雪村 offered this illustration: "Corruption is not just about money and womanizing. Its essence is the abuse of power. What we need is a functioning system of supervision which confines public power within a cage ... Making the supervision system work necessitates real media, real opposition parties, and real votes."
---
This post also appears at Tea Leaf Nation, an Atlantic partner site.