China's Foreign Ministry: We Don't Know Who Elton John Is
They're probably just trying to avoid talking about the British singer's support for dissident Chinese artist Ai Weiwei.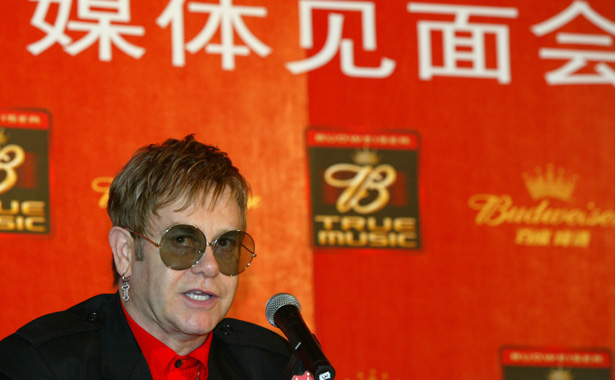 Elton John's dedication of his concert to dissident artist Ai Weiwei while performing in Beijing on Sunday garnered a large amount of international media attention this week, but an official response from the government has yet to be made. A Chinese-language article in Asahi Shimbun stated that when asked about the event in a press conference on November 27, Chinese Foreign Ministry spokesperson Hong Lei conveniently avoided producing an official answer when he stated that he "does not know" who Elton John is. Netizens on Weibo responded in many ways, ranging from incredulity to discussions of the event itself.
Many netizens reacted with skepticism that a Foreign Ministry spokesperson could not know such a high-profile singer, and were critical of the Ministry's response:
The Foreign Ministry's response makes people speechless.
(远人不服修德来之:外交部这个回答让人无语) 

Genuinely doesn't know, I have no idea. 
(云水沧茫:真不知道,我也不知道。)

Burying their head in the sand.
(ilovet:掩耳盗铃)

Who says? Even the Global Times knew.
(业余政治家:谁说,环球时报都知道了)

"Doesn't know that person." Amusing.
(在陆:"不知道那个人" 有趣)

The Foreign Ministry would only need to watch the news.
(Siu-:外交部只看新闻联播)

A central office of the state has certainly heard of that person.
(三木重生:国税总局肯定知道那个人。)

No sense of shame.
(木子改三十而虑:不要脸)

Foolish, isn't simply closing the country and excluding foreigners also a loss of face?
(SweetTears:傻×,干脆闭关锁国吧,咱也别出去丢人了成不?)

Indifference as well as ignorance.
(太的陽:冷漠而無知)
Some gave the spokesperson the benefit of the doubt, and admitted that they didn't know who Elton John was either:
The discussion also featured critical or supportive comments about Elton John and Ai Weiwei. Some only used the character "Ai," (艾), which, in addition to being the character in Ai Weiwei's name, is also the first character in the transliteration of Elton John's name, so they could have been discussing one or the other.
Who is Ai Weiwei?
(谈笑云起:Aiweiwei是谁?)

Ai is just foolish, not worth a mention.
(analystqiaojie:艾就是个傻X,不值一提)

Ai Weiwei is of course trash.
(於智翼:艾WW本来就一个垃圾)

Ai is not perfect, many of his methods can't be approved of. But, owing to the fact that a discussion can't be published, his image has been changed into two extremes. He's not perfect, but he's not evil.
(DigitalPig:ai此人也并非完美。很多做法不能认同。可是由于不能公开讨论。结果就是ai的形象成了两种极端。要不完美,要不是恶霸。)

Salute, Elton.
(奇客7KE:拜了,埃尔顿。)

I support Ai's position, but his personal conduct is too disgusting.
(黄粱一梦终觉醒-昊Hmouse:赞同艾的主张,不过他为人太恶心。)
Others did not like the fact that the story was coming from a Japanese news source:
The Associated Press reported that at the concert itself, reception was lukewarm. The report states that audience members merely "rumbled in recognition" that Ai Weiwei is a touchy subject. In an English-language op-ed, Global Times argued that the dedication wasn't a big deal, citing concertgoers who said that they barely heard the announcement and that "there was no particular reaction at all" from the audience.
Despite downplaying the incident in the English version, a Chinese-language Global Times article treated the singer's announcement much more seriously, comparing the incident, as well as Bjork's 2008 concert declaration of support for Tibetan independence, to a Japanese mayor's expressing doubt that the Nanjing Massacre occurred, earlier in 2012. "The situations are different," the article states, "but not without similarities."

---
This post also appears at The Asia Society, an Atlantic partner site.