You Crazy Dictator: Bread and Circuses in Turkmenistan
In Central Asia's most oppressive country, a once-banned pastime receives a visit from the country's all-powerful "Protector."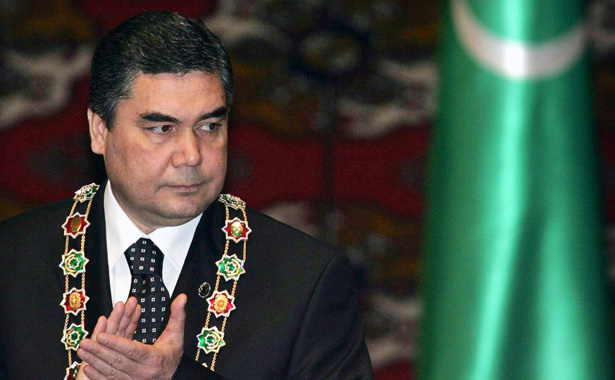 There's no freedom of the press or assembly, the barest hint of political freedoms or civil liberties, outright disdain for human rights, and few permissible contacts with the outside world. But say what you will about Central Asia's hermit republic, Turkmenistan does have the circus.
Turkmen President Gurbanguly Berdymukhammedov paid what was billed as an unannounced visit to the State Circus on Saturday, in the company of what state media said was his grandson. (Little is known about Berdymukhammedov's private life and family.)
 
Video broadcast on state television shows the 55-year-old Turkmen leader -- known in-country as "Arkadag" or "Protector" -- arriving in faded jeans and a casual weekend shirt at the funky Soviet-era Ashgabat State Circus building to the rapturous welcome of hundreds of young people, many resplendent in traditional Turkmen dress and singing patriotic songs.
 
(Despite his visit ostensibly being unannounced, a teacher in a local school in Ashgabat said that the children in attendance were selected several days ahead of time and had been rehearsing for days before Berdymukhammedov's arrival.)
 
In the video, the children can all be heard chanting "Glory to the Protector" as Berdymukhammedov arrives. But Berdymukhammedov, in a clever twist on his self-declared Era of Supreme Happiness in Turkmenistan following his reelection (with 97 percent of the vote) in February, says, "Glory to the kids, who live in an era of supreme happiness." To which they all repeat: "Glory! Glory! Glory!"
It's all a bit North Korea-ish.
 
Berdymukhammedov performs a few awkward dance moves before presenting the director of the circus with a small wooden box that we're told contained a check for the equivalent of $50,000, aimed at supporting the further development of the circus in Turkmenistan.
 
According to the official website of the Turkmen government:

The news was welcomed with a storm of applause. Inspired artists sincerely thanked the President of Turkmenistan for such a generous gift and assured the Turkmen leader that they would spare no effort for the inspired and dedicated work to bring the national circus school up to the highest level, to raise its prestige in the world. At the request of the specialists of the State of Circus, the President of Turkmenistan had a collective photo together with them on the memory of this remarkable event. Once again, wishing good luck to the circus artists, the President left the circus building.
Time was, the circus didn't exist in Turkmenistan. It was banned in 2001 under Berdymukhammedov's predecessor, Saparmurat Niyazov, as being representative of an "alien" culture and "contrary to the Turkmen mentality."
Niyazov died in 2006. It didn't take long for Berdymukhammedov, walking a nationalistic tightrope, to bring back the Big Top, even if its traditions were not strictly Turkmen.
(Berdymukhammedov has slowly dismantled Niyazov's personality cult and odd social policies, reinstating the circus, 3-D cinemas, opera, lip-synching and even gold teeth.)
In 2010, the funky, saucer-shaped State Circus building, which had fallen into disrepair, was given a marble and granite facelift at a cost of $18 million. Clowns, jugglers, fire-eaters, lion tamers, and trapeze artists were persona non grata no more.
Bread and circuses (n) -- a palliative offered especially to avert potential discontent.
Video: A day at the circus with Turkmenistan's president: