'We Can't Forget This Machine': The Letterpress of Mogadishu
A print shop in the Somali capital tells the story of the country's two decades of turmoil -- and rebirth.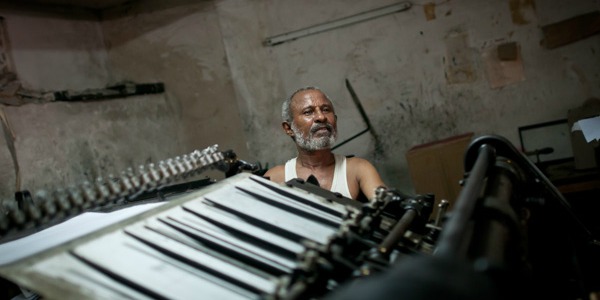 Jonathan Kalan
In a tiny, damp, oil-soaked cellar tucked behind one of Mogadishu's bullet-pocked central streets, fragile remnants of a city's survival clutter the rickety shelves. Their location, hidden just beneath Mogadishu's shelled façade, is perhaps their only reason for survival.
For 45 years, Daha Printing Press has accumulated an inked archive of Mogadishu's intricate, vibrant and violent political and social history. As governments, dictators, warlords, and militias battled for control of the streets above, Daha operated like a well-oiled machine, printing for all who walked in their door. Everybody, it seems, has something to print.
"Even warlords needed to collect taxes," Liban Egal, the son of Daha's original owner, asserts.
Customs declaration forms for Mogadishu's bustling port, still written in Italian from early post-colonial days, sit freshly pressed on the table; they are being repurposed for Somalia's new government. Tax collection slips and Central Bank account ledgers from the military rule of Mohamed Siad Barre -- whose ousting in 1991 launched two decades of civil war -- litter the stock room. Business cards, like that of notorious warlord Mohamed Farrah Aidid, who was the target of a failed American assassination attempt (which in turn resulted the infamous 'Black Hawk Down' incident), fill old wooden drawers. Even United Nations Development Program reports from the 1980's hide under crumbling shelves.
Originally opened in central Mogadishu in 1967, Daha Printing Press was founded by 25 year-old Abdi Egal Hassan. Hassan took skills he mastered studying printmaking in Germany through a scholarship, and built a thriving enterprise.
By 1969, General Mohamed Siad Barre staged a successful military coup and took control of Somalia. He experimented with Chinese-influenced 'scientific socialism,' and in 1971 all private sector workers became government employees. All large businesses became government businesses. Daha was shut down.
Barre eventually switched sides during the Cold War, aligning with the US. In 1983 Abdi was able to reopen Daha Printing Press. The small letterpress shop has remained unchanged in location, machinery and employees, ever since.
Liban Egal, Abdi Egal Hassan's son, currently owns Daha. Liban, who grew up working the printing press after school, has recently returned to Mogadishu after spending more than twenty years abroad. In addition to resuming work at the press, he is founding the First Somali Bank -- Somalia's first since the collapse of the country's Central Bank in 1991 -- along with Somalia Wireless, a mobile internet company.
With Mogadishu quivering on the edge of sustained peace for the first time in two decades, Kasim Shiek Ahmed, whose family has labored behind the machines for 3 generations, and Liban are ready to welcome the arrival of Somalia's first real government in as many years. On August 20th, the Federal Parliament of Somalia was inaugurated, and the Federal Government of Somalia, the first permanent central government since 1991, replaced the Transitional Federal Government. On September 16th, Hassan Sheik Mohamud, a political activist and academic, was sworn in as Somalia's newest President.
"As soon as this new government begins, that's when we begin," exclaims Liban "Every Ministry will need some kind of paper."
The old Heidelberg printing press, its slickly oiled gears churning beneath the shell-shocked streets, will also press on. "We can't forget this machine," Kasim expresses with a wide grin. "It's like family."
All photos are by the author.