The Global Geography of HIV: 20 Years of Change—in 1 GIF
With just two years until UN member states hit their Millennium Development deadline for AIDS, a reminder of how far we've come -- and what's left to do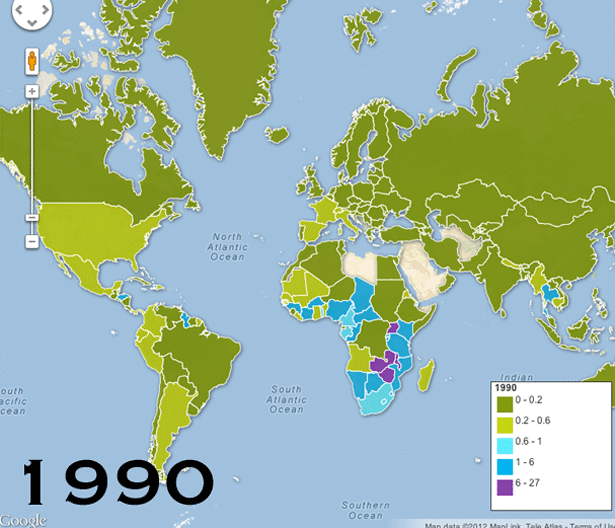 HIV prevalence as a percentage of adult populations [Maps via The Guardian / Data via UNAIDS]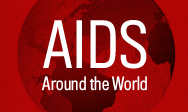 Essays and ideas to mark the 24th annual World AIDS Day
See full coverage
When the United Nations convened in 2000 to lay out a roadmap for humanity's future -- eight Millenium Development Goals -- the sixth was remarkably ambitious: by 2015, halt and have begun to turn back the spread of HIV/AIDS.
The world hasn't always marched in lockstep on transnational issues, but among the important exceptions, you can't ignore the fight against HIV. In the GIF we put together above is the history of our planet from 1990 to 2009, told in terms of HIV prevalence as a percentage of adult populations.
Two things about that map become noticeable right away. One is how quickly sub-Saharan Africa was overtaken by HIV; in the half-decade between 1990 and UNAIDS' founding in 1996, the number of countries in lower Africa with infection rates greater than 6 percent nearly tripled. The second thing that's hard to miss is the gradually rising prevalence of HIV in Russia. In 1990, Russia had the same infection rates as Sweden -- less than 0.2 percent. By the end of the aughts, it ranked alongside Thailand and Gabon.
Still, the overall story in recent years has been one of unmitigated success. The most recent UNAIDS report shows the rate of new infections worldwide continuing to fall; every year has been the best year for new cases since the HIV epidemic hit its peak in the mid-1990s. This year, the figure was 2.5 million -- down by a fifth from what it was in 2001. In sub-Saharan Africa, AIDS killed 32 percent fewer people last year than in 2005, and 24 percent fewer people around the globe as a whole.
Meanwhile, this is what the infection map looks like today, with the latest UNAIDS figures: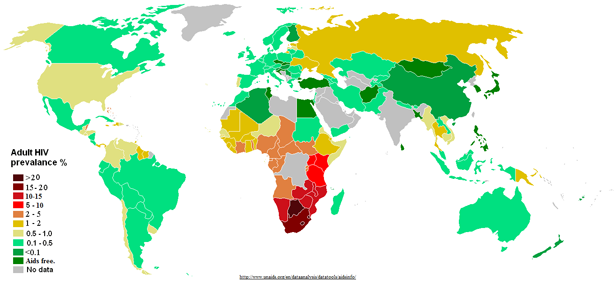 Wikimedia Commons
There's still a lot of work ahead, but it's hard to know how far you've come without looking at where you've been.