The Gaza Conflict Comes to Tel Aviv
For the first time in 20 years, air raid sirens sound in Israel's largest metro area.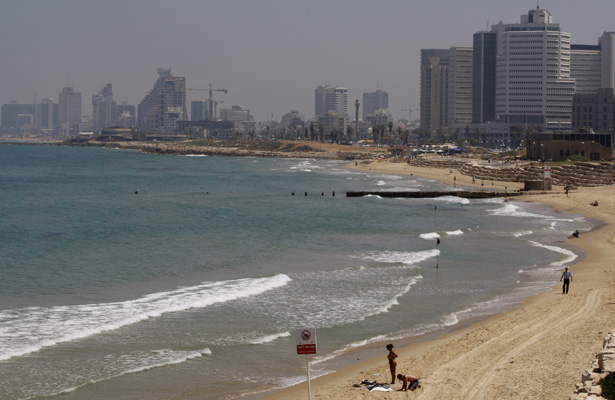 Gil Cohen Magen/Reuters
A Hamas or Hezbollah rocket attack on Tel Aviv, and the Israeli response that such an attack would likely provoke, is a possibility almost too fearsome to contemplate. The city and its metro area are home to about 40 percent of Israel's population, and the country's lone international airport is located in one of its eastern suburbs. The General Staff of the Israel Defense Forces are headquartered in Tel Aviv, and because of the ongoing dispute over Jerusalem's final status, the city serves as Israel's internationally-recognized capital, and the venue for much of the country's diplomacy. Tel Aviv has always been a kind of psychological safe-zone as well, a secular city in a country riven with confessional tension; a pleasant and laid-back place where God, war and sectarianism can feel blessedly distant. An attack on Tel Aviv would not only threaten the safety of much of Israel's population. It would also yank the city back into the world that surrounds it, and initiate it into the very problems it is mythologized as being immune from. One of Israel's remaining precincts of physical safety and physic calm would be violated.
Today, there were numerous reports that that line had been crossed. On Thursday morning, an IDF spokesperson told a conference call of reporters that the IDF has targeted stockpiles of long-range Fajr-5 rockets during bombing raids on the Gaza Strip, Sky News reported that a rocket fell "in an open area in Rishon L'Tziyon," a large suburb 12 kilometers south of the city. According to The Times of Israel, reports of an attack on Rishon L'Tziyon were corroborated by the Israel media but partly denied by an IDF Spokesperson who said that no rockets had landed "on the ground" in the Tel Aviv area. The Times liveblog reports that one rocket hit the southern suburb of Holon, while Israeli radio said that two rockets hit nearby Bat Yam. According to Ha'aretz, two rockets hit Rishon L'tziyon in the late afternoon, and were followed by a single rocket that hit Holon some hours later. It's possible there has been some confusion as to which southern suburb the earlier pair of rockets hit, especially since the air raid system was activated in both places--and all reports seem to suggest that three rockets in total hit the Tel Aviv metropolitan area. To be clear, there are no credible reports that rockets have hit inside of Tel Aviv itself, and there are no reports of any injuries.
The Tel Aviv air raid siren apparently did go off, although the system is usually activated according to a rocket's speed and apparent trajectory. Thus, an attack on a suburb, or a rocket that lands in an open space or even at sea, has the potential to trigger a city-wide alert in Tel Aviv itself. And even if a rocket did hit in or around Tel Aviv, it's unlikely that the IDF would volunteer any specific information about where or what it hit: Why tell your enemy that their firing trajectories on your largest civilian population center are correct, or wrong, for that matter? According to Tel Aviv-based writer Ben Kerstein and others I spoke to, in radio broadcasts, the Israeli military is actively encouraging residents not the reveal the location of rocket strikes through social media (it's not just the army, either; this apparently home-made notice, urging Israel's not to "publish where [rockets] fall," has been making the rounds on Facebook). And according to one Times of Israel editor, the army is witholding information from Israeli media concerning the exact location where rockets land.
The exact spot of a rocket attack on the Tel Aviv megalopolis is perhaps less important than the reality of one. It's been two decades since Tel Aviv residents have heard air raid sirens go off, or have had to crouch beside their vehicles as rockets are falling overhead.
But the outer limit of Hamas's rocket campaign against Israel has expanded, bringing a degree of bewilderment and panic to a place that once seemed insulated from the region's violence. "The sirens went off for about 30 seconds," says Kerstein. "Then nothing. People were milling around on their cell phones trying to figure out what was going on." According to one person I spoke with, there was bumper-to-bumper traffic on the northbound lanes of the Ayalon highway at 9:30 PM this evening. "Not normal," he added.