The Continuing Nightmare of Poland's 2010 Smolensk Plane Crash
The disaster, which killed the country's former president and his entourage, is still a source of major political tension.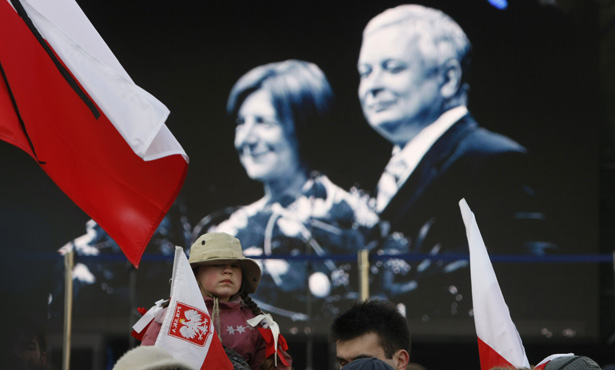 Just when Poles thought the ghost of Smolensk had disappeared, up it popped again. Last week, Polish military authorities exhumed the body of another wrongly identified victim of the April 2010 airplane crash that killed Poland's former president, his wife, and 94 other passengers -- the third case so far this year.
The latest exhumation, carried out on what was thought to be the body of Poland's last president-in-exile, Ryszard Kaczorowski, who served briefly as head of the London-based government-in-exile from 1989 to 1990, turns out not to be that of Kaczorowski after all.
Kaczorowski's grave was exhumed last week at Warsaw's Temple of Divine Providence -- the resting place of many esteemed Polish public figures.
After DNA tests were carried out on the body at the State's department of forensic medicine in the southern city of Wroclaw, Warsaw's chief military prosecutor, Ireneusz Szelag, announced Tuesday that the body was not that of Kaczorowski, and is in fact that of another male fatality of the 2010 crash.
It is not yet clear if both bodies -- that of Kaczorowski and the other unnamed male fatality -- were buried in corresponding graves. What is clear is that the identification of passengers' remains was less than accurate in the hours and days following the fatal crash.
The Polish government has tried its best to soften the political damage of the exhumations. In late September, Prime Minister Donald Tusk stood before the Polish parliament (Sejm) and apologized to the victims' families for the incorrect identification of their loved ones, and said he took full responsibility for the Polish state's mistake.
This was in response to the exhumations of Anna Walentynowicz, one of the founders and heroes of the country's Solidarity movement of the 1980s, and Teresa Walewska-Przyjalkowska, a scientist and well-known social activist. It wasn't long before officials discovered that both of those bodies had been wrongly identified, too.
The remains of Walentynowicz and Walewska-Przyjalkowska were re-buried in ceremonies held on September 28 and October 2, respectively.
Tusk is no doubt hoping that these exhumations will be the last. However, they probably won't be. Military prosecutors say that two further exhumations will be carried out before the end of this year. There have already been seven such exhumations to-date. A leading Polish newspaper, Gazeta Wyborcza, has reported that the final total for the exhumations may reach 15.
In an extremely Catholic country, supporters of the conservative opposition's Law & Justice party are seeing the "mis-burials" of well-known figureheads -- now martyrs to many -- as an abomination.
Law & Justice leader Jarosław Kaczynski -- the twin brother of deceased president Lech Kaczynski -- has gone so far as to suggest that the Smolensk tragedy was no accident. Russian conspiracy theories have long circulated among Law & Justice supporters.
All of this comes at a very delicate time for Tusk's ruling Civic Platform party and its coalition partners, which holds a slender four-seat majority in a 460-seat parliament.
The botched burials may not threaten to topple Tusk, but Law & Justice is gaining ground. According to one recent poll, Civic Platform now trails Law & Justice by six points. That's a sizeable turnaround considering that Tusk's party garnered 39 percent of the vote in last year's parliamentary election, 10 points clear of Law & Justice.
On Tuesday, the conservative newspaper Rzeczpospolita ran a story claiming that traces of explosive material had been found amongst the wreckage of the Tupolev-154, the ill-fated aircraft that carried President Kaczynski and his entire entourage.
The accusation prompted the living Kaczynski to declare: "I think that it is true." He later told reporters that "Tusk is a man who has a rather vague idea of democracy," comparing him to Poland's Communist-era leader General Jaruzelski. The barbs were personal and nasty. On Wednesday however, Rzeczpospolita retracted the story, saying that it had "made a mistake."
Kaczynski claims to represent the old values of Poland -- traditional, patriotic and Catholic. (One could also add Euro-skeptic to that list.) By contrast, Tusk's Civic Platform government -- favored by younger, urban voters -- has embraced the European Union, pushed for Poland to play a greater role at the heart of E.U. institutions, and forged greater political and economic ties with Germany, while domestically, it has encouraged further privatization of state assets.
Last year, the government pushed through a controversial bill that increased the retirement age to 67, a move that Law & Justice fiercely opposed.
With such stark differences at play, it's no wonder that the exhumations of Smolensk victims have turned the two-year old tragedy into a political issue.