'Murder': Some Accountability in Iranian Blogger Sattar Beheshti's Death
But will the interrogators who tortured him to death actually be punished?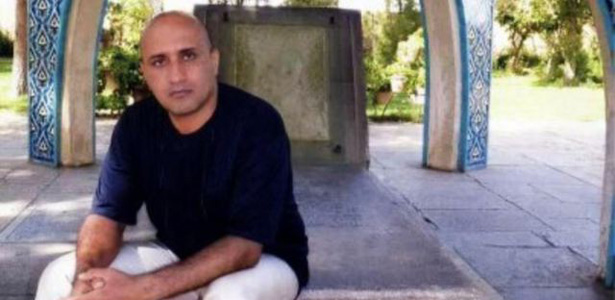 Iran's prosecutor-general says several people have been arrested in connection with the case of blogger Sattar Beheshti, a critic of the Iranian establishment, who died in custody earlier this month. Abbas Jafari Dolatabadi told reporters on November 13 that the blogger's case will be sent to the courts for consideration in about 10 days. He did not provide any details about those arrested.
On November 12, however, the news website Shabakeye Iran reported that the three interrogators who were in charge of questioning Beheshti had been taken into custody. Beheshti, 35, was arrested at his home in Robat Karim, southwest of the Iranian capital, on October 30 by Iran's cyberpolice for what authorities said were "actions against national security on social networks and Facebook."
On November 6, authorities told the blogger's family to collect his body. He reportedly died on November 3. The unclear circumstances under which Beheshti died have led to international calls for an independent investigation into his death. The case has also renewed concern over the treatment of inmates in Iran's prisons.
Signs of Torture
Iran announced that it had launched an investigation following calls by international rights groups and Western countries, including the United States, which called the blogger's death "murder." Forty-one prisoners from Ward 350 of Tehran's notorious Evin prison, where Beheshti was reportedly held for one night, issued a letter last week claiming that signs of torture were visible on the blogger's body. The prisoners, including such well-known figures as lawyer Abdolfatah Soltani and human rights activist Hassan Assadi Zeydabadi, wrote that Beheshti had been beaten during interrogations and hanged by his limbs from the ceiling.
Beheshti had issued an official letter to the head of the prison on October 31 complaining about torture and beatings during his interrogation. Judiciary spokesman Gholam Hossein Ejei said on November 12 that the blogger's body and skull did not show any fractures. He said Beheshti had complained about his heart while in custody but that an examination by the prison's doctor did not find any problems. The judiciary, however, has confirmed that five bruises were found on the blogger's body.
'Natural Causes'
Meanwhile, several lawmakers have suggested that Beheshti did not die of torture. Mohammad Hassan Asefri, a member of the parliament's National Security Committee, said there is no evidence of a "blow" or of "feeding [Beheshti] with anything" that would have led to his death. He claimed the coroner's office had determined cardiac arrest to be the cause of death.
Lawmaker Mohammad Reza Mohseni Sani said Beheshti is likely to have died from "natural causes." Both lawmakers were speaking on November 13 after a meeting with the parliament's National Security Committee, Tehran's prosecutor-general, and police officials, including the head of the cyberpolice.
Another lawmaker, Javad Karimi Ghodoussi, was quoted as saying that the "murder" of Beheshti is "suspicious," but not because of any wrongdoing by the authorities. Ghodoussi told the hard-line "Bulletin News," which is said to have ties to security circles, that "the sedition movement" -- a term Iranian officials use to refer to the opposition Green Movement -- could have been involved in the case.
'Shut Your Big Mouth'
Along with generating international concern, the case is being closely watched by many Iranians, who are concerned over the persecution of bloggers critical of the government. A female citizen journalist in Iran uploaded a video of her visit to what she identified as Beheshti's grave at Robat Karim's cemetery, which was shared on Facebook by the Campaign on Behalf of Political Prisoners.
Beheshti had said in a blog post before his death that he had been threatened with death. "They threatened me yesterday and said, 'Your mother will soon wear black because you don't shut your big mouth,'" he wrote a day before his arrest.
Beheshti is believed to be the 18th prisoner to have died in custody in Iran since 2003. A recent report by the U.S.-based International Campaign for Human Rights in Iran said, "For most of these deaths, no one has yet been held accountable, despite the fact that in all these instances, family members or lawyers of the prisoners have alleged that authorities were responsible for the deaths due to their physical abuse of the inmate or inadequate medical attention."