Meanwhile: Generals and Judges Battle for Power in Pakistan
The clash between the country's powerful military and aggressive judiciary is more intense than ever.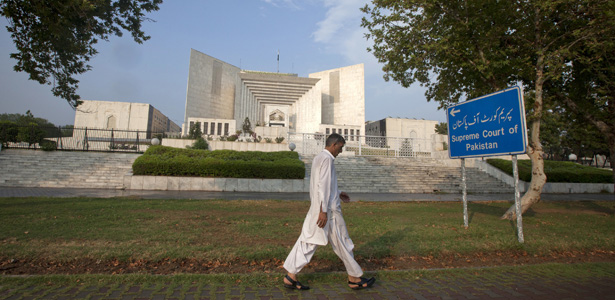 With every step Pakistan's judiciary takes toward defining its role, it further encroaches on the powerful military's turf. This was obvious on November 5 when, after months of behind-the-scenes discord, military leader General Ashfaq Pervez Kayani and Supreme Court Chief Justice Iftikhar Muhammad Chaudhry went public with their mutual criticisms.
For the first time, the men's hard-hitting comments showed they are in complete disagreement with each other over the role and the status of the institutions they head. And, perhaps more crucially, they revealed the issues they have with each other's individual performances. Chaudhry got the ball rolling when he asserted his institution's supremacy while addressing a group of civilian bureaucrats in Islamabad. "A heavy responsibility lies upon the judges of the Supreme Court to uphold the canons of constitutional predominance and its supremacy over all other institutions and authorities," he said.
His comments were a bombshell, considering that the military has reigned supreme for decades. On the same day, an opposing view was expressed in the neighboring city of Rawalpindi, where Kayani told military officers that "no individual or institution has the monopoly to decide what is right or wrong in defining the ultimate national interest."
'Paradigm Shift'
According to columnist and civil society leader Abdul Hameed Nayyar, the military's "sacred cow" status is no longer taken for granted, prompting Kayani to offer assurances within the ranks. "This paradigm shift has taken place but then they [the military leaders] are trying to prevent that from [occurring to such] an extent where they will be open to public scrutiny," he said. "I think they will not be able to stop it because in the public's eye, the image of the military has decreased tremendously."
Tensions between the military and the judiciary came to a head last month when Chaudhry ruled that the army must stop interfering in politics. He ordered authorities to launch an investigation of General Aslam Beg, a former head of the military, and General Asad Durrani, a former head of the Inter-Service Intelligence Agency. The two men are accused of rigging an election in 1991 by secretly distributing government funds to politicians. At least six more former generals face corruption charges for selling off government lands and incurring heavy losses on investments made with government funds.
Observers say the military high command is also infuriated by the Supreme Court's hearing of a case about rights abuses allegedly carried out by the military in the southwestern province of Balochistan. The military has faced tough questions from the court over its handling of suspected Baluchi separatists, many of whom were allegedly kidnapped and killed by the military. In the comments he made on November 5, Kayani appeared to be endeavoring to protect the military's traditional role and image. "As we all are striving for the rule of law, the fundamental principle -- that no one is guilty until proven -- should not be forgotten," he said. "Let us not pre-judge anyone, be it a civilian or a military person and extend it, unnecessarily, to undermine respective institutions."
Chaudhry's earlier comments emphasized the fundamental rights of Pakistanis, the establishment of the rule of law, and his definition of a stable country. "Gone are the days when stability and security of the country were defined in terms of the number of missiles and tanks as a manifestation of hard power available at the disposal of the state," he said.
Ijaz Khattak, a professor of politics at Peshawar University, sees a potential silver lining in these conflicting remarks. He believes such public disagreements indicate that institutions are gradually adopting their constitutional roles. "We should not be afraid of this," he said. "It marks the gradual return of a balance of power between institutions. Eventually, we might find something good in what looks bad now."

---
This post appears courtesy of Radio Free Europe/Radio Liberty.