Kim Jong Un, Sexiest Man Alive? Chinese Paper Falls for 'The Onion'
Satire can apparently be hard to read halfway around the world.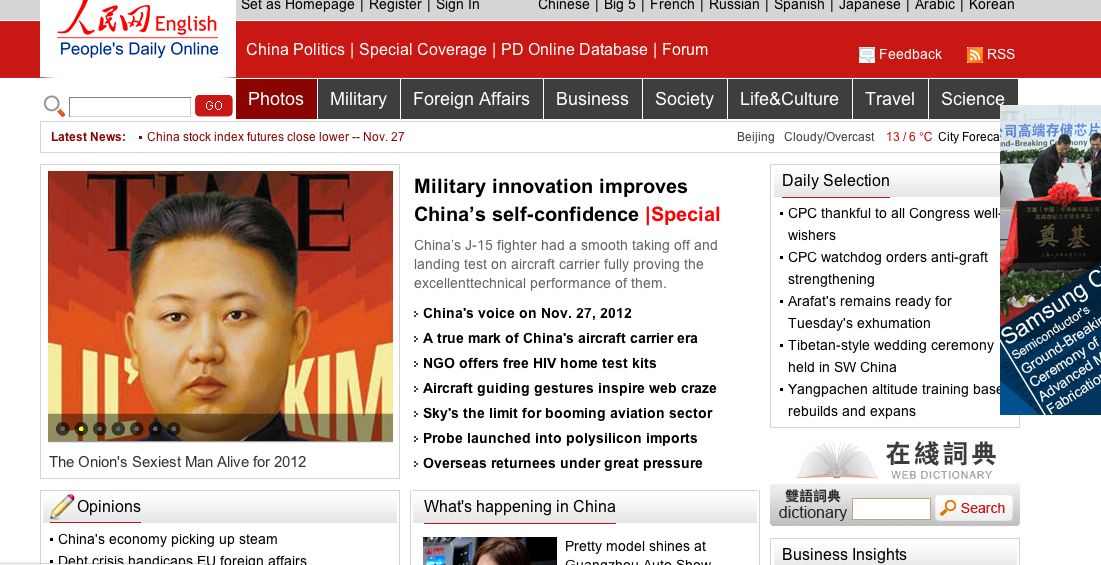 People's Daily
If you're a follower of The Onion, then you're also probably familiar with the repository of schadenfreude known as Literally Unbelievable, whose curator pulls together unfortunate examples of people mistaking the satirical rag's articles for sincere stories.
Now we can add to that list China's state-run newspaper, People's Daily, whose editors seem to have fallen for The Onion's endorsement of Kim Jong Un as 2012's sexiest man alive. The Communist Party's official mouthpiece put the honorific straight on its homepage, despite the fact that the original article lumps Kim in with such luminaries as Bashar al-Assad, Bernie Madoff, and the Unabomber, Ted Kaczynski.
Not to be outdone by The Onion's promise of a 16-page spread in praise of North Korea's leader, People's Daily pulled together a 55-page long slideshow of Kim. Here's Kim with his wife. Here's Kim being mobbed by joyous soldiers. More soldiers. And here's Kim grinning alongside what looks like a family terrified by the man's presence.
Here's Kim apparently auditioning for an Old Spice commercial. Don't think he fits the part? Judge for yourself with this side-by-side:
Sexier than the Old Spice Guy? Manlier than thou? Obviously. (KCNA/Old Spice)
Literally Unbelievable has its work cut out.