Inside Israel's Social-Media Command Center
What -- and who -- is behind @IDFSpokesperson?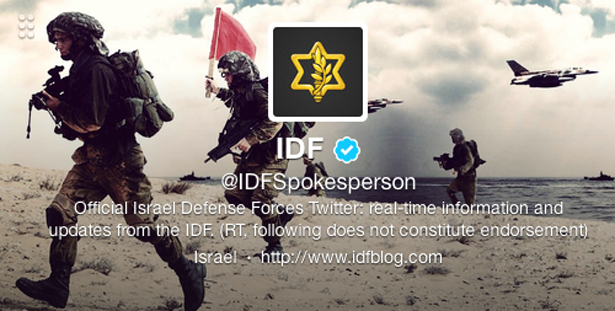 Twitter
With so much attention given to the digital war between Hamas and Israel, it was only a matter of time before we were going to get a behind-the-scenes tour of the IDF's social media command center. Tablet, BuzzFeed, and FastCompany have gained access to the team -- and what they find is a nimble and progressive operation that's taking active learning cues from its daily experience liveblogging the war.
The IDF's experiment with social media began in 2008 during Operation Cast Lead with 25-year-old Aliza Landes, a member of the IDF's PR team for North American reporters. As with many successes, the IDF's experiment with social media began as a "pet project" that took on a life of its own:
Landes had already written position papers trying to excite her commanders in the spokesman's office about the possibilities of a more aggressive social media strategy, but it wasn't until videos she posted on YouTube began to tally up impressive views that they paid attention. Originally, she told me late last week, she had used YouTube as a way to transfer video files to foreign journalists, who were prevented by the Israeli military from entering Gaza during Cast Lead and were in many instances forced to rely on IDF footage. "It wasn't for public consumption," Landes said. She soon began posting routine information updates, like statistics on the number of rockets fired, to an IDF blog and, by the time Cast Lead concluded in January, had moved to commissioning original videos from the military film department.
Over the course of the latest conflict in Gaza, the IDF has moved into some uncharted digital territory. Lt. Col. Avital Leibovich, the Israeli military's top spokesperson to foreign media, told BuzzFeed her team is learning to stay on social networks' good side by "respect[ing] the rules of engagement of that specific platform." It's an interesting turn of phrase, taking a traditionally military concept and applying it -- so appropriately, as social media curators are always seeking "engagement" -- to digital communications platforms.
Liebovich also takes pains to credit the youth of her staff:
[Twitter] isn't very popular in Israel, but the IDF's ranks are packed with young social media natives. Many soldiers have taken to Instagram in the last week, providing a surreal, utterly familiar glimpse of a youthful, conscripted army preparing for conflict.

Leibovich told BuzzFeed that she sees this as an asset, and a source of guidance. "One of the advantages that I have maybe compared to others," she explained, "is the fact that I have 18-year-olds."

"When [we recruit] the soldiers they're 18... the age of someone who was almost born into social networks," she said. "The creative side of the language almost comes natural."
That's a sentiment echoed by other members of Leibovich's team. Here's Capt. Eytan Buchman, currently the IDF's top spokesperson to North American reporters:
We recently had somebody who interned -- worked for three or four years on a major U.S. television show and you get people with incredible skills, creativity, and exposure to different audiences. When you bring in someone like that into the interactive media or traditional media branch and say "Go!," they can generally come up with amazing results. I think the U.S. military in many cases can rely on the fact that people who sign up want to; it's not a mandatory draft.
As to @IDFSpokesperson's bravado-laden encounter with @alqassambrigade last week, Buchman said the exchange -- not to mention the strength of the reaction -- came as a surprise.
I don't think ... That probably wasn't the intention initially. We wanted to interact; it was interesting for us to see they were prepared to interact back with us. I don't know (laughs) if the conversation that going on between the two sides was the most civil; the specific tweet that the IDF Spokesperson's Twitter account tweeted was a direct quote taken from head IDF spokesperson Poli Mordechai.

He said it in a television broadcast, and in real time soldiers tweeted it out. It got a lot of media attention; it definitely got more in the Twitter version than it got on traditional media. When it did eventually go to traditional media, it was probably because it was so amplified on new media.
Although Buchman slipped easily into an analogy to combat -- social media is the weapon; information, the ammunition -- he admitted that the virtual nature of his work can lead to detachment or complacency. And that can put people in danger.
What's sometimes easy to forget when you deal with the media and the interactive media is that it's easy to forget you're in the military. Sometimes you feel that you're working in a normal company; suddenly you zoom out and you remember that the purpose of a military is to be able to win a war [...]

We've had cases in the past where soldiers update Facebook statuses and reveal very sensitive mission information before we engage in operations. Even things like metainformation in pictures matter. If someone takes a picture of a number of tanks and uploads the picture, the enemy can figure out exactly where the troops are located. That makes things very dangerous.
All three interviews (Tablet, BuzzFeed, and FastCompany) are worth the full read.