How To Stay Out Of Trouble During China's Transfer of Power
For starters, you might want to avoid taking taxis.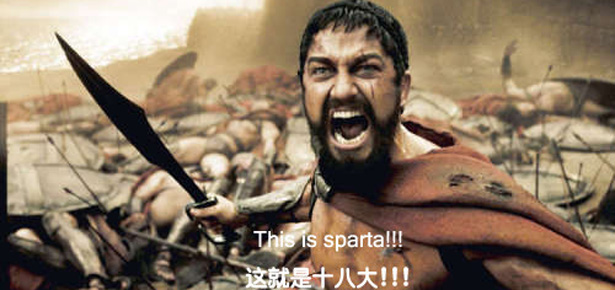 As Beijing enters extreme lock-down prior to the 18th National Party Congress (十八大 or "shi ba da" in Chinese), social media users have invented a new coded reference-"Sparta"-to talk about this otherwise censored topic on Sina Weibo, China's Twitter. A search for Sparta (斯巴达) yielded more than 3.2 million results on Sina Weibo.
To help those visiting China's capital on the eve of this once-in-a-decade change in leadership, Tea Leaf Nation has compiled a survival guide in this alternate universe known as "Spartan" Beijing:
1. Don't Roll Down the Windows in Your Taxi
Social media users have reported that handles used to roll down the rear seat windows in many taxis have been removed, apparently in an attempt to prevent passengers from distributing leaflets from the backseat.
Lin Chufang (@林楚方), editor-in-chief of iRead magazine, verified this: "Just took a cab home. I asked the driver, did your company really ask you to close the windows at all times? He said yes. Did they ask to remove the rear window handles? He said yes. What if the windows are  automatic? He said the driver can lock them from the front. What if the car goes near sensitive areas? He said he would lock the door. But who would know if you don't lock it? He said there are special personnel in charge of checking this. Looks like that post on the Internet wasn't rumor, it's just me lacking imagination. Too naive!"
2. Sign on the Dotted Line If You Take a Taxi
Some taxi companies have also asked passengers to sign an agreement that details the passenger's point of origin, destination, name, phone number, and the route, as well as guarantee that the passenger will:
a. Fasten the seat belt;
b. Try to avoid important locations such as Tian'anmen Square. If the route is necessary,  the passenger must close the windows and lock the doors;
c. Acknowledge that the route is taken at the passenger's direction and take full responsibility for any related consequences.
3. Don't Buy Anything that Can Fly
A local supermarket posted a "gentle reminder" that customers who want to purchase remote-controlled toy airplanes need to register with their real names and IDs, due to a request from a local police station. Apparently, flying balloons is also forbidden.
4. Show Your ID If You Want to Bathe
A local spa or bath house also sent a warm short message to customers to let them know that anyone using the bathing facility (including children) needs to register with effective ID.

5. Out of Knives? Tough Luck
Be extra careful when using your kitchen knife in the next two weeks, because it would be hard to replace it in a "Spartan" Beijing. Some supermarkets have suspended the sales of all knives during the 18th Party Congress. The same goes for scissors and screwdrivers.
6. Obey the Old Ladies
See that old lady with a red sleeve cover? Don't mess with her. She is probably one of 110,000 "volunteers" in Beijing keeping an eye on the street.
Journalist Qi Jie (@coldair) reports, "There are many young and innocent faces in the [Beijing] subway, wearing red sleeve covers. Their job is to ride the subway non-stop and take note of bad people. I asked one, 'Why do you do this?' He said, 'It pays. 40 RMB (approximately US$7) a day. We are volunteers.'" Yao Bo (@五岳散人), a well-known social commentator, tweeted on Sina Weibo: "The people in charge of People's Daily and CCTV [China Central Television] are afraid of leaflets. The people in charge of the military, para-military, local police and urban law enforcement are afraid of kitchen knives. The people in charge of armed vehicles are afraid of taxis driving near political centers. The people in charge of stealth fighter jets are afraid of toy planes and balloons. Bro, am I living in Alice's Wonderland?"

---
This post was produced in collaboration with Tea Leaf Nation.