Happy Thanksgiving, Humphrey Bogart Edition
Thanksgiving and the Fourth of July are America's best holidays. Anyone inside the U.S. naturally associates the Fourth of July with eating hotdogs and watching fireworks, and associates Thanksgiving with eating turkey and pie, hanging around with friends and family, and watching football. Plus all the appropriate civic thoughts for each day.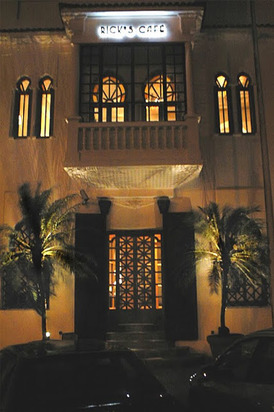 When Americans are outside the U.S., both of these holidays turn into occasions for comrade-seeking and bonding and celebrating with other Yanks. Gathering with countrymen on these days is part of the mark of being American: no one else remembers that they are actual holidays, no one else has the ancestral imprint of watching the Bears vs. the Lions while mashing potatoes or wondering if the turkey is done.
And thus it was that in Casablanca this afternoon, for Thanksgiving Day, my wife and I went to Rick's Cafe -- in search of an American friend and proper holiday ambiance. The friend was Kathy Kriger, whom we had gotten to know long ago in Japan when she was in the foreign service there. For the past 14 years she has lived in Morocco, where eight years ago she opened Rick's. It's a Bogey-era Art Deco house re-done, with loving detail, to create the look and atmosphere of Rick's Café Américain from the movie Casablanca. A waiter is wearing a fez; the bartender shakes a silver cocktail-mixer behind a bar that could have come from the movie; there's a piano right on the main floor. We didn't have turkey -- today's Thanksgiving meal featured couscous --  but in all other ways it was a welcome plunge, on a classically American holiday, into a familiar part of our national culture.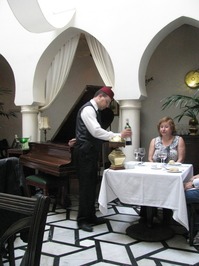 The next time you're in Casablanca (another phrase I never imagined myself writing), it is very much worth checking out Rick's. Especially if you're there next Monday, when Kriger and company will celebrate the 70th anniversary of
Casablanca's
debut. More about Kriger and her cafe from
American Way
and
The View From Fez
, which is also the source of the nighttime photo above. Her recent book about her adventure is
here
.
I'll resist the temptation to hoke things up with a "Here's looking at you..."-style sign-off and simply extend wishes on America's Thanksgiving Day to all.
Now, to find a satellite feed of Redskins-vs.-Cowboys.