Conflict Escalates in the Eastern Congo
Goma is returning to normal, but the region's broader crisis isn't abating -- and might only get worse.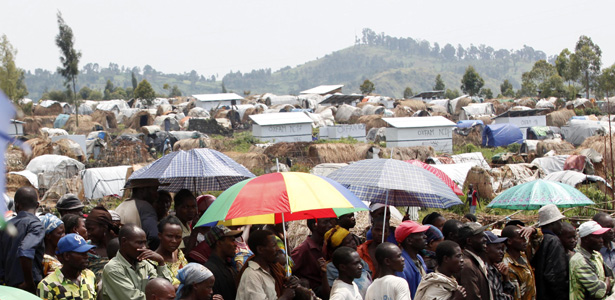 For a city recently conquered by a rebel movement Human Rights Watch has accused of "widespread war crimes," Goma is, by all accounts, a fairly quiet place. On Monday, I talked to two NGO employees based in the capital of the Democratic Republic of Congo's North Kivu province, a city of up to 1 million inhabitants that was taken by the Rwandan-backed M23 rebel movement last week.
"Things have been relatively calm," said Dominic Keyzer of World Vision. Compared to the group's past atrocities, "the occupation itself is much more measured." Christina Corbett of Oxfam told me the city is returning to some semblance of normalcy -- or to whatever normalcy is possible in a region that has basically been at war for 20 years -- now that the initial shock of M23's offensive has worn off. "People are trying to get on with life. It isn't the beginning of the conflict, so Goma's no stranger to his kind of uncertainty [...] the city has not ground to a halt, by any means."
Economic activity is resuming, even though the price of basic food staples has doubled. And while some sources have reported attacks on civil society targets, including the assassination of a local judge, there is no fighting in the streets, and M23 has had a light presence inside of Goma itself. "It doesn't feel like a heavily militarized city," said Corbett. "We're not seeing guys on every street corner." But the city still sits at the center of a vast and seemingly insoluble political and humanitarian crisis. As Keyzer pointed out, the fighting, which includes armed groups other than M23 and the Congolese military, has put parts of North Kivu out of the reach of humanitarian organizations. "My concern is that for all of these groups, what happens in the rural areas is far worse than what happens in the urban ones," he said, noting that his organization's biggest challenge is tending to internally displaced persons [IDPs] caught along the conflict's rapidly-shifting front lines.
Though superficially calm, Goma itself is suffering under the conflict's pressures. Corbett said that a refugee camp of 60,000 to the north of the city was completely depopulated when M23 swept through last week. Though the camp was hardly a pleasant place, Corbett said that only a week ago, "it was full of life and people and chaos. You go there now and it's empty because everybody fled the fighting." Some of them sought shelter in other camps around Goma, or inside the city itself. Others fled west, to areas that some relief groups cannot currently access. The UN Office for the Coordination of Humanitarian Affairs estimates that there are now 140,000 IDPs in and around Goma, and the city's airport, a vital point of entry for personnel and supplies, was still shuttered as of Monday (sources estimate that 300,000 people have been displaced since fighting began in April). Meanwhile, ongoing negotiations aimed at diffusing the situation in the eastern DRC seem like little more than a palliative, a means of re-establishing the baseline of uncertainty that reigned before this past week's escalation.
"We've got negotiations going on in one place," Corbett said, referring to mediation talks in Kampala, Uganda, "and we've got realities on the ground, and they're not always immediately linked."
Indeed, the opacity of the eight-month-old M23 conflict stands in stark contrast to the widespread misery that the crisis has wrought. M23 is composed of former insurgents who were integrated into the DRC's military under a 2009 peace agreement between Rwanda, the militants' sponsor, and the government of Congolese president Joseph Kabila, their enemy-turned-boss, at least theoretically. The relationship was hardly built to last, and in April, the former militants defected from the army en masse. According to a recently-published UN Group of Experts report, M23 receives arms, coordination and instructions from the highest levels of the Rwandan state. Rwandan meddling in the eastern DRC is rooted in both self-defense (the region is home to anti-Kigali Hutu militants, some of which were responsible for the country's 1994 genocide) and a desire to establish a sphere of control in a region that is both resource-rich and incurably unstable.
But much about M23, which is led by the ICC-indicted former Congolese general Bosco Ntaganda, remains mysterious. What exactly precipitated the group's April defection from the Congolese armed forces?  It's possible that the rebellion was virtually inevitable, and that Ntaganda and company simply wanted to return to the pre-treaty status quo, when they ruled over their sphere of influence with little interference from Kinshasa. And what precipitated their offensive last week -- what could have convinced M23 or Rwanda to escalate the crisis?
Laura Seay of Morehouse College notes that Uganda had closed the border crossing at Bunagana just a week before the M23 offensive, depriving the militants of both a crucial smuggling route and a reliable source of revenue -- the group made several hundred thousand dollars a month on illegal taxes and transit fees. But she emphasizes that any connection between the offensive and the border closure, or between the escalation and the publication of the Group of Experts report, is speculation, and that there are larger factors undergirding Rwandan actions in the eastern DRC. "Rwanda thinks that it can have better governance in the Kivus, and that it is in their security and economic interest if they have a favorable governing authority," she said.
Typically a military response is called for when a country's land is essentially annexed by a hostile neighbor. But the Congolese army is more a fragmented collection of semi-autonomous and officially-sanctioned patronage schemes than a modern or conventional military. The few units in North Kivu that are loyal to Kabila fell back to areas south of Goma rather than challenge M23 during its advance this past week, and it is clear that the Congolese state lacks the will or the ability to eject the rebel group from the areas that it's taken. There are two possible military solutions that are even less likely than a unilateral Congolese offensive. A multinational force made up of soldiers from neighboring states that have historically been friendly to Laurent and later his son Joseph Kabila's rule -- namely, Tanzania, Angola and Zimbabwe -- could send troops to assist in a campaign against M23. Or, the UN Security Council could amend the mandate of MONUSCO, the force of nearly 17,000 peacekeepers stationed in the eastern DRC, in order to make it a Chapter VII mission. This would expand the mission's aims beyond civilian protection, and grant it the authorization to "maintain or restore international peace and security" through military means. But Tanzania and Angola, which fought on Kabilas' side during the disastrous Congo wars of the late 1990s, have been understandably lukewarm on launching yet another round of interstate war. And there's bound to be even less of a general appetite for expanding MONUSCO's mandate beyond the protection of Congolese civilians, and effectively drafting a UN peacekeeping force into one side of an escalating conflict -- especially with Rwanda's recent election to the Security Council.
Political solutions are just as sparse. Right now, negotiators representing the DRC government, M23 and Rwanda are meeting in Kampala in order to determine a peaceful means of getting the rebels to leave Goma. Uganda's attempts at diffusing the conflict have been farcical thus far. Back in July, Ugandan President Yoweri Museveni mediated a ceasefire agreement between M23 and the DRC government, and got the DRC and Rwanda to agree on the deployment of a multinational force along the border between the two countries. The ceasefire has broken, and the border force was an immediate non-starter. Ugandan officials have also been accused of providing material support to M23, further undermining the government's ability to serve as an honest broker.
According to Seay, this past week's meetings haven't gone much better. "The fact that [Rwandan president Paul] Kagame didn't show up is indicative of how unserious these efforts are," said Seay. Some notable absences at the negotiating table, and Uganda's questionable role in the conflict, have turned the political process into "a joke," according to Seay. She also doubts that Kabila is in a strong enough political position domestically to sign any agreement that simply cedes resource-rich territory to a Rwandan proxy.
The conflict could remain contained -- the battle lines could once again harden, without any military or political resolution to formalize the prevailing balance of power. Or it could spread. One fearsome possibility that Seay raises is an alliance between M23 and Mbusa Nyamwisi, a power broker, former presidential candidate, and former Rwandan-allied militant who commands broad influence in a stretch of strategically-vital territory along the DRC-Ugandan border. With this alliance, M23 could open up an entirely new front, dragging in both the Congolese military and various armed groups on either side of the border. The political and humanitarian scope of the M23 crisis could easily expand. But unfortunately for the over 2.4 million displaced in the eastern DRC, and for the hundreds of thousands of people who have spent the past eight months fleeing from one IDP camp to another, the prospects of the conflict cooling off are far dimmer.