An Alternative Timeline of the Gaza Escalation
For years, Hamas had been cooperating with Iran and Sudan to improve its ability to strike deep inside Israel.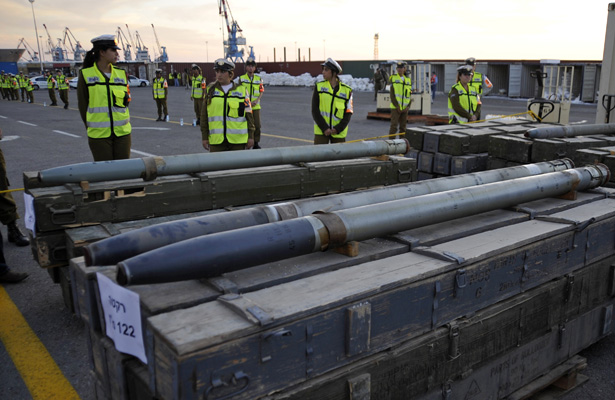 The series of rocket attacks, tentative ceasefires, and political intrigues leading up to the latest Israeli escalation in Gaza has been closely scrutinized since the IDF launched Operation Pillar of Cloud against Hamas, the U.S. and EU-listed terrorist organization that currently rules the Gaza Strip. Yet this week's events, which culminated in a ceasefire announced on Wednesday afternoon, occur within a longer and perhaps more significant timeline. Hamas has proven determined to acquire long-range weapons from Iran ever since the last major Israeli operation in Gaza, and thanks to a combination of Sudanese cooperation and Egyptian intransigence, they have done just that. Hamas has not only obtained Iranian-build Fajr-5s, long-range missiles that can strike up to 50 miles inside of Israeli territory. In what could be described as a significant psychological victory, Hamas has turned a rocket attack on Israel's largest city from a worrying hypothetical to a reality that Israeli military and political planners have no choice but to contend with.
The Fajr-5s became a concern almost as soon as the last major Israeli operation in Gaza ended in early 2009. Two-thousand nine and 2010 were fairly quiet years along the southern border: according to the Jerusalem Post, there were 596 rocket attacks on Israel in 2009, and only 150 in 2010. But a series of Wikileaks cables provides a somewhat different sense of Hamas's activities during their superficially more-docile post-conflict years.
Operation Cast Lead ended in January of 2009. By November, 2009, an Israeli general had told American officials that long-range Iranian weapons had likely made their way to the Gaza Strip since the campaign ended. "General Baidatz articulated Israel's concern by highlighting recent intelligence that HAMAS is trying to acquire from Iran (and potentially test-fired the previous weekend) the 60 km-range Fajr-5 rocket that could reach Tel Aviv."
Just as troubling was the Israeli interdiction of the M/V Francop in November of 2009, a cargo ship containing nearly 11,000 rockets and mortar rounds--some of them stored in crates stamped with the logo of the Iranian Revolutionary Guards' Quods Force. According to Wikileaks, the ship actually picked up cargo in Egypt before it was seized by Israeli Naval personnel and redirected to the port of Ashdod, indication of both the extent of the Iranian smuggling network's reach across North Africa, and Egyptian passivity towards weapons trafficking.
In a cable from later that month, IDF Deputy Chief of Staff Dan Harel said that Field Marshal Mohamad Tantawi, who would become the leader of Egypt for the 18 months after the uprising that ousted Hosni Mubarak, was being less than cooperative in curtailing Hamas weapons smuggling along the country's border with Sudan. According to Michael Ross, a former Israeli intelligence agent and a one-time liaison officer between Mossad and the CIA, official Egyptian complacency towards weapons smuggling along the country's porous desert border continues. "The Egyptian [intelligence service] has been very cooperative in trying to stem the flow of weapons from Iran-Sudan-Egypt-Gaza, but the Egyptian military seems indifferent to interdicting these shipments," he told me. "Ironically, if the will was there, it could be done quite easily."
In the same cable where he offered a mixed assessment of Egypt's anti-trafficking efforts, Harel shared some worrying information regarding ongoing upgrades to Hamas's arsenal: "Harel said that Israel has sensitive intelligence that Iran is constructing an additional HAMAS-specific missile, based on the Fajr, that will have a range beyond 40 kilometers."
In late 2009, Yaakov Katz of the Jerusalem Post reported that the IDF's Home Front Command was basically taking a future Hamas rocket attack on Tel Aviv for granted, even if it was unsure of exactly which model of imported missile the group had in its possession. "The IDF believes that Hamas has obtained Iranian-made Fajr missiles, either the Fajr 3 or Fajr 5," Katz reported. "The Fajr 5...has a range of up to 75 km, which could reach Tel Aviv, as well as communities further up the coast. Intelligence assessments are that Hamas smuggled the missiles into the Gaza Strip through tunnels, possibly as separate components."
Arieh Herzog, the former director of the Israel Defense Ministry's Homa Missile Defense Agency, told me that the threat of an attack on the country's largest metro area was "not very new" for Israeli planners, even before the inflow of long-range weapons to Hams. "Hezbollah in Lebanon does have long-range and even much longer-range rockets than the Fajr-5," he said. "Definitely they were expected to hit the Tel Aviv area one day by rocket."
With the Lebanese group already capable of hitting Tel Aviv, Israel was eager to prevent rocket attacks on the city from the south as well. Ross characterized the country's sense of where Hamas's newly-acquired long-range weapons were coming from, and how they were making it into the Strip. "The Fajr-5 modified by Iran for Hamas makes the trip from Iran to Sudan," he wrote, "where's it assembled and shipped overland to Gaza. It has been a concern since 2009." This "concern" manifested itself on more than one occasion over the next couple years. There was the apparent Israeli attack on Palestinian weapons smugglers in Port Sudan in April of 2011. More dramatic was the previous year's probably-Israeli assassination of Mahmoud al-Mahbouh, Hamas's point-person in the militant group's relationship with Iran.
The Syria conflict has frayed relations between Sunni Hamas and Shiite Iran--after all, the Iranians support an Alawite government whose victims are overwhelmingly Sunni. In early 2012, Hamas set up the Al Aqsa Protectors [$], a paramilitary group headed by the Gaza's interior minister and expressly independent of any Iranian support. But at the same time, Mahmoud al-Zahar, a founder of the movement and Hamas's de-facto foreign minister, visited Tehran twice in 2012. He met with the secretary of Iran's National Security Council during a trip to the Iranian capital in March. And in September, al-Zahar made a public appearance with Iranian President Mahmoud Ahmadinejad in Tehran. At least part of Hamas's leadership structure is willing to back the Syrian uprising for sectarian reasons--while others are apparently less eager to alienate the group's longstanding state sponsor.
The most dramatic evidence that the Iran-to-Sudan-to-Gaza weapons pipeline survived the Syria dispute is the possible Israeli bombing of the Yarmouk weapons complex in Khartoum, Sudan last October. The attack was a pinpoint strike on 40 shipping containers being stored outdoors--an attack on a specific supply of weapons, and not on the entire facility. According to one Wikileaks cable, Yarmouk was involved in the production of chemical weapons for Iran and Syria, and Iranian warships docked in Port Sudan just days after the attack. The contents of the containers is still unknown, but the facility's history, and Iran's deliberate show of support for Sudan in the days after the attack, suggest that they are still cooperating in weapons production and smuggling.

Since the Israeli operation began, Hamas has hardly been shy about admitting to its use of Iranian weapons--the Al Qassam Brigade's Twitter has announced its use of Fajr-5s on several occasions, including in an attack on "homes" in the Beersheva area (an Israeli tweeted pictures of Fajr-5 components at the site of a direct hit on an apartment complex Rison L'Tziyon, a suburb of Tel Aviv). And after the ceasefire was announced on Wedensday, Hamas leader Khaled Meshaal went so far as to "[praise] Iran for financing and arming Gazans," according to Sky News. Meanwhile, the Israelis have made a point of explaining that the Fajr-5s were one of the targets of their ongoing operation in the Gaza Strip. Both Avital Leibovitch, the oft-quoted IDF spokesperson, and Israeli ambassador to the US Michael Oren, assured conference calls of journalists that much of Hamas's long-range capacity has been destroyed.
But it's worth wondering how long it will take for Hamas to recover its supply of long-range rockets. In a conventional military environment, Fajr-5s are fired from bulky truck-mounted rocket launchers. As Herzog explains, the rockets that Hamas uses are modified so that they can be fired using improvised delivery systems. "They don't' need trucks for launching them," he says. "They just need a tube, and it can be located anywhere." Even underground, he added.
The Gaza escalation might have been an attempt to forestall a reality where militant groups on Israel's northern and southern border possess missiles capable of hitting the country's largest civilian areas. But even if many of them have been destroyed, these missiles are replaceable, easily-hidden, and easily fired. That reality has already arrived.