A Warming Planet's Foreign-Policy Challenge for the United States
Why the extreme risk and uncertainty of rapid climate change requires a new national-security framework.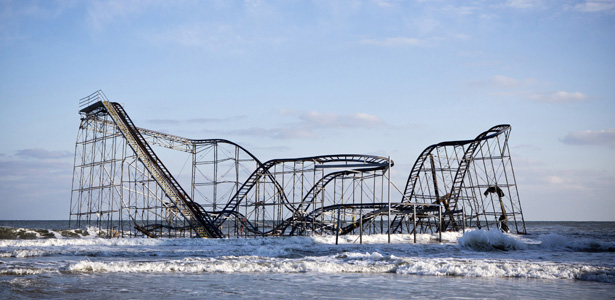 Superstorm Sandy clearly demonstrated the ability of extreme climate events to disrupt critical economic and transportation infrastructure and cause immeasurable human suffering in and around the world's financial capital. The climate science suggests that such events will become more severe, more widespread, and more unpredictable. While Sandy has directed renewed attention to the impact of climate change on the continental United States, the global impact of climate change requires a similar level of focus and serious appreciation among national security decision-makers. If President Obama wants to be taken seriously on climate change, as his victory speech and press conference seemed to suggest, his efforts must go beyond resilience on the domestic front. The best first step the president can take is to create a new structure within the foreign policy bureaucracy, answerable to his National Security Council, which will prioritize contingency planning and make recommendations across multiple departments and agencies so that U.S. foreign policy can seriously address a whole series of coming climate catastrophes. This is a challenge that will require years of planning, billions of dollars, and political decisions that might be unpopular and most certainly won't have the urgency of a shooting war or a "fiscal cliff." Without decisive action now, U.S. policy will experience a dangerous drift in strategic planning.
If President Obama is serious about addressing climate change, he needs to demonstrate across the foreign policy bureaucracy that anticipating and mitigating the effects of climate change is a high-priority. A new report from the National Research Council only reinforces the view that combined action across a wide variety of hitherto uncoordinated agencies and departments is necessary. "These shared needs for [climate change] knowledge," the report reads, "suggest that knowledge development is best pursued as a cooperative activity involving many organizations." Federal interagency cooperation, it continues, should be advanced through the oversight of the President's national security adviser, possibly through collaboration with the U.S. Global Change Research Program, which focuses on advancing the understanding of climate science. As the report states, this combined effort should "develop priorities for research on climate vulnerability and adaptation and consider strategies for providing appropriate research support." That research support would not just focus on unique climate-related events, but on how such events interact with existing political, economic, and social forces in areas where the United States has a vital security interest.
Recent research shows there are distinctive security components to climate change, the effects of which will become critical priorities for the United States and international community in coming decades. As a recent World Bank report starkly states: "The projected impacts [of a four-degree Celsius rise in global temperatures] on water availability, ecosystems, agriculture, and human health could lead to large-scale displacement of populations and have adverse consequences for human security and economic and trade systems." As long as the United States maintains global responsibilities, it will have to react to and plan for these effects.
A warming planet presents a foreign policy challenge to the United States: it exacerbates natural resource scarcity in sensitive regions of the world, fueling inter- and intra-state conflict. The U.S. government should develop plans for adapting to and mitigating the harmful effects of a changing climate.
The Pentagon and the intelligence community have made tentative steps toward incorporating a focus on climate, but it's hard to judge its place in the hierarchy of agency and department priorities. The Pentagon's most recent Quadrennial Defense Review included a push toward climate change and clean energy strategies. The Office of the Director National Intelligence has published several reports attempting to forecast the impact of climate change on national security priorities. The Central Intelligence Agency created a Center for Climate Change and National Security, but then shut it down -- a clear reflection of misplaced priorities (ironically, the NRC report was commissioned by the intelligence community, and published only a week before the CIA turned its back on looking closely at climate).
The disappointing news from the CIA demonstrates that, while some in the federal government have made an encouraging start, much more immediate action is required. But would a presidential council on global climate change amount to another layer of red tape in the foreign policy bureaucracy? The pressing nature of the problem, its complexity, and the failure of the government to meaningfully address it so far suggest that in fact, a bureaucratic imperative, as unsexy as it sounds, would be the best first step to effectively prepare for climate change. The U.S. possesses the tools required, but not an across-the-board strategy, borne out of a highly visible, ongoing effort combining several relevant branches, departments, and agencies. One potential model of interagency cooperation is the Atrocities Prevention Board, created this past April by President Obama to coordinate action on preventing genocide, which draws together senior officials from a dozen government agencies. The APB, like a putative Climate Security Strategy Board, aims not to recreate any of its constituent agencies, but improve coordination among them. Climate change, like genocide prevention, is a concern that crosses over the established bureaucratic boundaries of regional specialization. In the absence of a centralized body, separate agencies and departments might prioritize the steps necessary to mitigate climate change's effects, and eventually build resiliency against future extreme climate events. However, this Balkanized process might lead to wasteful duplication of effort, and agencies would be deprived of best practices and lessons learned. It would be difficult to identify critical priorities for further research or action. All of the tools of American foreign policy, including development assistance, diplomacy, foreign trade, and, ultimately, military power, will have to work closely together. Changing institutional cultures is a long-term proposition; efforts at improving the interagency process must start somewhere.
What would this new Climate Security Strategy Board do? Climate and social sciences offer one promising avenue of inquiry: the development, as a planning tool, of climate "stress tests" that would help guide decision-makers on how climate-related events might affect security posture. In order to prioritize how national security resources are directed toward prospective climate emergencies, policymakers need to know which countries are the most susceptible to a serious disruption caused to some extent by a climate-related event or series of events. One sample "stress test" might look at Africa's agricultural yield under the pressure of increasingly high temperatures during growing seasons. As the World Bank reports, a one-degree Celsius rise in daily temperature over the course of a growing season could lead to suboptimal yields in 65 percent of maize-growing areas in Africa. A comprehensive climate "stress test" would then map out the likely impact on food prices, health indicators, and habitation patterns (Would there be a greater influx of human migration into urban areas?). Further analysis would assess political stability of nations most likely experiencing these adverse effects. In an ideal world, the Climate Board would issue recommendations on how U.S. aid, economic, and diplomatic initiatives could be re-engineered to head-off the worst consequences of such accumulative increases in temperature. Working either with or under the structure of the National Security Council, its recommendations could directly influence presidential decision-making. In the aggregate, such analyses would, over time, help inform responses to climate change across the U.S. foreign policy bureaucracy. It would build a body of knowledge that could buttress global efforts to prepare for and respond to extreme climate-related events.
All of the available, credible science says that climate disruptions will increase in frequency and severity. As a result, the need for mechanisms in-place to quickly and accurately advise policymakers will similarly increase. While the science may be settled, the strategy is not. Convening an interagency effort to better understand the national security implications, and make concrete recommendations is vitally necessary.