A Coded Rant About China's Government Goes Viral
The Communist Party -- I mean, my girlfriend -- is going shopping again!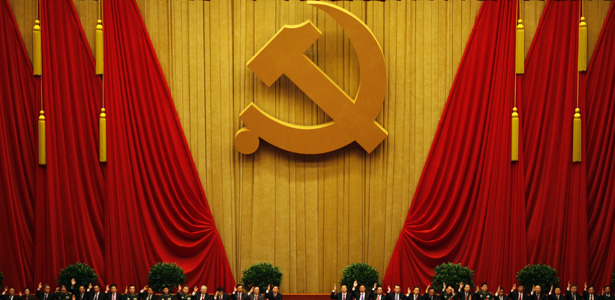 A recent post from a Peking University student on Chinese social networking site Renren.com about his girlfriend's shopping habit went viral online. In the last four days, it has been shared over 26,000 times. At first glance, it is nothing more than a simple rant about a girlfriend's tyranny. But reading between the lines, it quickly becomes apparent that the author is in fact talking about Chinese citizens' relationship with their government as the Chinese Communist Party convenes its 18th National Congress, where the next generation of leaders will soon be selected. Tea Leaf Nation translates.  
Going shopping for the 18th time
Today is the 18th time I have accompanied my girlfriend to go shopping. Whenever my girlfriend goes shopping, she tends to get overly serious and way more than just fidgety about the whole thing. It always interferes with my usual pace of life. Anyway, she calls the shots at home, so can't complain. As my girlfriend stipulates, when it approaches her shopping date, I can only make working plans for up to three days, and if I go on a business trip, I need to get her approval first. These past few days I've been sitting on pins and needles, praying to God that I don't do anything wrong to ruin her good shopping mood.
The main focus of her shopping is cosmetics. She usually purchases seven or nine varieties. This time, she crossed the name of a very famous brand off her shopping list, because there have been some problems with this brand, which causes it to have lost its original reputation [referring to "Mao Zedong thought," not mentioned in official 18th Congress propaganda]. But she's not willing to admit [those problems] and grins at me: "Am I not getting more and more thrifty?" Fine. Whatever her reason.
Sometimes she also buys me things, though I have no say in what she buys me. She often says to me, "You see, officials always wear this brand, company bosses, too. Singers and sports stars love this brand. I even consulted the views of a few workers! All these different opinions are sufficient to represent you, aren't they? I always solicit opinions in an advanced and reasonable manner." Why can officials, bosses, singers, sport stars, and workers represent me? I don't understand. But I guess as long as she buys things for me, I shouldn't complain too much.
She does ask for my take on things, of course, if only occasionally. She usually takes out her iPhone, aims the camera at me, and asks me in a very journalistic or television host-like tone: "Now that I've bought all these things for you, are you glad? Are you happy?" Seeing my own face show up on her iPhone, hearing her iron-like interrogation, I can't help sweating and nodding: "I lack nothing right now and life is so blissful -- all because of you!"
She usually doesn't pay attention to me when she shops. Well, you do your shopping, and I'll tend to my own business, I think to myself. So I take out my phone to surf the net a bit. But before I can open even one page, she pops up immediately: "You can't just get online like this when I shop! What emails are you checking? If you dare check one more, I'll deactivate your Gmail account!" Yup, she's such a woman: she can forget about you when she shops, but when you are too tired to give her your undivided attention, she creates problems for you from time to time, to remind you of her existence.
This time when she shops, the grandma from the neighborhood is also shopping. Look at how she shops! She is picking over the merchandise and talking over the phone at the same time: "What style do you want, hubby? Oh this is not very good. Listen, I'll explain to you... Oh that's not so good either. I'll analyze it for you... Yeah okay. I'll take your advice this time!" She seems quite fake, but the way she does it is novel. It's interesting. But suddenly my girlfriend walks over and taps me on the shoulder: "What are you looking at? You think they are doing it right in her household? It's such a waste of time and money, and it's not clear they'll do a better job of buying things than I do. Last time, she had such a long discussion with her husband it made her four-year-old child cry!"
Assistants in the shop always compete with each other to sing my girlfriend's praises. I remind her numerous times to take heed and not to believe them, but she never listens. When people call her a "beauty" or tell her, "This fits you so well. Only people in a good shape can achieve this effect when they wear it" she'll fly to the heavens. Her shopping process is always filled with these flatteries, from start to end. I've long been numb to them. She always takes great delight in listening to that.
Many guys of dubious character like to flatter her, write her love letters and do all kinds of things for her. They simply want to take advantage of her, but she can never see through it. ...  and when they hear that she is going shopping for the 18 time with her boyfriend, put out a big pattern for "18" on the sports ground, "SB" [Chinese short-hand for "18," but also a Chinese curse-word]. She is really proud of it and even shows me pictures of the pattern. Oh God, do you really [think] they love you?
Despite all these headaches she's been giving me, she has made some progress over the years nonetheless. She still has many shortcomings, but she's more and more open to my criticism now. I've known her for such a long time, from the first time we went shopping together to this 18th time. There have been sweet moments, but there were also moments of despair. She once tortured me [horribly] and made my life worse than death. She also took it upon herself to take care of me when I met with natural disasters.
What will our future be like? She told me many times that she wanted to be a "dear mom," a "tender mother." But as far as I'm concerned, only when she's really willing to listen to me, when she has less vanity, and when she isn't afraid of facing her own mistakes, will I marry her willingly. When will that be?
Some people might say: "What do you have in you though? You're not afraid of her dumping you?" I really don't worry about this question. I've known her for so long, and no matter how she treats me, she always vows to be my girlfriend. Why? I think it's because without me, she loses her soul.
This is the 18th time I have accompanied my girlfriend to go shopping, as recorded above.