Why the Vati-Leaks Trial Did Nothing for Vatican Transparency
Though opened to a few journalists, the trial offered mere hints of what's actually going on behind closed doors. The accused was effectively muzzled.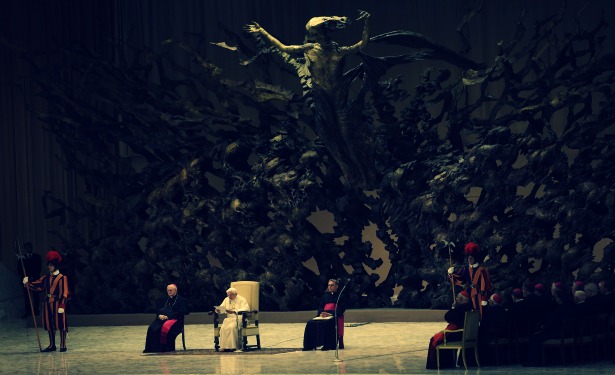 Tony Gentile/Reuters
Since posting
our article on the "Vati-leaks" case
, Paolo Gabriele, the Pope's former butler, was convicted by a Vatican court of misappropriating papal documents and leaking them to the Italian press. Almost immediately, Father Federico Lombardi, indicated that it was "very likely" that the pope would, at some point, pardon Gabriele. 
The court sentenced Gabriele to three years in prison, but reduced the term to 18 months, citing the remorse the pope's former attendant had shown. Explaining his actions, Gabriele told the court that "he felt the strong conviction deep inside to have acted exclusively for love, a visceral love, for the Church" and the pope.
The trial, held just four months after Gabriele's arrest in May, was part of the Vatican's recent efforts to be, and appear to be, transparent in its handling of the scandal. The court hearings were technically public, but only a very small number of selected members of the press were allowed to attend them. There was no video coverage. Wider public understanding, then, is based on a handful of press accounts of what took place. 
The trial was very brief, lasting just a week, and it contained few surprises. But there were a few points of genuine interest. At one point, Gabriele described the Pope as easy to manipulate, because he was not always well-informed about important matters. "I started believing that it is easy to manipulate a person that has such power in his hands," Gabriele told the court, according to a Reuters report. "Sometimes the pope asked questions about things he should have been informed about."
The trial left unanswered the larger question of whether Gabriele had accomplices in the Vatican or was egged on to do what he did. Curiously, when Gabriele  mentioned three prominent figures in the Vatican -- Cardinals Paolo Sardi and Angelo Comastri and Ingrid Stampa, a German lay sister and professor who is very close to Pope Benedict XVI -- as higher-ups in the Church who had influenced him, the trial judge stopped him and told him to "stick to the facts." 
"When Paolo Gabriele wanted to talk about interesting things, they didn't let him," wrote Aldo Maria Valli, a respected Vatican journalist with Rai, the Italian state TV network. "These facts would have extremely interesting, because they show that Gabriele did not act as a solitary, slightly mad figure but as a conscious person living in an environment where this unease was shared by Vatican officials of the highest rank."
The trial did not introduce into evidence the results of a secret Vatican investigation into the Vati-leaks scandal, which is ongoing, and presumably has a wider scope examining the roles of others who may not have broken the law but who encouraged Gabriele to do what he did. "We have witnessed the extraordinary spectacle of a trial that has tried to hide rather than clarify," Valli wrote. "One must say with total candor that it was a political trial carried out for reasons of state."