Why Is Advertising Way Up in China With Consumer Spending Way Down?
As investment-related growth slows, marketers are banking on the long-term interests of the middle class.
As investment-related growth slows, marketers are banking on the long-term interests of the middle class.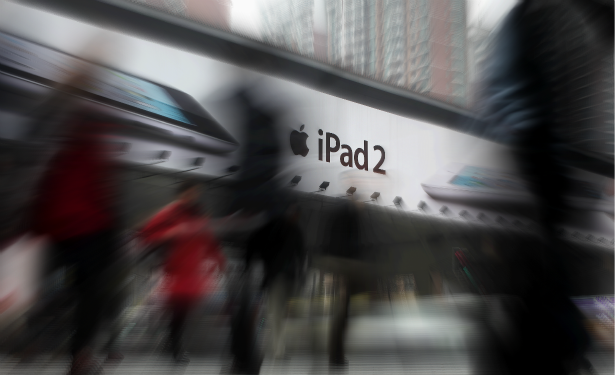 If your vision of a commercial in China is a saleswoman following you down the street, you are both right and wrong. While remnants of China's past remain, at least in metropolitan cities like Beijing, advertising follows you in other ways: wall-length posters in subway corridors, Muybridge-motion-picture ads that stream past your subway car window, and talking shopping carts. Chinese viewers of the nation's most popular TV show, Voice of China (中国好声音)had to endure two hours of commercials during the season finale that stretched the viewing time of what would have been a two-hour finale into an episode twice that length.
Ad spending in China has skyrocketed over the last decade, increasing about 14.5 percent a year to reach 681 billion yuan (US$108 billion) in 2011, according to the China Economic Review. For Voice of China, advertisement prices were 1.16 million yuan ($199,330) for a 15-second ad. By comparison, a 15-second ad on American Idol during the finale can cost between $234,050 and $320,000. The ad-monitoring site eMarketer predicts that at its current growth rate, China will become the world's second-largest spender in advertising by next year, surpassing Japan and nipping at the United States' heels.
Yet advertising is picking up at a time when consumerism is slowing down. Though automobile and household appliance sales have gone up, private spending has fallen compared to a decade ago, according to McKinsey. The latest World Bank figures show that private spending in China is only 35 percent of GDP in 2010. The U.S. consumed twice as much and Japan stood at 59 percent of GDP.
"Among urban consumers," McKinsey adds, "the number of first-time buyers -- a group that has been a major driver of category growth in China -- is declining." Derek Thompson reveals that at nearly 30 percent, China still saves a lot more than it spends (and what China does spend, it usually spends on food).
As a Confucian society, saving is highly valued among the Chinese. Studies show they are less prone to impulsive buys than Westerners - nearly 30 percent less than in the U.K. -- but a significant majority of Chinese also have less disposable income due to weak social safety nets. At a panel hosted by the McKinsey China Council of Business Economists in 2009, several Chinese economists pointed out that China's pension program does not cover most rural residents and covers only a third of urban residents. For a rapidly aging society, the elderly may not only have less to spend in the future, hold onto more of their income at the present but their children -- many of them without siblings -- must shoulder the burden of caring for two elderly parents.
While the income tax is only 20-25 percent for the middle class, the 5 different social welfare benefits (i.e., medical, pension, unemployment, etc.) can raise their total tax rate to roughly 40 percent. The numbers have since risen: 55 percent of the Chinese are covered under some sort of pension scheme, even if it can be as low as 55 yuan (US$8.75) a month. Still, 3 years is not enough time to overturn mistrust of the pension system. Local governments, more frequently than not, squander the money. For migrant laborers, about 250 million, pensions do not travel with them across city and regional borders. All these factors encourage the Chinese to keep money under their mattresses instead of putting it to use.
To make matters worse, what seems like a low unemployment rate -- 4.1 percent, to be exact -- may actually be much higher than official estimates suggest. The unemployment rate doesn't capture the country's 250 million migrant workers, many of whom likely lost their jobs during the economic downturn. What's more, the Chinese government often understates figures that might be "embarrassing" or "destabilizing."
Some experts fear that China suffers from a "barbell economy," with lots of poor and few at the top and the middle. Only 2 percent of the urban population makes more than $34,000 in disposable income a year -- the threshold for affluence. Another 6 percent of the urban population are the mainstream consumers, with disposable incomes of between $16,000 and $34,000 a year. Right now 82 percent of the population only makes enough to cover basic needs. Experts say the inequality dampens private spending overall and may slow down the economy in the long term.
In light of slower private consumption, it seems puzzling that lately, at 14.5 percent, advertising expenditures are growing nearly twice as fast as GDP. One explanation: despite the slowdown in consumer spending, companies have still made huge profits. Some of these include large food chains like KFC, Nestlé, and Coca Cola that offer affordable products to the masses, not just the top 8 percent of urban dwellers. Their success has attracted other companies to the country. A list of China's top 1,000 brands looks shockingly similar to that in the United States. Foreign companies dominate the top 10, with Apple at number one. Samsung, the number-five brand, attributes its success in China to its enormous marketing efforts -- US$866 million in the Asia Pacific in 2011 alone. "They spend heavily on media, which helps the brand be even more pervasive," Zayn Khan, CEO Asia-Pacific of FutureBrand told Campaign Asia .
As more businesses enter the Chinese market, competition amongst them has also increased, requiring more strategic and perhaps costly marketing. McKinsey reports that Chinese consumers are far less brand-loyal than those in the West. Only 46 percent say they cling to one brand compared with 71 percent in the United States. This means that "brands must work harder to educate their consumers about their brand and their products in order to drive consumers toward their stores," said Kevin Der Arslanian, an analyst at China Market Research.
Advertising may also be growing in anticipation of demand. The consumer slowdown is not expected to last. While it is hard to predict whether rising incomes and better social safety nets will encourage China to spend more, urban growth may. China is expected to add another 200 million to its cities by 2020. Urbanization increases income levels and also exposes people to affordable products and a larger selection of goods.
The Communist Party, in particular, has been worried about the unsustainability of investment-led growth and has now made the boosting of private consumption one of its priorities.
"Expanding domestic demand -- particularly consumer demand, which is essential to ensuring China's long-term, steady, and robust economic development -- is the focus of our economic work this year," said Premier Wen Jiabao in March. "We will vigorously adjust income distribution, increase the incomes of low- and middle-income groups, and enhance people's ability to consume."
Just a few weeks ago, a fierce debate arose on Weibo, China's Twitter, about the right balance between saving and spending. The Guos, a young Chinese couple from Jiangsu province managed to retain 90 percent of their monthly income of 9,000 yuan (US$1,440). The state-owned newspaper China Daily ran the story, appearing torn between praising the couple for their thriftiness and promoting the behavior of people like Xu Bin, a 30-year-old employee of a state-owned enterprise who spends 50 percent of his monthly 10,000 yuan (US$1,600) on horseback riding.
"I am living a life I enjoy and don't want to sacrifice what I like for a number in a bank account," he said.
The online debate is a reminder that for the Chinese, becoming willing consumers isn't all about crossing into the middle class. There's an ideological hurdle to overcome, too. For their part, advertisers are hoping their next commercial or billboard might be enough to nudge Chinese consumers over that line.