Who Is Leonid Razvozzhayev, and Why Has He Disappeared?
Dueling narratives on the mysterious fate of a Russian opposition figure
Dueling narratives on the mysterious fate of a Russian opposition figure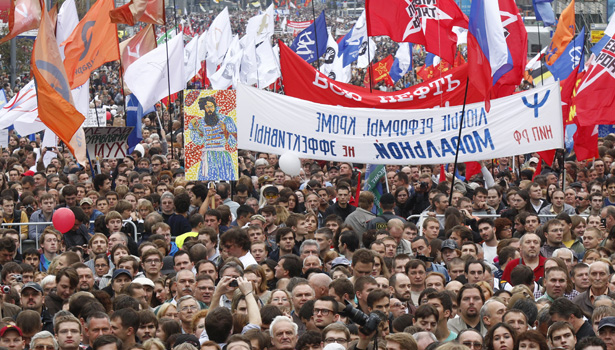 How badly did Russian authorities want to nab Leonid Razvozzhayev? To answer that question, you will need to separate the Kremlin's virtual reality from, well, actual reality.
First the virtual, I mean official, version -- courtesy of the Investigative Committee.
Razvozzhayev, an aide to opposition State Duma Deputy Ilya Ponomaryov, surrendered to authorities and voluntarily wrote a 10-page, handwritten statement admitting that he, Left Front leader Sergei Udaltsov, and Udaltsov aide Konstantin Lebedev conspired to provoke mass unrest in Russia.
The operation, according to Razvozzhayev's alleged confession, was financed by former Georgian lawmaker Givi Targamadze. The allegations are based on a report, "Anatomy of a Protest -- 2," that was broadcast on October 5 on the Kremlin-friendly NTV television station. (As I blogged last week, NTV is quickly becoming Siloviki TV, the security services' media outlet of choice to smear opposition figures before prosecuting them.)
This official version was already in doubt even before the Investigative Committee made its announcement on October 22. Earlier in the day, reports surfaced in Kyiv that Razvozzhayev, who had earlier fled to the Ukrainian capital, had been snatched off the street days earlier and had disappeared.
The same day, a video appeared on the website LifeNews.ru showing Razvozzhayev being led to a car by police officers. "They promised to kill me. I was abducted in Ukraine and tortured for two days," he shouted at the camera.
And then, in the evening, the Kremlin's alternative version of reality truly crashed and burned.
Here is a full statement from the United Nations High Commission for Refugees:
Kyiv (Ukraine) -- The United Nations High Commissioner for Refugees is deeply concerned about the disappearance of Leonid Razvozzhayev from Kyiv, Ukraine on 19 October 2012. 
 
The individual approached UNHCR seeking international protection and was invited to be registered at the office of UNHCR's partner organization, an NGO providing free legal assistance in Kyiv.  The legal counselor at the organization conducted a registration interview and began to provide free legal counseling to the individual.  During a break in the counseling session, the legal counselor contacted UNHCR in order to discuss the situation, and meanwhile Mr. Razvozzhayev said he would go to a nearby cafeteria for lunch and left his personal belongings in the office. When he did not return to the interview and the lawyer could not contact him on the phone, a missing person's report was immediately filed with the Solomiansky division of the police. 
 
A functional asylum system requires that persons seeking international protection have confidence in a fair and equitable asylum system that will allow them to make their claim and to have their human rights, notably their physical integrity and personal data fully respected and protected by the host State.  Any removal to the country of origin not respecting existing procedures may lead to the State being held responsible for a grave violation of national and international law.  
 
UNHCR expects that the incident will be thoroughly investigated by the relevant law enforcement authorities and awaits the results of official investigation.

A report in Gazeta.ru quoted Yevgeny Golishkin, a leader of the leftist Ukrainian organization Borotba, as saying that Razvozzhayev arrived in Kyiv two days earlier and had decided to seek refugee status. Razvozzhayev fled Russia and went into hiding after he, Udaltsov, and Lebedev were questioned on October 17 by agents from the Investigative Committee, which opened a criminal case against them in connection with the May 6 demonstrations.
Lebedev was kept in custody. Razvozzhayev and Udaltsov, who remains in Moscow, were released and ordered not to leave the capital.
One has to wonder why the authorities went to such lengths -- and took such risks -- to seize Razvozzhayev on foreign territory. Until now, he appeared to be a bit player in a case that, at least until now, seemed aimed primarily at Udaltsov.
 
The Investigative Committee could be seeking to broaden its list of targets in the case and considered Razvozzhayev key to that effort. If that is the case, Razvozzhayev's boss, Ilya Ponomaryov of the opposition A Just Russia party, could be in for a rough ride.
 
On October 23, Vladimir Burmatov, a Duma deputy from the ruling United Russia party, called on Ponomaryov to surrender his parliamentary mandate -- and thus his immunity from prosecution -- due to his affiliation with Razvozzhayev and the May 6 demonstrations.