What al Qaeda Fans Have to Say About Hurricane Sandy
Turns out the terrorist group's sympathizers are as hungry for news as the rest of us.

With many Americans focused on hurricane relief and cleanup efforts, it's easy to forget that the rest of the world is watching events unfold in the mid-Atlantic region in near-real time, too. This includes people who might wish ill on the United States. Al-Qaeda sympathizers' online forums in recent days have taken a fascinating turn as posts about the storm and its effects on the United States proliferate. The rhetoric toward America is no less incendiary than usual, but the occasion provides an unusual chance to see how such places on the Internet often work. Twitter user @switch_d drew my attention to some of what's being said in these forums:
RT @switch_d: Jihad takes a back seat for at least a couple of days as Hurricane Sandy dominates the al-#Qaeda cheerleader forums.

-- Blogs of War (@BlogsofWar) October 30, 2012
Curious, I reached out to @switch_d to investigate further, and he/she wrote back with a series of translated posts and some screenshots.
One post on Hanein, an established and well-known pro-Qaeda forum, had over 300 comments as of last night -- unusual for most threads. Its title began, "Follow the news of devastating Hurricane Sandy that struck America," and was created by a user going by the handle "Abu Hussein." That thread is one of five other Sandy-related forum topics that were then active.
"God is great," wrote Abu Hussein. "The storm approaches New York, the UN Security Council cancels meetings and declares a state of emergency. Allahu Akbar."
Further down, "Chechen Abdullah" wrote of America: "Make it ruined, as their soldiers ruined the land of Muslims."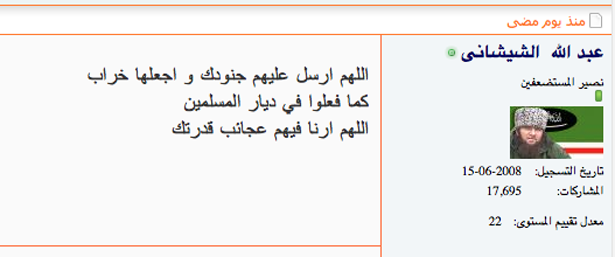 From "Abu Abdullah the Southern": "What angers me is that I know that the losses will be compensated from the pockets of American Muslims by order of the tyrants who are not deserving."
"Abu Obaida" had this to add: "God destroys their country like they destroyed ours (Iraq). This is on the head of the dog Obama." *
Not all of the posts were cheering the destruction Sandy had wrought. Others -- the vast majority, in fact -- were simply banal links to web clippings and news video of the storm, things you might see in any old forum, anywhere on the Internet. Here's one linking to BuzzFeed's Andrew Kaczynski and a photo of a flooded Ground Zero: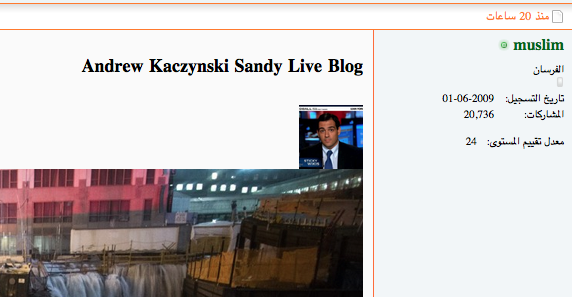 On al Qaeda's official forum -- the place where the organization typically releases its statements and other materials -- the talk oddly dovetailed with the Western Internet's penchant for pop-culture related gallows humor. One Islamist got called out by forum moderators for invoking the 1996 film Independence Day with pictures from the movie.

Some more forum comments:
User "Monster Island" wrote, "Oh God, make the hurricane crush the back of America, make the hurricane cause the collapse of the economy, companies, institutions."
"Osama al-Assad" wrote: "God destroy them and save the Muslims who live there."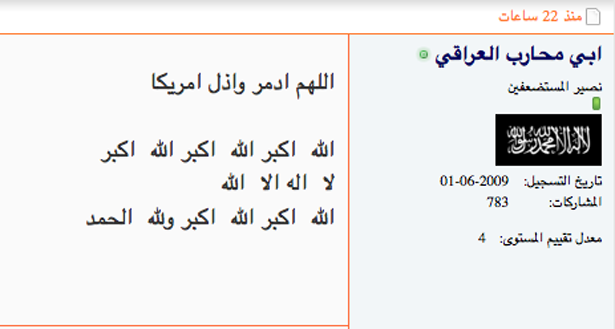 According to @switch_d, the language seen here isn't much different from what you might expect on any other day. But, he added:
What's most noticeable is the level of activity and diverse user participation on the subject. There are 240 replies to this topic compared to just 46 replies to a post designed to support and encourage the media jihad (see png attachment -- it's been Google translated) [ed. note: the relevant PNG directly follows]. This will not go unnoticed by the admin. They often lash out at the forum participants for neglecting the topics that really matter.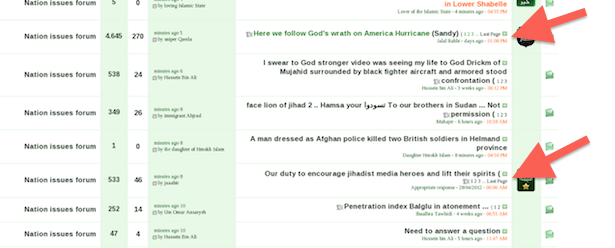 In one sense, browsing through the jihadist forums reveals a side of Internet and Islamist culture Westerners hardly ever get to see. It's even rarer that the the hottest discussions on these forums would have to do with an experience millions of Americans are currently and intimately familiar with. But in another, it helps highlight just how much Hurricane Sandy has gripped the attention of the wider world.
---
* According to @switch_d, "dog" may also be read here as "top dog."
Here's a bonus screenshot, featuring New York mayor Michael Bloomberg.