The Welsh Security Contractor Behind America's Benghazi Consulate Guards
A new report reveals the local Libyans it hired weren't armed and didn't have security experience.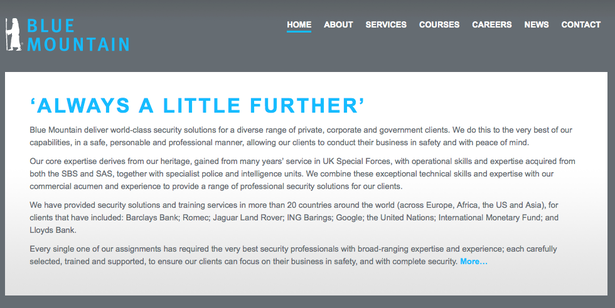 It is, as my colleague Jeffrey Goldberg has noted, to be lamented that the conversation around the attack on the U.S. consulate and nearby annex in Benghazi, Libya, has become so focused on who said what when instead of on the underlying security and foreign-policy issues. Today, American Crossroads, the Karl Rove-backed Republican super PAC, is out with a Web video criticizing the Obama administration's repeated mentions of an American anti-Muslim video that sparked riots and protests in dozens of cities around the globe, leading to at least 49 deaths in 10 days and injuries to hundreds.
The video focuses on the administration's repeated repudiations of the anti-Muslim video that sparked a riot in front of the American embassy in Cairo, including statements made after the attack on the consulate in Libya when the film was continuing to roil international waters.
Meanwhile, the story of what happened with the consular security in Libya is continuing to come into view as journalists, such as a most excellent team at Reuters, have dug into the practices of Welsh security contractor the Blue Mountain Group, which was brought on by the State Department to oversee the new and potentially temporary consular compound in Benghazi. What the reporters found is astonishing, considering how many armed guards one finds in much less dangerous environs in the United States: "Blue Mountain guards patrolled with flashlights and batons instead of guns."
According to its website, Blue Mountain, run by a former member of the British special forces named David Nigel Thomas, had "recently operated in Afghanistan, Iraq, Pakistan, the Caribbean and across Europe," and worked with corporate clients, such as "BAT, BG Group, Cadburys, Cannon, CapGemini, DHL, Excel, Google, Jaguar Landrover, Lufthansa, Motorola, Orange, OSCE, Romec, Sealed Air, Sony and Viacom."
Reuters' key passage:
The State Department contract for "local guard" services in Benghazi took effect in March 2012. Several of Blue Mountain's Libyan employees told Reuters that they had no prior security training or experience.

"I was never a revolutionary or a fighter, I have never picked up a weapon during the war or after it," said Abdelaziz al-Majbiri, 28, who was shot in the legs during the September 11 assault.

The Libyan commander in charge of the local guards at the mission was a former English teacher who said he heard about Blue Mountain from a neighbor. "I don't have a background in security, I've never held a gun in my life," he said, speaking on condition of anonymity out of fear for his safety.

When hired, the commander said he was told "you have great English and get along with everyone and are punctual; we want you to be a guard commander."

The unarmed guards were told to sound the alarm over the radio and then run for cover if there was an attack, a Libyan who acted as a supervisor for the Blue Mountain local guard team at the mission said during an interview with Reuters ....

Despite their inexperience, the Blue Mountain guards said they feared the Americans were not concerned enough about security.

"We used to tell the Americans who spoke to us on many occasions that we needed more support in security, because it felt thin on the ground. But they didn't seem to be so worried, and (were) confident that no one will dare to come close to the consulate," one guard said.
Thomas, the CEO of Blue Mountain, is also the "chief training officer" of Tough Mudder, a "hardcore 10-12 mile obstacle courses designed by British Special Forces to test your all around strength, stamina, mental grit, and camaraderie."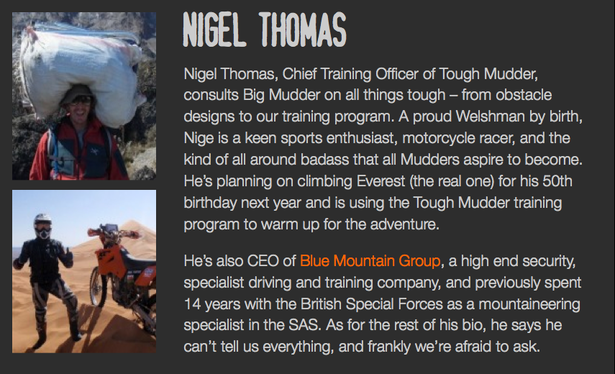 Reuters reports that "British authorities used a different contractor for security protection in Libya."