The Pakistani Taliban's 'Justification' for Trying to Murder a 14-Year-Old Girl
How the group is rationalizing its attack on Malala Yousufzai.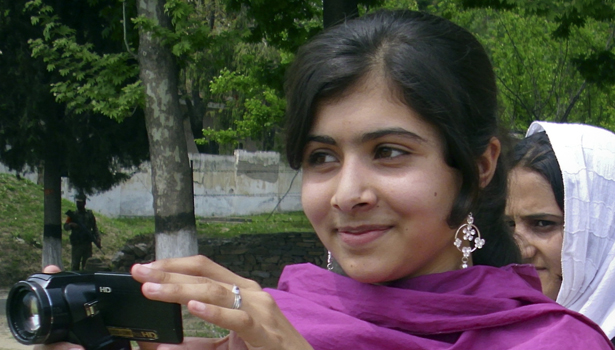 The Pakistani Taliban has provided its justification for the shooting of a 14-year-old schoolgirl who made a name for herself by challenging the Islamist group's crackdown on girls' education. In a letter issued following international condemnation of the shooting of Malala Yousafzai in Pakistan's northwestern Swat Valley, the Tehrik-i Taliban Pakistan (TTP) states its case for the attack and threatens anyone who challenges its strict interpretation of Shari'a law. Signed by TTP spokesman Ihsanullah Ihsan, the letter was sent to RFE/RL's Radio Mashaal as well as other Pakistani and international media organizations early on October 10.
The letter, written in English, says a Taliban gunman "successfully targeted" Yousafzai "although she was young and a girl and the TTP does not believe in attacking women." It says Yousafzai, who gained global recognition at the age of 11 through an online diary she wrote for the BBC about TTP influence in her hometown of Mingora, was shot because "whom so ever leads a campaign against Islam and Shariah is ordered to be killed by Shariah."
The letter accuses Yousafzai of being "pro-West," promoting Western culture, and speaking out against Taliban militants -- charging that Yousafzai's "personality became a symbol of an anti-Shariah campaign." Using the term for Islamic holy warriors to refer to Taliban militants, the letter says that "Yousafzai was playing a vital role in bucking up the emotions" of Pakistan's military and government "and was inviting Muslims to hate mujahideen."
The letter goes on to argue that "[i]t is a clear command of Shariah that any female who, by any means, plays a role in the war against mujahideen should be killed." It then seeks to justify the shooting of the schoolgirl by citing passages from the Koran in which a child or woman was killed.
"If anyone argues about [Yousafzai's] young age, then [consult] the story of Hazrat Khizar in the Koran relating that Hazrat Khizar -- while traveling with the Prophet Musa -- killed a child," the letter reads. "Arguing about the reason for his killing, he said that the parents of this child are pious and in future [the child] will cause a bad name for them."
For those who argue against Yousafzai's shooting was not justifiable because she was female, the letter says, "then we can see the incident [in the Koran] of the killing of a wife by a blind companion of the Prophet Muhammad because she spoke insulting words about the Prophet. And the Prophet praised this act."
The letter also addresses criticisms of the TTP's stance against girls' education. "The Tehrik Taliban's crime wasn't that they banned education for girls. Instead our crime is that we tried to bring the education system for both boys and girls under Shariah," the letter reads. "We are deadly against coeducation and a secular education system, and Shariah orders us to be against it."
The Taliban's justification concludes with a threat, saying: "If anyone thinks that Malala is targeted because of education, that's absolutely wrong and is propaganda by media. Malala is targeted because of her pioneer role in preaching secularism and so-called enlightened moderation. And whom so ever will commit so in the future too will be targeted again by the TTP."
---
Copyright (c) 2012. RFE/RL, Inc. Reprinted with the permission of Radio Free Europe/Radio Liberty, 1201 Connecticut Ave., N.W. Washington DC 20036.