The Other Hurricane Sandy: The Storm's Impact in Haiti
The country's government has proven surprisingly capable in the face of its latest natural disaster.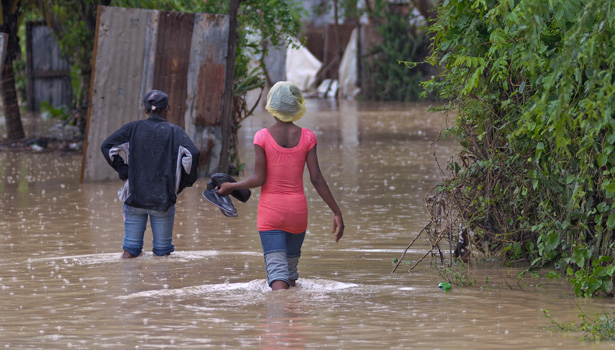 Hurricane Sandy was already a prolific killer by the time it ravaged the Jersey Shore, flooded New York's subway system, and turned Queens's scenic Breezy Point neighborhood into an ashen crater.
Before making landfall in the United States, Sandy swept through the central Caribbean, directly hitting Jamaica and Cuba, and dropping more than 20 inches of rain on a country already well acquainted with the blunt force of nature: Haiti. The storm killed 52 Haitians, flooded much of the country's south, and displaced over 18,000 families. Up to 400,000 Haitians are still living in camps for those left homeless by the country's devastating 2010 earthquake. A subsequent cholera outbreak -- which most likely originated with U.N. peacekeepers stationed in the country -- killed up to 7,500 people. And while Haiti's 2011 presidential election might have demonstrated that the country's democratic development wouldn't be delayed on account of the earthquake, it was still a contentious affair that culminated in the elevation of Michele Martelly, a former pop singer with no prior political experience. There is never a "good" time for a killer storm to strike, but Sandy slammed into a highly vulnerable country that was struggling to emerge from a long spell of instability.
Major storms pose an especially daunting challenge for countries with a limited capacity for coping with them. Haiti certainly qualifies, although according to Eduardo Gamarra of Florida International University, the country is in a better position to cope with a devastating weather event than it was in the chaotic year or so after the earthquake struck. Crucially, Martelly's government, which has received mixed reviews from Haitians, has pushed for people to move out of post-earthquake refugee camps.
"The objective of the government over the last 18 months has been to try to get people out of tents," Gamarra said. "And in a sense, they've managed to avert a greater disaster by doing that. If the hurricane had struck when these people where still in those tents the damage would have been greater and a lot more people would have been exposed."
In the immediate aftermath of the earthquake, over a half-million people lived in tent cities around Port-au-Prince alone, where private donors and government aid provided refugees with a crucial minimum of food and physical security. According to Gamarra, Martelly's government has used cash payments, building materials, and 3,000 new government-constructed homes to incentivize Haitians to move into more permanent shelter. The low estimate for the number of earthquake refugees in Haiti is around 250,000 -- down from the 1.5 million displaced in January 2010.
As Sandy loomed, the Haitian government responded in a way that likely prevented the storm, which has already caused a month-long state of emergency, from amassing an even higher death toll: it warned Haitians that a major disaster was imminent, and urged them to seek higher ground. "Given [its] limited capacity to respond, I was struck by the fact that the government was extraordinarily proactive before it came on," said Gamarra. "Early warning was the best thing they did."
A situation report from the U.N. Office for the Coordination of Humanitarian Affairs gives a concrete sense of exactly how seriously the Haitian government took the looming hurricane. On October 25, well before the storm made landfall, the Haitian authorities:
[Issued] an Orange Alert, which was subsequently upgraded to Red to cover first the southern departments and later the entire country. GoH also activated the National Risk Management and Disaster Plan (PNGRD). The Direction de la protection civile (DPC) activated all its emergency structures nationwide and, with humanitarian partners, carried out sensitization campaigns to warn people living in areas at risk (seaside, ravines, river banks, mountain slopes, etc.) to prepare to evacuate, if necessary and to avoid crossing swollen rivers.
According to Gamarra, the post-earthquake Haitian Department of the Interior also has a small cadre of European and American-trained rescue personnel, although it lacks the ability to deploy them to the entirety of the country. Sandy is a sign that the government has made some modest gains since the earthquake -- but that in the context of a country as broken and vulnerable as Haiti, these gains can still have a major, life or death impact.
There's another, more troubling dimension to Haiti's experience this past week. The 2010 earthquake killed a fifth of the country's civil servants and police; meanwhile, the country's military was disbanded in 1995. Restoring the country's institutions -- many of which were ineffective and corrupt to begin with -- is far longer than a two-year process, especially with such an astonishing percentage of the country's educated class wiped out in a matter of days. Haiti and other disaster-prone countries in the developing world can protect against devastating natural events through perusing policies that disperse the population as much as possible, according to Richard Olson, director of Extreme Events Research at Florida International University.
"In the long term, national governments and the international community have to help them spread the risk," he said. "We have to start encouraging, facilitating and subsidizing the dispersal of populations away from capitals and lead cities and spread the population and economy activity much more equitably."
This requires infrastructure, strong and organized political leadership, and an even distribution of economic opportunities throughout the country -- which in turn requires a diversified economy strengthened through international investment. It's difficult to imagine any of this happening as long as local capacity remains limited, and as long as Haiti is in seemingly-permanent recovery mode. The country has figured out how to mitigate natural disasters in the short run. But the major changes needed to free the country from the arbitrary and punishing whims of nature might still be a ways off.