The New It Boy of North Korea: Kim Jong Il's Grandson
A teenage member of the world's most notorious family speaks with western media.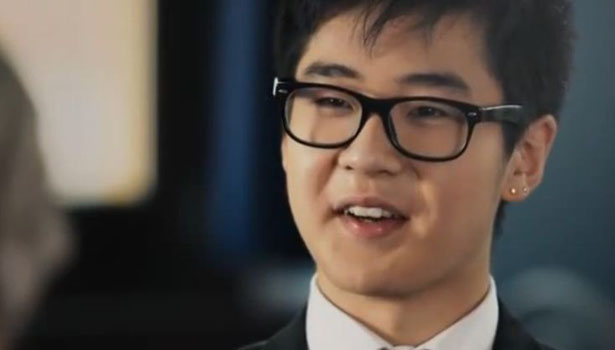 Kim Han Sol, the 17-year-old grandson of late North Korean leader Kim Jong Il, has given his first extensive TV interview to Elisabeth Rehn for a Finnish television channel. The full 20-minute interview was uploaded to YouTube on October 16.
The teenager gained fame last year after reports emerged that he was enrolled at the UN-sponsored United World College in Mostar, Bosnia-Herzegovina.
Kim Han Sol initially had his mind set on the college's Hong Kong affiliate, but after his visa was rejected by the immigration authorities, he applied to the Mostar college.
During his interview with Rehn, who served as Finland's minister of defense and has held several high-profile UN positions, the young Kim appears well spoken and confident.
Shortly after his arrival in Mostar in September 2011, the local media flocked to the college's premises, but didn't manage to catch more than a few glimpses and words from the young Kim.
Prior to Rehn's interview, Al-Jazeera Balkans was the first international channel to sit down with current leader Kim Jong Un's nephew in February. The interview, however, centered around his studies at the college and his adjustment as part of a larger video feature on Mostar's elite college.
With an impeccable American accent, Kim Han Sol appears reserved and composed when speaking about his life at the international college and his family's dynasty in North Korea.
Having spent most of his life in Macau, Sol speaks of his protected childhood, explaining that growing up he didn't know who his paternal grandfather was and never had a chance to meet him.
One issue he does address in detail  is the unification of North Korea with South Korea.
"I also dream of unification because it's really sad that I can't go there and see my friends over there and, yeah, its a really sad story." Kim says.
A year ago, Kim Han Sol wasn't so favorably portrayed in the media. After it was revealed that he would move to Mostar, the South Korean media managed to track down his social-media profiles and exposed them online, including a photo of Kim with bleached blond hair. In the comments online, he expressed regret at his family's role in the suffering of North Korea's people and guilt that he had enough to eat while his countrymen didn't.
During his interview with Rehn, he also speaks of spending time at his mother's house with "ordinary" people.
Although his father, Kim Jong Nam, was in line to take over as leader of North Korea, he was reportedly never a favorite due to his alternative lifestyle and the fact that his grandfather, Kim Il Sung, didn't approve of his father's mistress, a North Korean actress. In 2001, his chances were further diminished when he was caught using a fake Dominican Republic passport to enter Tokyo's Disney resort.
As Kim Han Sol tells Rehn during the interview, "My dad was never really interested in politics."
You can watch the interview in two parts below: