The Misogyny Behind an Attempted Assassination of a Man in Congo
A doctor who's treated tens of thousands of women raped in the Democratic Republic of Congo was fiercely attacked last week.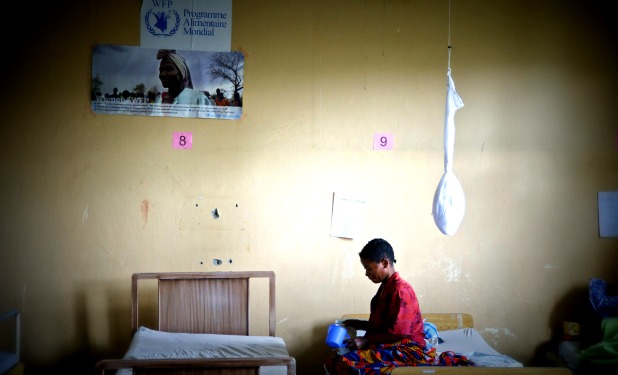 On the evening of October 25, a handful of men carrying guns stormed the house of a Congolese doctor in eastern Democratic Republic of Congo. The unknown men conducted about a half an hour's vigil for the doctor's return, holding his daughters, their friend, and his wife at gunpoint on the floor in wait, according to various people I spoke to who communicated with the doctor within hours of the attack.
With the sound of a horn -- Dr. Denis Mukwege at the home's gate -- the gunmen and the family's security guard, Joseph Bizimana, collided in a desperate moment of chaos, in which shots were fired. Bizimana fell to his death. Shots flew at Mukwege, who ducked, according to my sources and The New York Times. Here is where the story takes on subtle variations: The gunmen tried to wrestle Mukwege into his own car, tearing the keys from his hand; they ran out of ammunition and fled in Mukwege's car; they fired at the doctor and missed, fleeing as neighbors who heard the shots arrived. The men soon abandoned the car, according to Physicians for Human Rights.
No money or property was taken and the car was left behind, calling into question robbery as a motive. Whether this was a kidnapping or assassination attempt, no one is quite sure, but what we do know is that the attack occurred within a couple blocks of the headquarters of MONUSCO, the United Nations Stabilization Mission in the Democratic Republic of Congo -- the largest current peacekeeping force in the world, with more than 20,000 troops. We know that DRC is at the mercy of multiple armed groups, including the notorious M23, FDLR, and Mai Mai militias, which are known for their inhuman mutilations of women's bodies.
We also know that Mukwege is the world's best-known doctor treating women who have been raped in that country's 16 years of conflict. He has treated more than 40,000 women as medical director and founder of the Panzi Hospital in Bukavu, eastern DRC, he told me recently. He has operated on more than 15,000 women whose bodies have been ripped apart by sexualized violence, he said. Mukwege is "the epicenter of resistance," said Stephen Lewis, founder of the Stephen Lewis Foundation, which works to fight HIV/AIDS in Africa, and a supporter of Panzi Hospital.
"He is the person who stands as the anchor for survival," Lewis said. "You lose him and you lose yet another dimension of the struggle."
When I met Mukwege in September in New York (he and I both serve as advisory committee members on the International Campaign to Stop Rape & Gender Violence in Conflict), he was a man at the edge of his capacity to understand how the world is allowing atrocities to continue in his country. At one point, he showed me a photo of the vagina of a four-year-old girl who had been raped in the conflict.
I asked him how he stays sane seeing everything he does. He told me in English, which is not his first language: "I don't know how I'm doing it. I can say that today I'm just wondering for how long I can go on with this question."
His frustration was palpable. He nearly shook as he went on about what is happening to the women of his country, thumping his chest as he recounted how easily DRC and the world are dismissing the rapes: "When people say it was 'only' women, it was a 'sexual relation' -- no."
The following day, on September 25, Mukwege spoke at the United Nations, along with campaign co-chairs and Nobel Laureates Jody Williams and Leymah Gbowee.
I would have liked to say, 'I have the honor of representing my country,' but I cannot," he said. "In effect, how can one be proud of belonging to a nation without defense, fighting itself, completely pillaged and powerless in the face of 500,000 of its girls raped during 16 years; 6 million of its sons and daughters killed during 16 years without any lasting solution in sight?"
Not only did Mukwege outline the reality of a country -- of women -- at the mercy of war, he pointed fingers in a way that few seem willing to do when it comes to one of the world's greatest disregarded crises. He blamed the international community, which has "shown its fear and lack of courage during these 16 years," for its inaction, and, perhaps more crucially for this narrative, he put a bull's-eye on the perpetrators.
"We do not need more proof, we need action, urgent action to arrest those responsible for these crimes against humanity and to bring them to justice," Mukwege told UN member states and U.K. Foreign Minister William Hague, who was also in the room that day. "Justice is not negotiable. We need your unanimous condemnation of the rebel groups who are responsible for these acts."
Mukwege has not changed what he does at Panzi Hospital recently. He has, however, upped his visibility and rhetoric on behalf of his country. The gunmen appeared at his house the day he arrived home from a trip to Europe, despite the fact that he was originally supposed to fly home on Friday, not Thursday, according to The New York Times. Have they been tracking him?
I spoke to Eve Ensler, the founder of V-Day, an anti-violence activist movement that operates the City of Joy, which supports survivors of sexualized violence in Congo with the Fondacion Panzi. Ensler, a close friend of Mukwege's, told me she was in shock that the war had come to Mukwege's home, that the message was meant to say: We can get all of you, even your leaders. Susannah Sirkin, deputy director of Physicians for Human Rights, told me that the attack on Mukwege, so close to MONUSCO headquarters, has left people fed up.
"This is a red line that's been crossed," Sirkin said.
But Ensler is firm in her belief that this can be a pivotal moment for Congolese women, who have long been caught in the war's undertow.
"The real question is, how do we examine this situation in order to get the world to pay attention?" Ensler said. She trained her sights quickly on the international community members who, she said, are dropping the ball on Congo.
"Why aren't the players in this situation -- Rwanda, the Congolese government, the U.K., and the U.S. -- being held responsible?" Ensler asked.
The answer is complicated, said Anneke Van Woudenberg, a Congo expert who has closely following developments in the country for 13 years. The problem in terms of Rwanda, which is allegedly supporting the M23 -- the militia heading up an insurgency for the past six or so months -- involves three fronts: security, economics, and politics. Then there's "genocide guilt," she said, which means that countries like the United States may give Rwanda a pass when it comes to stopping the M23 militia, which is being armed and supported from Rwandan soil.
There is great opportunism at play, said Van Woudenberg, in the ongoing clashes: A number of the militias are taking advantage of a power vacuum caused by a weak Congolese government and Rwanda is keeping the fighting over the border from its own country by supporting a militia that does its bidding. The result is devastating for the Congolese population, which has been forced to live with repeated cycles of violence. Also, Rwanda has benefited immensely from Congo's economic wealth, which includes profits from the mining of cassiterite, coltan, and gold, but also agriculture, she said, especially in eastern Congo.
The UN is also causing great consternation among Congo-watchers. Van Woudenberg said that while the UN has come out to say that neighboring countries that support rebels in eastern Congo should stop, they've never come out and actually named Rwanda. Van Woudenberg called it "a dereliction of duty."
The language Lewis used was equally strong: "This loss of life and unbelievable pattern of raping women incessantly year after year -- the world doesn't act, because, of course, it's women," said Lewis. "Universal misogyny makes it impossible for the UN to act. It's contemptible."
In the past few days, the U.K. and the UN have put out statements in support of Mukwege. The United States has not. The State Department did not return requests for comment for this story.
Closer to home, what the citizens of eastern Congo require is immediate security. That means providing patrols -- whether from MONUSCO, which is, for the most part, locally mistrusted, or otherwise -- at hospitals, radio stations, even for roads. Sirkin described the road from Bukavu to Panzi Hospital as "disgusting." "Women who are in labor or raped have to go on this dirt road," she said. "It's bumpy as all-get-out and virtually impassable in this rainy season. It's an example of the massive infrastructure failure in Congo and a disgrace to the women and staff that they have to get to the hospital in this outrageous way."
Lewis told me that a doctor at Panzi Hospital told him within hours of the attack that they aren't relying on the police or the United Nations to secure the hospital. Rather, he said, "They are protecting themselves."
Beyond that, the people who are trying to tell the world what is happening need immediate attention, said Van Woudenberg. She called the attack on Mukwege a "terrible sign" in light of a recent rash of attacks on human rights defenders, including journalists.
"When there starts to be attacks on individuals like him, it makes so many lower-level people scared and it silences people," she said. "I'd say we're at a peak of attacks on civilians and those who speak out. When I heard about Dr. Mukwege being attacked, my antennae began vibrating, saying that we're in real trouble again in eastern Congo."
On top of the attacks on human-rights defenders, rapes are on the rise, according to Van Woudenberg and Mukwege himself, who told us in New York: "This year, I am once again operating on women whose genitals were destroyed by rape and other atrocities."
Christine Schuler Deschryver, the Congo director of V-Day, told me: "We just see the never-ending lines of women and girls waiting in the corridor of the hospital to be repaired."
Women Under Siege, the project I direct at the Women's Media Center, has documented at least 10 different reasons women are being raped in Congo -- everything from attempts to gain hold of natural resources to a belief that Satan made them do it. The conflict and its attending rape, not to mention the lack of political will that allows it to continue, are complex, but not incomprehensible.