The Middle East's Belly-Dancing Recession
How the Arab Spring has hobbled one of the world's oldest dance forms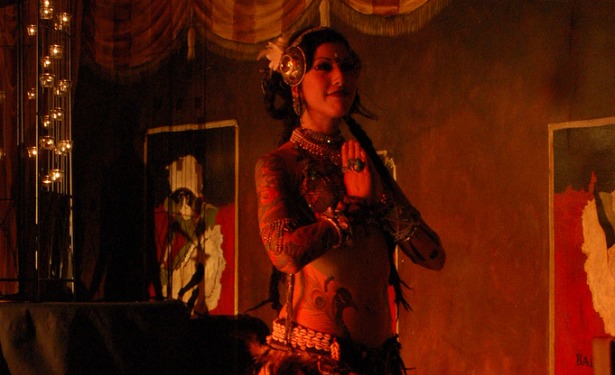 Paris on Ponce & Le Maison Rouge/Flickr
CAIRO --- When belly dancer Outi left her home in Finland to work in Egypt in 2005, she had a lot to look forward to. Not long after arriving, she went straight to work on a contract five days a week -- not to mention extra gigs at private parties -- and earning a substantial wage. She had her own band to perform with, and enjoyed dancing for an appreciative audience of Egyptians and tourists.
Outi is one of the many belly dancers from America and Europe who came to the Middle East in search of better job opportunities. Though belly dancing has become popular in Western countries in recent years as both a form of entertainment and exercise, the market in countries like Egypt has typically provided more employment options.
"When [Egyptians] listen to the music, they have feelings from their own life and the emotions, and they like you and they live the song with you. I think outside this is impossible," Outi says. "Even if you have the women who are all covered, just their eyes showing, you can still see their eyes smiling."
But one of the many unexpected casualties of the Arab Spring is the region's belly dance scene. With the ongoing violence, as well as political and economic instability, some dancers are considering going back home.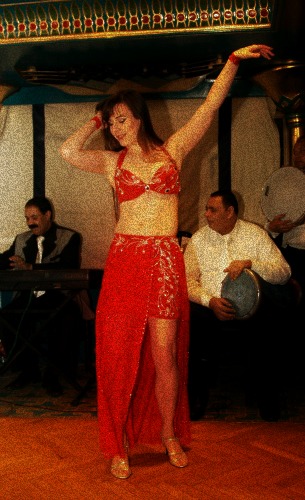 The biggest struggle for belly dancers today is a lack of work -- especially in Egypt, where the dance form originated. Fewer tourists are visiting the region, which means hotel and cruise-boat owners can't afford as many belly dancers. Cruise ships in Egypt used to sail four times a day, but now sail only once, Outi says. These days, she only works two to three days a week, and has fewer teaching and private party gigs. For the work she does get, she is paid half of what she got before the revolution, and is currently struggling to pay her rent. "It has been a really stand-still situation for at least one and a half years," she laments. "I have been thinking about leaving, at least since the revolution."
Standard pay on the ships in Cairo is 200 EGP a night, which is about $33, says Luna, a belly dancer who moved to Egypt from the U.S. in 2008. The dancers can earn 300 EGP if the second deck of the boat has customers and they perform twice. Dancers can make up to 900 EGP a night if they dance on both decks and sail three times. But since tourism stopped, Luna reports, the decks have been empty. "[Now] we sail once a night and we're lucky if we get the restaurants full," she says.
Luna says she's more fortunate than other dancers because she's the only one on her boat. She is also hired for private parties, teaches, and she sells her costumes. But she did downsize to a new apartment in a lower-class neighborhood, is going out less, and is working with costume designers who charge less for their work. "If I didn't have a contract, I would go home," Luna says. "No one's hiring."
The lack of tourism is compounded by the wave of conservatism that has swept Egypt in the wake of the Muslim Brotherhood's takeover of the government. Some businesses owners, bowing to pressure from Islamists, have eliminated the dancers. During the revolution, religious radicals burned down venues that showcased dancers. Some owners were hassled to the point that they just closed their businesses entirely. "We have a radical Islamic government in power and any minute they could ban dance or make it so miserable that tourists stop coming," Luna says.
A graver concern for some dancers is for their safety. Violence against women more broadly has skyrocketed since the revolution. Luna has been hearing stories of gang rape and assault. "You can see on the streets the lack of police," she says. "Egyptians know that, and the criminal-minded ones take advantage of that."
But some dancers are defiant, unwilling to bend to pressure from Islamists. "I feel like it's going to become way more conservative than it already is," says Aleya, who moved to Egypt from the U.S. in 2008 and dances at a five-star hotel on an on-call basis. "I will never be covered -- I will never be open to that." She dismisses the threat of violence, and is surviving the tourism slump by selling costumes on the side. Perhaps most importantly, she is living better than she did in her recession-riddled home country. "We've made our life here," she says. "Revolution or not, this is where we live."