Security Freak-Out: Beijing on Total Lockdown as Power Handoff Nears
Who do the Chinese think is about to disrupt its leadership transition?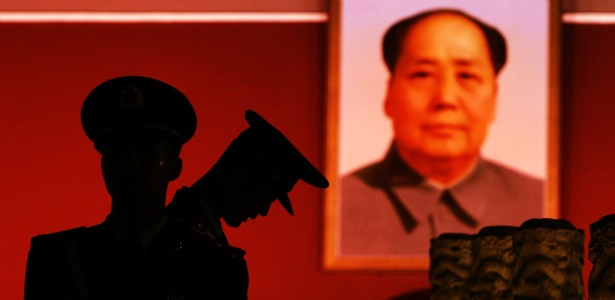 Paramilitary police stand guard before Beijing's Tiananmen Gate. (Jason Lee/Reuters)
It's a state of lockdown so extreme that it feels like war. With China's change in leadership at the 18th National Party Congress just nine days away, "stability and security" has become the number-one issue for all levels of Chinese government. Although "stability preservation" ("维稳") is always a high priority in China, it has now become the singular priority, affecting the lives of countless Chinese officials and citizens.
In mid-October, the Beijing police department held a kick-off meeting for a one-month security project. At the meeting, more than eight hundred police representatives swore their determination to keep Beijing secure during the Congress. Guo Jinlong, the Beijing party secretary, said during the meeting that the security officers should forcefully prohibit any politically sensitive event, social violence, terrorist act or mass demonstration that might affect the progress of the Congress.
On Sina Weibo, China's Twitter, a journalist who attended the meeting with the handle @红缨老枪 recounted in detail: "Some new phrases appeared at the meeting this morning: Act preemptively, fight actively; check everyone, follow every clue to its utmost; no carelessness is allowed, no room for error; neither big nor small incidents are allowed to take place."
This kind of discourse, more appropriate to a foreign war than to internal security affairs, has led many to question whether the government regards its own citizens as enemies. Ma Yong (@旁观者马勇), a professor of history at Chinese Social Science Academy, writes that the government is simply overacting. "These kind of meetings have been held seventeen times over more than ninety years, under a variety of circumstances. Is there any need for such a degree of sensitivity? Why not treat it as normal?"
This warlike attitude has spread all over the country. On October 15, the national railway police system said it would treat the undertaking of Congress-related security as if it were actual combat. Special attention would be paid to the provinces surrounding Beijing. On October 20, Hubei province announced that the police would enter "a state of war" to ensure security until the end of the Convention. All police vacations falling in this time period would be cancelled. In the past month, declarations of similar commitments from other government organs have been prevalent.
In this high-pressure atmosphere, political dissidents and civil rights activists are the most likely to be targeted. Under the special security measures, many of them enjoy limited personal freedom or live under daily supervision by security officers. Those who live outside Beijing are denied entry to the city, while those living in Beijing are forced to travel out. Teng Biao (@滕_彪), a human right lawyer, gives this summary of the "18th Congress Syndrome": "When I was [recently] in Shenyang, I couldn't get access to Skype via the Internet provided by the hotel. Many web pages which had not been blocked before were blocked then. It makes me think of some friends of mine who are under house arrest, are forced to travel or work elsewhere, are driven out of their homes, are denied access to the Internet, are silenced, or are denied entry to Beijing."
Ordinary people are also experiencing the effects. @王瑛006, who lives in the Chongwen district of Beijing, tells her story: "Yesterday three people from the neighborhood committee entered my household to do a registration for safety concerns before the Congress. They asked my name, whether I was the household leader, where I was registered, my cell phone number, and how many people lived with me, whether they were male or female. In order to save time and energy, they also asked information about my father's, daughter's and son's households. I asked them whether it is really so unsafe before the Congress. They said they would even take turns to stand guard some days later."
Travelers face stricter measures as well. The Beijing News (@新京报) reports that from October 20 to November 18, travelers are prohibited from taking kitchen knives, scissors, or hammers with them on railways. The Southern Metropolis (@ 南都深度) tweets that window cranks or electronic window openers on back seats of all the taxis in Beijing have been de-mounted in order to prevent travelers from handing leaflets out of taxi windows.
"Potentially dangerous" objects are also off-limits in stores. @杰人微语 recaps his experience. "The kitchen knife was broken yesterday. I went to two stores to look for a knife and the salespeople told me that even pencil sharpeners were not allowed to be sold, let alone kitchen knives." @集贤承韵writes, "I went to buy my son toys, but found out that all the remote control airplane models had been removed from the shelf. The salesperson said that they would be available again after the Congress."
Lawyer Yang Xuelin (@杨学林律师) adds that some courts have postponed ruling on some sensitive cases. "The court postponed one case of mine, which was planned to be tried in late October, for 'reasons which the collegiate bench couldn't control.' It had already happened to some of my other cases."
In short, it seems that the Chinese government has tried to eliminate every possible risk from the public sphere. The breathtaking scope of its intervention extends even to the music industry. Musician Gao Xiaosong recently posted (@高晓松) a warning to music professionals via Weibo: "Censorship of the music industry has become more rigid recently. Songs broadcasted by big televisions mustn't contain 'die,' 'down' or other inauspicious words. I just witnessed that a singer who sang 'Die for love' had his performance killed. Colleagues should take this as a lesson."
Perversely, the government's fear of potentially destabilizing factors and its desperate measures to keep society under control reflect just how unstable Chinese society actually is. According to the South China Morning Post, the annual number of Chinese mass disturbances reached 90,000 in 2006 and has continued to increase. It's a trend resulting from spiraling social inequality- BBC reports that China's GINI Coefficient, a score of economic inequality, was a dangerous 0.47 in 2010-and snowballing social conflicts. The government's "stability maintenance" strategy worsens social tensions by pushing them further beneath the surface and invalidating institutional channels for conflict resolution.
In this way, what is happening before the Congress is a microcosm of the past ten years under China's Hu-Wen administration. Cui Weiping (@ 北京崔卫平), a liberal intellectual, characterizes the contemporary era this way: "It's the era of stability preservation now. The era's characteristic is that the government sees every disadvantaged person as a target for precaution and supervision. One of the results is that everyone, especially industrial workers or farmers, can become a potential enemy to public power. Another is the lack of sympathy and an overflow of indifference toward people at the bottom of society."
---
This post was produced in collaboration with Tea Leaf Nation.