When we moved back to Washington DC three years ago, after three years of out the country, naturally we noticed the old TV shows, radio broadcasts, stores, etc we'd been used to that had disappeared -- and the new ones that had started up while we were gone.
One of the new arrivals I was glad to have happened upon was The State We're In, which was improbably* enough produced by Radio Netherlands but was carried by WAMU, the local NPR station, on Saturday afternoons. I'd usually listen when I was running or driving around etc, but I began seeking it out because the mini-dramas and interviews were part of the tradition of modern radio done right, and as a lead-in to the unmissable** Weekend All Things Considered on NPR.
Just now I was out for a run and, while listening, heard the announcement that today's TSWI episode would be the very last. The Dutch government had cut the budget for Radio Netherlands Worldwide by 70 percent, and the show was getting the axe.
I am sorry to hear this, and am noting the occasion (a) to recognize the staff on the excellent production they've done for these past few years, and (b) to point you to some of the archives you might want to explore. Today's show is a good place to start; it's made of staff and listener favorites. For more you can prowl around in the archives. Here are the people responsible for the show: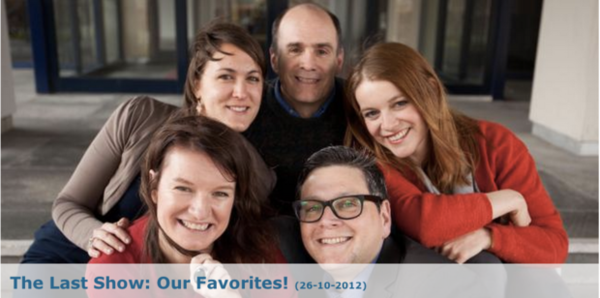 Congratulations and thanks to them; for everyone else, you won't regret checking into some past episodes.
__
* "Improbably" because the on-air voices sounded so North American. Yes, the Dutch are great linguists, but most speak English with a Euro-style rather than a North American accent. Today I learn from the show's website that the host Jonathan Groubert, in the glasses above, has lived in Holland for many years but grew up in Brooklyn.
** Inside joke: I love this show, and also regularly appear on it.