Mitt Romney, George Marshall, and Israel-Palestine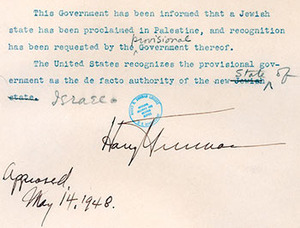 During a major
foreign policy address
earlier today at the
Virginia Military Institute
, GOP presidential candidate Mitt Romney paid tribute to one of the school's most distinguished graduates, former Secretary of Defense and Secretary of State as well as Army Chief of Staff
George C. Marshall
.
Romney said of Marshall that he "helped to vanquish fascism and then planned Europe's rescue from despair. His commitment to peace was born of his direct knowledge of the awful costs and consequences of war."
What he didn't share about General Marshall was that he vehemently opposed recognizing Israel and instead favored U.N. trusteeship after British withdrawal slated for midnight, the 14th of May, 1948.
As reported in a fascinating historical snippet by the late Richard Holbrooke, who helped organize presidential adviser Clark Clifford's papers for a co-authored memoir, then-President Harry Truman overruled George Marshall, the secretary of state he "revered" along with "James V. Forrestal, George F. Kennan, Robert Lovett, John J. McCloy, Paul Nitze and Dean Acheson" and did recognize Israel.
Truman's was a brave move, and in my view, a correct one -- but did lead to the wars that Marshall feared recognition of Israel would ignite.  Today, political Islam is on the rise in the Arab region -- and the failure of Israel, the Palestinians, the Arab League, Europe, Russia, the United Nations and the United States to achieve peace and the balancing creation of a state of Palestine remains a consequential, bleeding global ulcer.
Privately, Mitt Romney offered these dismissive words about the Middle East peace process:
[S]o what you do is, you say, you move things along the best way you can. You hope for some degree of stability, but you recognize that this is going to remain an unsolved problem...and we kick the ball down the field and hope that ultimately, somehow, something will happen and resolve it.

Publicly today, Romney flip-flopped and committed himself to working to resolve the "unresolved problem":
Finally, I will recommit America to the goal of a democratic, prosperous Palestinian state living side-by-side in peace and security with the Jewish state of Israel.  On this vital issue, the president has failed, and what should be a negotiation process has devolved into a series of heated disputes at the United Nations. In this old conflict, as in every challenge we face in the Middle East, only a new president will bring the chance to begin anew.

General Marshall was so disgusted with Truman's move that he stated in an ultra-secret memorandum that if Truman proceeded on Israel's recognition, he was going to vote against his boss in the next election. Nonetheless, Truman stood his ground and signed the note of recognition.
One wonders today whether Romney will ignore or listen to generals today -- like CIA Director General David Petraeus, former Joint Chiefs chairman Admiral Mike Mullen, CENTCOM commander General James Mattis, even the incumbent Joint Chiefs chairman General Martin Dempsey -- all of whom agree that establishing and recognizing a state of Palestine is vital to U.S. national security and to defending Israel's long-term security in the region.
General Marshall had it wrong on Israel -- but today, generals are arguing that America can't afford a false choice between Israel on one hand and Arab interests on the other.
Romney is making a false choice -- hugging tightly one part of a tough neighborhood with little interest in the rest.
If Romney wants to get this right, he should leverage the credibility he is building with Israel's leadership and hold them tightly in place while simultaneously pulling a Truman and recognizing a state of Palestine.
As reported by Holbrooke, Truman was irritated that the State Department had made him look like a liar in a commitment he had made to former Israeli president Chaim Weizmann.  Truman stating:
The State Dept. pulled the rug from under me today. The first I know about it is what I read in the newspapers! Isn't that hell? I'm now in the position of a liar and double-crosser. I've never felt so low in my life ....

One can only hope that Mitt Romney works as hard as Harry Truman to reconcile the private statements and commitments he makes to his public statements.