Massive Chinese Holiday Traffic Jam: Tennis Games Break Out on the Road
Countless Chinese took to the highways last weekend to avoid the crush of train travel. Little did they know what would await them. 
Sina Weibo
Taking a holiday in China can be anything but a vacation. Better adjectives might be exhausting, stressful and even deadly.
Today marks China's annual National Day, celebrating the founding of the Communist Party in 1949. This year, it also follows Sunday's mid-autumn festival, turning what would have been a seven-day "golden week" into eight days. These longer holidays -- there are two a year -- are notoriously disruptive, turning train stations into a massive game of musical chairs as millions fight to get on board. Official reports say that nearly 740 million trips among 85 million travelers will be made this week alone. It is a frustrating time -- train lines wind on for hours if not days and the government's efforts to fix it via an online ticketing and queuing system have only made matters worse: the site crashed from an overload of users and people from time to time got accidentally deleted from the virtual waiting line.
This time, it seemed that driving would be the better option after the government promised, for the first time, toll-free journeys for those traveling with seven or fewer passengers, in an effort to keep traffic from bottle-necking at the tolls. As a result, a slew of additional drivers took to the highways, turning them into miles-long stretches of parking lots this past weekend. The snarl isn't expected to be resolved until midnight today. The state-run Xinhua News reports that it took some travelers nearly an hour to move 1,000 meters.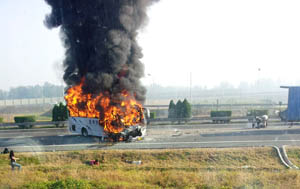 A bus carrying five Germans and 14 others caught fire near Beijing. (Reuters)
Web users soon took to Weibo, posting pictures of the gridlock and even humorously taking photos of people walking their dogs as they tried to pass the time. The Chinese press reported that temporary toilets were brought in as well, and some of those stranded on the highway even passed the time by playing a game of tennis. The congestion took a tragic turn early this morning, however. Photos surfaced of a tour bus bursting into flames after hitting a container truck on the Beijing-Tianjin highway. The death toll is now at six, including five Germans and the Chinese driver. Fourteen others were injured.
While quick fixes like virtual ticket booths and free tolls could be helpful in alleviating the burden of holiday travelers, the problem of overstressed transportation infrastructure will more than likely persist unless the government changes the actual holiday system in China.
According to one study by Mercer, workers in China receive about 10 days of paid vacation leave a year, ranking among the lowest in the world. Two of the longest holidays occur during National Day on October 1 and at the Chinese New Year in late winter or early spring. But what is deceiving is that only three of those days are paid for. The other four must be made up by working the weekends bookending the golden week. All in all, the Chinese do not have much leisure time.
Professor Cai Jiming of Tsinghua University argues that these golden holidays are environmentally damaging and that the one-off shots of income for the tourism industry generated by golden weeks do not help in the long term. He argues for eliminating the golden weeks altogether and has already successfully lobbied to shorten the golden week in May to a day.
Getting rid of the holidays, however, or spreading them out over shorter periods, would put a significant strain on the millions of migrant workers who depend on these weeklong holidays to travel great distances home and see family they have been separated from for months at a time. About 130 million migrant families rush home each year for the Chinese New Year.
A study by Bloomberg might provide more insight into what China can do to rescue its disastrous holiday system. The study revealed that when measuring GDP per hours worked, the countries with the highest number of paid vacation like France and Germany are actually quite productive. They are only 2 percent lower in productivity than workers in the United States, which has half as many vacation days at 14 per year. China might take notice -- it pays to rest.