Israel's Sexual Harassment Double-Standard
The trouble with treating rape as a women's issue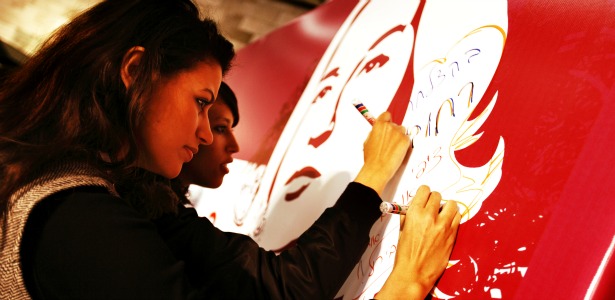 Supporters write notes on a banner of Israel's Tzipi Livni ahead of Israel's 2009 general elections. (Jerry Lampen/Reuters)
As a prominent Israeli female politician, Tzipi Livni is no stranger to criticism. The strong-willed attorney turned politician has needed thick skin to become the most influential female leader in Israel of her generation. This year, Newsweek named the former Foreign Minister and head of the opposition one of the top 150 most fearless women in the world, the only Israeli on the list. Ever since resigning from the Knesset in May after losing her position as head of the Kadima Party earlier this year, pundits have speculated about her imminent return to politics.
But these days, Livni finds herself under criticism from an unexpected source: feminist groups in Israel, who have usually been big supporters of Livni. On October 5, several high-profile organizations championing women's issues, who have since identified themselves as the Israeli Women's Coalition, authored a joint statement condemning Livni for discussing creating a new political party with Hayim Ramon, a former Knesset member who in 2006 was convicted of indecent behavior while he was serving as Minister of Justice.
The joint statement issued on October 5 argued that "it is inconceivable that a convicted sex offender will be the main force behind Livni's return to politics." Ramon was convicted of molestation for forcing a female soldier to kiss him in 2006, earning him a $3,600 fine and 120 community service hours. Ramon resigned from his Knesset position in 2009, and remained as the council chairman of Kadima until May 2012.
These women's groups are right to condemn Livni for potentially collaborating with Ramon. Political leaders should be held to a high standard. With Israel's former President Moshe Katzav currently in jail after being convicted of rape, the Knesset needs to set a tone of zero tolerance for sexual assault and indecent behavior.
What is worrisome about these groups is their selective condemnation of Livni. Though some of the groups have long opposed Ramon's return to politics and his continued role in Kadima, their specific remarks against Livni were not joined by statements against former Israeli Prime Minister Ehud Olmert and other leaders who have met with Ramon and contemplated joining a Ramon-backed party. To single her out for reproach sends a troubling message: It is more problematic for a woman than a man to consider working with a man who has committed sexual assault. Their selective condemnation seems to imply that Livni should care more about sexual assault because she is a woman.
Sexual assault is not a women's issue; framing it as one undermines the legitimate concern that all people, regardless of gender, should have when it comes to sexual harassment. The condemnation should be directed at any politician who is willing to overlook such crimes, and to any voter or leader who does not take those crimes as a signal that Ramon is unfit to lead.
With women serving in the army in combat roles, and the growing number of female Knesset members, Israel has made laudable strides towards gender equality. However, the steps forward must be coupled with a consistently unyielding demand for equality.
On September 27, a female member of the Karakal brigade killed a terrorist during a patrol on the Egyptian border. Her successes were made newsworthy because of her gender, instead of being due to her ability and training as a soldier. If Israel wants to make real strides towards gender equality, it needs stop to looking at its women as female first and foremost, but rather begin to recognize and judge them according to their position, and hold them to the same standards as men in similar positions.
Livni should not join forces with Ramon, but not because she is a woman.