Celebrating the Invention of the Necktie: It's Cravat Day in Croatia
Today on The Atlantic's World Calendar ...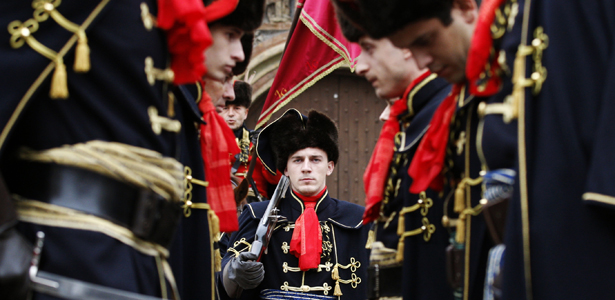 Nikola Solic/Reuters
Strange as Croatia's "Cravat Day" on October 18 may sound to an American, this celebration actually commemorates an element of national heritage. Croatia, after all, claims to have pioneered that most ubiquitous of modern accessories: the necktie.
"Croat" and "cravat," in fact, are etymologically linked, according to the Oxford English Dictionary. They were originally different variations of the same word: "The troops are filled with Cravates and Tartars, Hussars and Cossacs," reads a sentence by David Hume in 1752. Or take the even more comical statement from Daniel Defoe in 1720 (highlighting the alternate spelling, with a "b"): "We fell foul with 200 Crabats."
The cravat apparently came to Western Europe in the 17th century, courtesy of Croatian mercenaries. Perhaps appropriately, the modern Cravat Day has an origin of similarly mixed cultural-commercial flavor. In 1990, Croats Marijan Bušić and Zlatko Penavić founded the Zagreb-based company
Potomac D.O.O.
According to the company's website, it was intended to fulfill Bušić's high school dream of "creating an authentic medium which would act as a mediator in the presentation of Croatia to the world." The medium Bušić settled on, after partnering with trade-savy Penavić, was the necktie. Accordingly, in 1997 the firm founded the non-profit Academia Cravatica. "By spreading the truth about the cravat," the Academia Cravatica
proclaims
, "we improve Croatia's image in international public. The fact that Croats invented the Cravat makes us proud to be Croats."
On the other hand, by acknowledging the role of the French people in [the] cravat's history (who had recognised this ornament on Croatian soldiers), the role of the English people (who had spread it across the world) and the role of other nations which had embraced the cravat, we want to promote partnership between the Croats and other nations as well.
Accordingly, Cravat Day debuted on October 18, 2003, when Bušić and the Academia Cravatica undertook to wrap a giant red necktie around the Roman arena in Pula. The installation proved popular enough that the team has promoted Cravat day on each October 18 since, with some spontaneous commemorations across Croatia lending momentum to the project. In 2008, the Croatian Parliament unanimously declared October 18 the "Day of the Cravat."
Opponents of so-called Hallmark holidays, make of this what you will. At the very least, there's an element of genuine national heritage here. Also, there are some rather pretty horses. Below, a few images of Cravat Day in 2003 and a traditional guard exchange ceremony just prior to Cravat Day in 2010, which staged similar ceremonies.
An image of the installation "A Cravat Around the Arena" on October 18, 2003. (Courtesy of Academia Cravatica)
---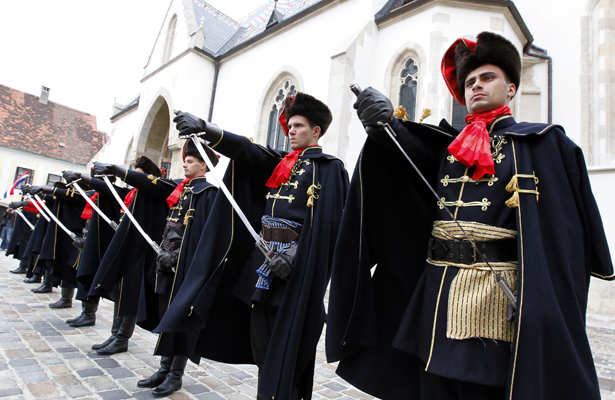 ---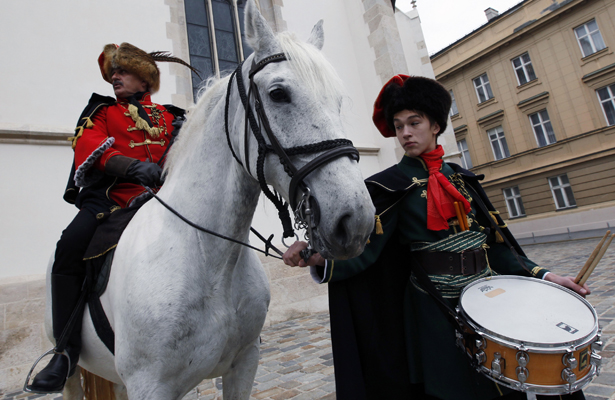 ---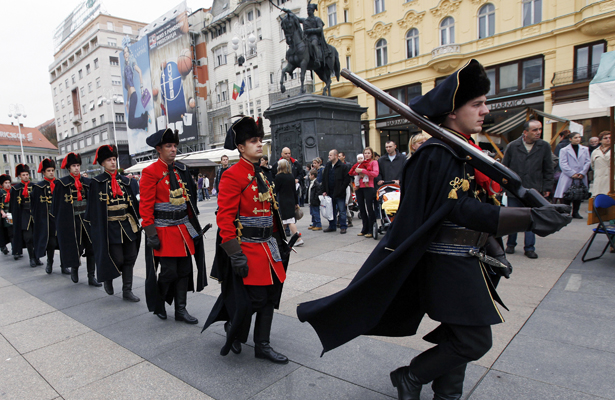 ---