A New Way to Measure Afghan Security: Beef and Tomatoes
Stability is about more than stemming violence.
Stability is about more than stemming violence.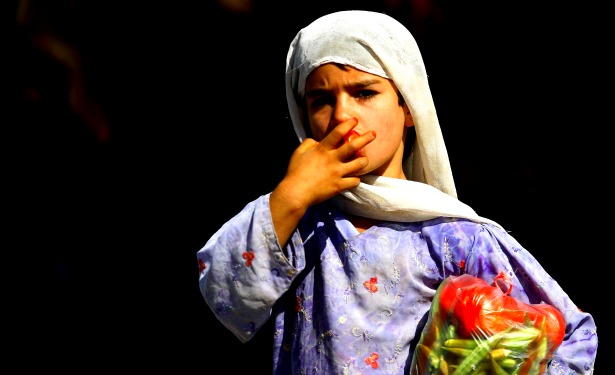 Jorge Silva/Reuters
When the last of America's troops in Afghanistan come home in 2014, onlookers will be anxiously watching the country for signs of renewed violence. But by the time Afghan security forces can respond to any fresh explosions or killings, it'll be too late to do anything about them. That's why one departing commander in Afghanistan's volatile Helmand province stopped measuring his progress on the basis of attacks and casualties, and started relying on a new metric for normalcy: sales of highly perishable foodstuffs.
From a press briefing this week with British Brigadier Doug Chalmers:
"I ended up talking to butchers and grocers. I picked them because the Afghan capacity to eat meat is unrivalled on the planet, and the need for them to get a good supply is quite prevalent. On earlier tours I saw they were only really selling goat and chicken and on this tour I saw a lot more beef. Now, cattle is expensive, and when you slaughter a cow, with a lack of refrigeration, you need to have the confidence to sell that cow. I saw a lot more cattle being slaughtered, and a lot more cattle in people's compounds." [...]

"I became fixated by tomatoes [...] it is quite a soft fruit and easily damaged, and again there is a lack of refrigeration. The market stalls were never without tomatoes. And the ability for them to be moved from the villages to the market towns was a good indication of the freedom of movement that the stall holders have. They were just able to drive in to the markets. From those two elements I got a sense of the micro economics in the market towns and cities."
Development experts know that a healthy economy is central to a state's political stability, and vice versa. The same logic works at the local scale. In a context like Afghanistan's, where peace is fragile, a return to normalcy shouldn't simply imply the absence of violence, but the flourishing of conditions that reinforce security gains. And that includes the revival of business.
Via The Guardian