Wukan Revisited: No, China's Village Experiment in Democracy Isn't Over
The townspeople who revolted against the Communist Party one year ago are protesting again. But is the unrest really a sign of democratic collapse?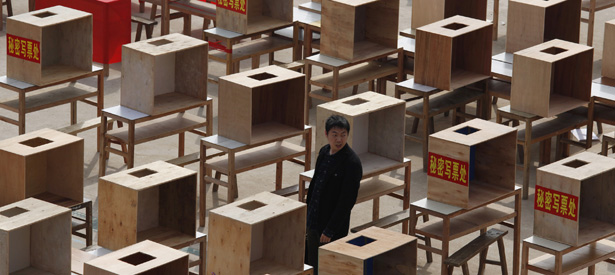 A villager stands in between ballot writing booths at a school playground in Wukan. (Bobby Yip/Reuters)
A year ago this past weekend, residents of a small village in southern China took on the Communist Party -- and won. Driving out the town's local government, protesters in Wukan charged that party leaders had illegally sold their farmland without compensating them. The crisis dragged on for months, resulting in the death of one person in custody and the arrest of several more. Police forces besieged the town for 11 days last December before the provincial government finally relented, promised punitive action against corrupt local officials, and, in a first, allowed village residents to hold elections by secret ballot the following year.
The village's yearlong experiment in self-governance looked promising at the start. The elections went off without a hitch, and popular protest leader Lin Zuluan was elected as the village's Communist Party secretary by a landslide. Not all is what it seems in Wukan, though:
On the first anniversary of an uprising that gave birth to the experiment, more than 100 villagers rallied outside Wukan's Communist Party offices to express anger at what they saw as slow progress by the village's democratically elected governing committee to resolve local land disputes.

"We still haven't got our land back," shouted Liu Hancai, a retired 62-year-old party member, one of many villagers fighting to win back land that was seized by Wukan's previous administration and illegally sold for development.
In light of the villagers' threats to resume their protests, some Western onlookers are beginning to question the viability of Wukan's fledgling democracy. One Reuters reporter wrote that the village is "turning sour" on its "faltering" attempt at self-rule, while the Financial Times summarized the renewed demonstrations as the result of the elected government's "[failure] to impress" the constituents that voted it in.
Despite the bleak outlook for Wukan's land-dispute negotiations -- only about 600 of 3,200 hectares of land have been returned to the villagers -- there are a few reasons not to be pessimistic about the village's future in governance. For one thing, it wouldn't be democracy without efforts by citizens to hold their elected officials accountable. Other nations have cyclical elections built into the system to handle such a task; but as the electoral contest in Wukan was set up as a special election, it's a distinctive case. Repeated unrest could grow into a long-term problem, but as an isolated response to a longstanding problem, it more likely suggests this is democracy at work, not democracy falling apart.
Even if they were a sign of greater unrest to come, the protests that made Wukan famous are hardly uncommon in China. The country saw an average of
500 demonstrations a day
in 2010 -- more than all the democratic protests that gripped the Middle East and North Africa a year later. At a very basic level, Wukan's political disputes are no more remarkable than those of any other town.
Lastly, Wukan is grappling with an expectations gap. On the one hand are the villagers who accuse the new leadership of moving too slowly. On the other hand are those former dissidents who joined the elected council only to find themselves faced with the challenges of governing. These individuals stress that it's only been a year since the initial protests began, and just six months since the election that brought them to power.
The disconnect between the party and its citizens is revealing, and it reflects some of the same debates happening in other democratic countries around the globe. How long is too long when it comes to fulfilling campaign promises? Americans are re-litigating that question as we speak. Are you better off than you were four years ago? was a question first asked by Ronald Reagan to great effect, but Americans are still divided over whether President Obama needs another four to repair the economy.
Whether Wukan's elected officials deserve more time to resolve the village's land disputes is a question for their constituents to answer. But however they do it, it'll likely be a referendum on the officials, not the system.