U.S. Ambassador's Death Draws Cheers and an Ugly Rumor on China's Web
A number of Chinese web users greeted the diplomat's killing in Libya as a just blow against American "hegemony."
A number of Chinese web users greeted the diplomat's killing in Libya as a just blow against American "hegemony."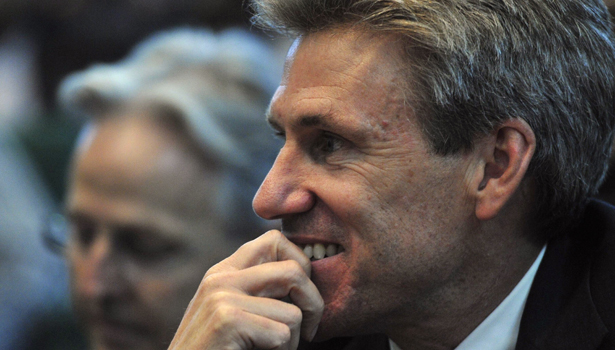 As with the rest of the world, few Chinese knew what J. Christopher Stevens, the former U.S. ambassador to Libya, looked like before his violent death in Benghazi, Libya, made international news on September 11. Yet within just 24 hours of the tragedy, a misidentified photo of Stevens had circulated wildly on Sina Weibo, China's Twitter, turning a martyr of peace into a ready symbol of American foreign policy. As waves of unrest from the Middle East convulsed the world, rumors and inflammatory remarks also flared on China's Internet, revealing not only rising anti-American sentiments in the country but also earnest anxieties about China's diplomatic challenges abroad.
The wheel of rumor first started spinning on September 12, when @旅法杂谈 posted a picture of a man raising his thumb over a battered corpse whom he identified as Muammar Qaddafi. "There is an old African saying," the netizen wrote. "'Those who haven't made it to the other shore should not laugh at those who have already drowned.'" On October 20, 2011, Qaddafi, the son of Africa, was brutally killed. U.S. Ambassador Christopher Stevens, at his side, gave a thumbs-up and cheered. 321 days later, however, his own corpse was pushed and dragged along the streets of Benghazi."
Among Chinese netizens, however, the African axiom did not register. Instead, their own cheering quickly began. Though the photo showed, even at its highest resolution, only a grainy portrait of a man whose angular features loosely resembled that of Stevens, most people believed that they had found the epitome of American hegemony. Within 24 hours, the post was forwarded more than 3,000 times on Weibo with more than 800 comments. The vindictive tone was unmistakable.
"I was just enjoying the news about the attack on the U.S. ambassador to Libya," wrote @阳光高杨, who self-identified as the editor-in-chief of the Chinese People's Political Consultative Conference Journal (人民政协报). "I hope these kind of attacks directed at American officials engulf the world as soon as possible! They could adjust their sights upward a bit. For example: the U.S. President, Secretary of State, Deputy Secretary of State, and every cabinet secretary! All people opposed to the Americans and opposed to the Japanese should take action!"
The comment was quickly removed from Sina Weibo as hate speech, but its residues, as well as the anti-American sentiments that had inspired the comment, lingered and spread. For some, gloating took the form of self-congratulation. "It turned out that ancient Chinese were the smartest," wrote @HR帝-李晶. "Life is not without final judgment. It's only a matter of time!"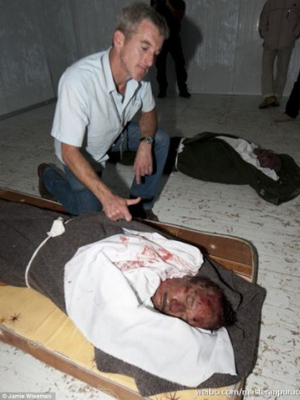 Journalist Andrew Malone over Qaddafi's corpse. (Weibo)
There were, to be sure, rational voices. Amid Weibo's smug and strident climate, many netizens, like @安普若-安校长, pointed out that the man in question was not Stevens, but was a journalist from the Daily Mail in Britain, Andrew Malone, who had posted photographs of his inspection of Qaddafi's corpse online. In another post, @欢欢在法国, a netizen in France, quickly traced the photo's misuse to a French news blog. The owner of the blog, Allain Jules, first accused Stevens of posing as a crouching figure over a battered Qaddafi. On his blog, Jules claimed that he was a former researcher on Medieval History at the University of Paris IV, Sorbonne and a student at IRIS (Institute of International and Strategic Relations.)
Despite efforts to bust the myth, the damage was already done. By September 13, the Chinese Internet was aflame. Keywords such as "American Ambassador" ("美国大使") had ascended to Sina Weibo's top-10 list. Joining strident anti-American discourses flaring across the globe, many Chinese netizens took advantage of the opportunity to vent their pent-up anger against the United States and its foreign policy.
"The violent assault against a U.S. ambassador and three other diplomats must be condemned, but it was also a direct result of U.S. Foreign policy," wrote @博联社马晓霖. "The Libyan War, created by the U.S. government, left behind a disintegrating society where rebels sliced up the country and ruled in violence. In retrospect, it was the U.S. assault against Islamic civilization--or in defense of Islamic freedom, as they called it--that sowed today's seeds of violence. The tragic death of four diplomats was America's own doing."
Some comments took on a less accusatory tone. "I guess elite media will soon publish glowing stories about the ambassador and his family's loss," wrote @汪海林, who suggested that U.S. hegemony was hardly exclusive to politics. "These stories will leave you sad, sympathetic, and of course, angry. There is truth in all this hype, to be sure, but for all the Libyans who perished in these conflicts, we will probably never read any sympathetic reports of them on such media. This is what 'the right to speech' (话语权) means."
On September 14, after an outpouring of anti-American comments over two days, Yahoo China, one of the country's major news portals, released a new issue of its online magazine, Focus (焦点关注), urging netizens to maintain rational discourse. "Refrain from gloating over U.S. Ambassador's death," reads the title page, which ended with a self-referential line: "Foreign embassies and consulates are extensions of a sovereign country, and diplomats are under amnesty from international conflicts--Chinese anti-Japanese protestors should keep this in mind, too." On Saturday, violent anti-Japanese demonstrations roiled throughout mainland China. Hundreds of protestors threw rocks and eggs at the Japanese Embassy in Beijing, while smaller confrontations erupted in up to 40 Chinese cities.
But Yahoo China promptly undermined its own effort to promote good will. On top of the section page, Yahoo created a poll with a simple question: "How do you feel about the U.S. ambassador's violent death?" The results were unflattering. As of time of publication of this article, more than 3,000 people responded that the attacks were "karma," the result of the United States acting as the "world policeman." In contrast, only about 1,300 netizens believed the attack was an extremist event instigated by a few. Fewer than 400, or less than 10% of the total respondents, believed that it was a "tragic clash" between Islamic and Christian civilizations.
While their content was troubling, recent incendiary comments on Weibo suggested something deeper than mere anti-Americanism. The misleading photograph purporting to show Stevens was a kind of "wish rumor"--a rumor that begins primarily because those who sustain it wish it to be true. Chinese netizens have seemed more willing to fault the U.S. entirely for the crisis in the Middle East than to consider the complex origins of the recent violence. The picture, in this regard, helped to confirm the long-held Chinese assumption about American hegemony in the world.
On the other hand, such rumors thrived because they gave expression to some netizens' own anxieties about China's projection of its own power abroad. "The United States planted a new regime in Libya, and that very regime turned its back by killing the American ambassador. At the same time, in East Asia, U.S. foreign policy set off the Senkaku dispute," wrote @王育琨, who identified himself on Weibo as Director of Entrepreneurship Research Center at Peking University (北大企业家研究中心主任). "By pitting China against Japan, the Americans created an opportunity to bolster its role in the region. But the Americans outsmarted themselves: Taiwan and China are now in a united front, and all Chinese are now awakened with painful memories of the Japanese invasion!"
In today's increasingly volatile environment, Japan is hardly the only diplomatic challenge confronting the Chinese government. As China continues to expand its influence abroad, so grow its responsibilities. As confrontations between Chinese businesses in Africa and the local populations escalate, the recent assault against the U.S. diplomatic mission in Libya seems to provide a telling example of what could shadow China's presence abroad in future years. "From the day Qaddaffi's corpse was battered to the U.S. ambassador's death today, the Libyan people have been waiting for real democracy," wrote @Kayo_Yeung. "The people long oppressed under Qaddaffi were liberated from their dictator, but they were not liberated from their mindset. Without critical thinking, they are only puppets in power struggles." While rumors about Christopher Stevens served as handy vehicles for anti-foreign sentiment in the short run, China will need to sustain mounting pressure on its own diplomacy abroad once the cheering fades away.
This article originally appeared at Tea Leaf Nation, an Atlantic partner site.